BEST OFFER
71% Off Lifetime Access to 10Web Website Management Platform – All-in-One Web Builder, Hosting, & Manager – for WordPress
Enjoy the all-in-one website builder for WordPress that lets you build, host, and manage your sites. Get Lifetime Access to 10Web Website Management Platform at 71% discount
You save $171.00 | Lifetime Access | 60-day Money-back Guarantee | Secure Payment | 24×7 Customer Support
71% Off Lifetime Access to 10Web Website Management Platform – All-in-One Web Builder, Hosting, & Manager – for WordPress
71% Off Lifetime Access to 10Web Website Management Platform – All-in-One Web Builder, Hosting, & Manager – for WordPress
10Web Review at a Glance
Web developers, can you imagine no longer spending days or weeks building your WordPress website? What about a single dashboard that stores everything needed to host, build, and maintain your website? Surprise! this is so NOT too good to be true. If you're itching to save time and money on your WordPress site, then you better the All-in-One Web Builder, Hosting, & Manager for WordPress: 10Web Website Management Platform.
10Web Manager is the only all-in-one website building platform that bridges the ease of a website builder with the deep customization that WordPress is known for. It includes all essential components and services you need for a great WP website: fast and secure hosting powered by Google Cloud; an advanced website builder on top of Elementor with a great variety of site templates; security, backup, SEO, performance, image optimization services; 50+ premium 10Web plugins and extensions; 24/7 customer care.
Let's dive into how 10Web Manager works.
Once you've installed your website and selected one out of dozens of templates, head on over to the Page Builder to begin crafting your stunning site. Rest assured, website newbs: What you lack in coding skills, you can still make up for in beautiful design.
10Web's website builder is built on top of ever-popular Elementor. With 10Web, you'll get 30 additional PREMIUM widgets that allow you to do just about anything – from updating your logo and tagline, to posting content and comments. Choose from over 50 premium 10Web and WordPress plugins that are guaranteed to make your website #goals.
Next up, 10Web offers performance, backup, and security services to take your site to the next level. With 10Web's Image Optimization, it's waaaayyy easy to speed up your site. 10Web lets you choose an optimization setting or click a button to auto-optimize all your images as you upload them. The speed test generates a performance grade for your site and offers recommendations to get your pages loading even faster.
Backing up your website is simple. You can also schedule regular backups, select if you'd rather backup files, database, or both, and restore past versions of your site.
10Web automatically runs a security scan of your site and generates a list of issues in seconds. With the settings tab just one click away, adjustments are made easily and quickly.
Imagine what you can do with all of that extra time! WordPress peeps, this deal is a no-brainer. If you're ready to build stunning websites in hours and spend your saved time focused on growing your business, then you're definitely going to want to check out 10Web Manager.
Features
Key Features of 10Web:
WordPress Cloud Hosting

Speed-focused architecture: The highest technologies (Nginx, LXD containers, PHP7) are used to ensure super fast website load.
Highly secure network: Uptime monitoring, SSL support, attack detections — everything is readymade for instantly gaining your trust.
Next generation infrastructure: Having the most modern cutting-edge technologies, from hardware to software, at hand and ready to use, is another benefit of choosing to host your site.
Google Cloud: Hosting is powered by Google Cloud, which makes it extremely fast and secure with multiple data centers in the US, Europe, and Asia resulting in enhanced performance and expanded range of circuit providers.
Automatic migration: You won't lose any time migrating your site. Everything will be moved for you as if by magic.
Premium DNS: The premium Domain Name Servers ensure security and faster performance when linking the IPs to domains making your experience that much better.
Staging area: Make sure you have a clone-of-your-website platform to test out any site changes before you make them.

Effortless Site Builder

Elementor page builder: The site builder is powered by the Elementor page builder, which is super popular, has 1M active installs, is faster and easier than others, free to use, and open source.
Elementor premium widget bundle: Enhanced Elementor with new features and over 20 premium widgets, such as the pricing table, call to action buttons, social sharing, post layouts, giving you more control and better results.
Themes: 21 elegant and functional themes (still counting) that will ultimately "dress" your site in the style of your choice, from business casual to artistic. All it takes is installing the chosen theme. themes
Page templates: A step farther than the great themes, by planning to provide ready, yet fully customizable, templates for saving your time while designing your website pages.

Powerful Plugins: Over 60 amazing plugins and extensions. Some Featured Plugins are:

Form Maker plugin: creating forms easier and faster.
Photo Gallery plugin: the best gallery plugin offered for photographers.
Slider plugin: Designed for creating dynamic multi-layered sliders to present your media in a compact and appealing way.
Event Calendar plugin: manage and showcase their most important events.
Responsive Instagram Feed plugin: irreplaceable when it comes to sharing your Instagram content on your site.
Google Maps Plugin: The perfect solution If you want your website visitors to find the location of your office easier.

Backup Solution

Manual & Scheduling: Instead of manually backing up the site every time, you can schedule your backups to automatically occur monthly, weekly, daily, or even real time.
Differential backup: Our differential backup solution is a pro at saving you space and time by only backing up the changes that happened after the last full backup of your website.
Amazon S3: Amazon S3 is our choice for storing your website backups. It's popular, reliable, fast, and secure.
One-click restore: The process of restoring the latest version of your website takes no more than a mouse click. You get to just lean back and watch.

High-Class Security

Vulnerability scanning: Thorough scanning will find and immediately reveal any vulnerabilities your plugins or WP core have.
File Changes scanning: The engine scans through all the files and compares each of them to the original in the WordPress.org.
Original File Restore: Once you've found out any undesirable changes made to a file, you can easily restore the original file from WordPress.org.
Unlimited scans: Regardless of the plan you have chosen, you can scan your website any number of times.
Scheduled scans: You can also schedule regular security checks with 10Web security service.

Website Speed

Performance service: One mouse click and the service will fully scan your website and end up listing the loading issues that cause speed reduction.
Image Optimization service: High quality compressions and automatic optimization of all uploaded images.
Caching: Nginx FastCGI Page caching, storing the webpages in unused memory to assure quicker access.
CDN (coming soon!): Copying your pages to a network of servers, so the visitors trying to access your page approach the server that's geographically closest to them.

SEO

Search Analytics: Offers you the full list of your search analytics, including the clicks, queries, and Google ranking.
Technical Analysis: Offers you specific and detailed advice on improving your website, based on careful scanning aimed at identifying the technical issues you can run into.
Search Console page: Scans and points them out to you, so you can make the necessary edits and adjustments: add keywords, alter the meta-descriptions, etc.
Canonicalization and Redirects: Due to functional redirects from your dashboard you can avoid the frustrating 404 errors.
Keyword rankings: This service lets you track as many keywords as you want depending on the daily trends to optimize your site.

Analytics

Various reports: The plugin lets you get a full analysis of your visitors, including by age and gender, geographical location and interests, etc.
Frontend reports: The statistics of the posts are available right on the front page.
Ecommerce tracking: Analytics offers reports based on your ecommerce for following and visualizing the trends and sales of your online shop.
Goal management: Add new goals and manage them straight from your WP dashboard.
Custom Reports: Choose your preferred metric/dimension, track it, and customize the data you collect accordingly.

Technical Support

Emailing: Any questions are promptly emailed to the Customer Care team and they get back in touch with you as soon as possible.
24/7 real-time chatbox assistance: Live chat for real-time problem solving to ensure all inquiries are addressed and resolved.
Response time: Soon enough you won't get frustrated by having to wait for more than 5 minutes for the customer care team to get back in touch with you.
Resolution time (coming soon!): The professionals at 10Web care about solving your issues so much that they make sure it'll take 24 hours max.
Download
Not sure if #THE SOFTWARE does what you need? Try it out now. Please feel free to try 10Web Manager for free here. This WordPress site manager by TenWeb, Inc. has been tested professionally and we are assured that no viruses, Trojans, adware or malware contained.
Free Trial
A 7-day free trial for the whole platform which includes the premium versions of all plugins and extensions.
Sign up and try them for free here.
Buy Now
10Web retails for $25.00/month, But, through our website, THE Software Shop, you can save on your purchase of its license key with a discount coupon code. This offer is available for a limited time!
ORDER NOW

You also might like

Giveaway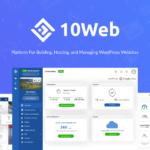 Free $20 USD 10Web Promo Code Credits
Get $20 credit that you can use to build and host your WordPress websites in just minutes.
$20.00
Lifetime access to 10Web Website Management Platform
Manage your WordPress site with this All-in-one Web Builder, Utilities, Hosting powered by Google Cloud.
Backup Solution & High Class Security
30 Connected Sites (hosted elsewhere)
You do not need to host on 10Web to use all the other features included lifetime.
You can host sites elsewhere and still use 10Web for connected sites (lifetime)
Free 1 Year of Managed WordPress Hosting for 1 site(s)
Managed WordPress Hosting renews annually for $69 (or less if number of sites reduces)
25,000 Monthly Visitors (limit for sites hosted on 10web only)
5 GB SSD Storage - Additional storage: $0.40/GB/month
20 GB backup storage
Image Optimization: 100,000 images/month
30+ 10Web Premium Widgets
20+ Website Templates
Premium Website Templates
50+ Premium Plugins
Stack up to 10 codes per account. Add 1 code, you get additional:

+30 Connected Sites (hosted elsewhere). 10 Codes = 300 Connected Sites (hosted elsewhere).
+2 Sites to make use of Managed WordPress Hosting for 1 year. 10 Codes = 19 Sites
+$69/year Renewal Price (or less if number of sites reduces). 10 Codes = $690/year (or less if number of sites reduces)
+75000 monthly visitor for 1 code added, +100000 monthly visitor for next additional codes added. 10 Codes = 900,000 Monthly Visitors
+5 GB SSD Storage - Additional storage: $0.40/GB/month. 10 Codes = 50 GB SSD Storage
+30 GB backup storage. 10 Codes = 110 GB backup storage
+50,000 images/month for Image Optimization. 10 Codes = 550,000 images/month
EXCLUSIVE if you add 2 codes or more (so you buy 3 codes or more): White labeled manager plugin and user management in dashboard also White labeled reports for each website (connected and hosted) . - Coming Soon!
Only for new 10Web users who do not have existing accounts
All future plan updates
60-day money back guarantee, no matter the reason
$240.00
10Web Giveaway is unavailable at this moment!
Please note that once you signed in, do not close this page. You will be shown how to get this offer for free.
Also, check out the latest software giveaways that are available here on the software giveaway page.
NOTE:
– You must redeem your code(s) by October 1, 2019
– All prices shown here are in listed USD (United States Dollar). Your local currency will be converted automatically, You can also switch to any other currencies during the checkout process.
– The discount coupon & your local VAT (Value added tax – if available, vary by country) will be applied at checkout automatically.
– The order(s) for the software are processed by the Appsumo company. This company accepts paying on-line, via PayPal, by fax, bank-wire transfer, check, cash, or purchase order.
– You will receive a notification e-mail from Appsumo when your order is processed which will also include your license information.
– Such promotional programs are subject to change without notice, from time to time in our sole discretion.
– Data may vary based on different system or computer.
User & Media Reviews
What are their users saying? Why they loved it?
Great deal & support
Giving this deal 5 tacos. At first I was concentrating on the hosting and website building aspects. Felt like there was room for improvement. But watched a review and it put things in perspective. https://youtu.be/aVTo0R_73BI That LTD Life helped me see that it was more than just about that.
The deal for managing WordPress sites & the plugins included make it worth it if you're an agency. Add in the hosting at the discounted rate and the speed and it's a great deal. Definitely will be using for my agency. The white label option made this a must have for my business. Looks like they're looking into re-seller as well.
The customer support team has been top notch. Answered all of my questions and for the things they couldn't answer outright were honest about and plan to follow up. Spoke with a rep last night and they also provide help with customization. That's another useful add to make this deal worth the investment.
Whether you manage your own sites and want help keeping track of updates and managing them in one dashboard. Or you're a web designer. This is one worth giving some thought.
It would be great if they can add in multi-site updates so that we're not doing them individually. Along with some stat updates on the dashboard to go with the thumbnail. This way you can see what needs attention at a glance. But they've been receptive to suggestions. Hopefully this is one of them.
Great WordPress Hosting Site. Incredible at this Price!!
I moved my "Go Geek" $35/mo siteground site over to their service and the page load times from GTmetrix were cut in half. 2x faster at 1/5th the cost? That's a no brainer. Also, their support has been very responsive and friendly. I'd strongly recommend!
Great Service and Great Support
I'm very pleased with the experience using this service, from migrating my website in a few minutes, then I had a problem because of my SSL configuration was using Cloudflare, so backups didn't work, and the support team figured it out very quickly. SSH access is something I always value in any hosting provider. The UI of the App is very user-friendly and everything just works!
I hope 10web will continue surprising me with all their features.
A Dream Come True for WordPress Hosting
First things first, I've been looking for something like this for quite some time for hosting WP sites because unless you want to pay a lot for WP Engine, everything else I've tried has been nothing short of mediocre.
Unlike previous website builder deals that include hosting (e.g. Simvoly, Bookmark) what makes this very special is that it is for WordPress! So one can take advantage of the entire WP ecosystem (including some awesome plugins that we purchased earlier on AppSumo, e.g. Shortpixel). And I love that we get a locked-in yearly discount with this deal because everyone knows by now that an LTD for hosting just doesn't make sense and I don't want to wake up and find out that my hosting company is shutting down.
My experience with 10 Web has been nothing short of awesome!
10Web's dashboard is clean, intuitive and easy to navigate. You can view all your websites (as icons) from the dashboard and decide which ones you want to manage or edit. It provides you with a nice back office to manage performance, security, SEO, WP updates, usage summary, and backups. You can even flip back and forth between live and staging environments for each website. I was able to navigate the dashboard easily, everything was obvious.
I was able to:
-Install and host a new WP website
-Use the included Elementor builder, the templates, plugins, and premium widgets to build your own site
-Connect to and manage other WP websites I own that are hosted elsewhere bring them the under 10Web hood to take advantage of their hosting tools
Pros:
-I love that it combines building and hosting
-Lots of hosting features and tools
-You are not stuck with their builder. Edit your site with Word Press or -Elementor or install your own framework (in my case I used Thesis)
-Solid, fast, not flaky
-Clean and intuitive UI
-Easy and seamless onboarding. You don't have to look for stuff like in other hosting platforms.
-SSL included for the one hosted site that comes with the deal
-Includes some awesome premium plugins
-Easily connect to your existing hosted WP websites
-Easy to add header scripts via Elementor builder
-Hosting services include DB connection, SFTP, and domain management
Advertised benefits: SEO, Speed Optimization, Analytics and Reports, Security, Backup
-Works with other AppSumo WP plugin deals (just install the plugins and use)
Cons:
-More templates needed (this will come with time)
-You need to upgrade to Elementor pro if you want to use its full power
-More storage space is needed
This one is a no brainer! 5 Tacos al the way!
Incredible value
I only just bought this deal and haven't started to use it yet. After looking under the hood, and seeing all the inclusions, this deal provides incredible value. Many of the premium features such as image optimisation, backups, and the templates and plugins are all individually worth this LTD price tag. In fact, I've previously bought some alternatives through AppSumo.
This deal reminds me of the Genesis/Studiopress lifetime theme deal I purchased many years ago. It's saved me a fortune over the years. I've no doubt that this deal with 10Web offers even more value because of all the included extras.
If you're new to WordPress, or an agency that wants to expand and explore Elementor (probably the current best theme), this deal is a no-brainer.
---
Thanks for reading 10Web Manager Review & Enjoy the discount coupon. Please Report if 10Web Discount Coupon/Deal/Giveaway has a problem such as expired, broken link, sold out, etc while the deal still exists.