GIVEAWAY
Software Giveaway – RouterGuard 2023: Free Full Version – Fritzbox Security Monitoring Tool – for Windows
Monitor your AVM Fritzbox and get warned in case of danger! Get Abelssoft RouterGuard 2023 with a full version License for free
Free Full Version!
RouterGuard 2023 Review at a Glance
FritzBox owners watch out: Most of us set up the router once and then pay no more attention to it as long as there's enough WiFi coming out.
This makes it a popular target for hackers and anyone who wants to access your internet connection. Protect yourself and your FritzBox with the brand new RouterGuard.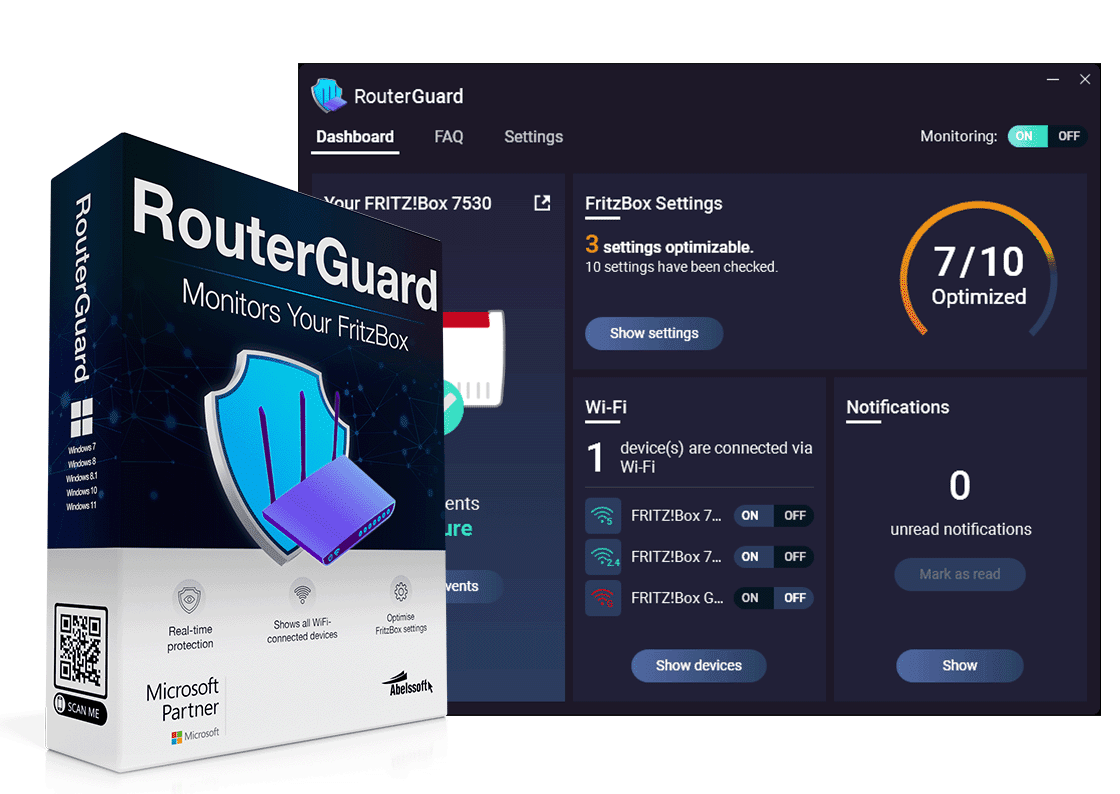 Who is hiding in your WiFi?
The FritzBox is your gateway to the Internet. Without much effort, it connects computers, smartphones, and all other devices in your home to the web, such as online radios or Smart TVs. That's why many homes have such a handy FRITZ! box router.
That's why, however, they are an attractive target for hacker attacks. Once a cybercriminal has access to your router, it's like a jackpot for them. Because from your router, they can get to all the devices that are connected to it and more.
7 dangers that come from an unprotected router:

Strangers gain access to all devices in your WiFi,
spy on your online activities,
limit your internet speed,
access illegal content under your name,
steal all your personal data and information,
redirect you to dangerous websites,
lock you out of your own WiFi.
Danger avoided – thanks to RouterGuard
RouterGuard shows you which devices are connected to your FritzBox and sounds an alarm if someone tries to gain unauthorized access. Just like that, you always have an overview and can detect attackers early enough.
In addition, the program shows you how you can increase the security of your network and what the current security status of your FritzBox is. This way you are always up to date and your network is safe.
Features
Key Features of RouterGuard 2023
Real-time protection for your FritzBox: RouterGuard shows you the security status of your FritzBox and informs you immediately of any suspicious events.
Effective background guard: RouterGuard is permanently active for you in the background and alerts you as soon as activities take place on your FritzBox.
Wi-Fi – Who is logged into my FritzBox?: RouterGuard shows you which devices are connected to your Wi-Fi. This way, unwanted users are detected immediately.
Optimise FritzBox settings: RouterGuard informs you which security settings in your FritzBox are already optimised and which are not.
Requirements
To run #THE SOFTWARE with optimum reliability and performance, your system should match the following requirements:
Windows 11, Windows 10, Windows 8.1, Windows 8, Windows 7
Internet Connection with AVM Fritz Box Router
Download
Not sure if #THE SOFTWARE does what you need? Try it out now. Please feel free to download RouterGuard 2023 trial here. This Fritzbox security monitoring tool by Abelssoft has been tested professionally and we are assured that no viruses, Trojans, adware or malware contained.
Buy Now
Abelssoft RouterGuard is available for $19.99. But, through THESOFTWARE.SHOP, you can get RouterGuard 2023 full version with a lifetime license for free in the Giveaway tab below. This offer is available for a limited time!
RouterGuard 2023 Giveaway is available now FREE for a limited time!
Please note that once you have signed in, do not close this page. You will be shown how to get this offer for free.
Also, check out the latest software giveaways that are available here on the software giveaway page.
NOTES:
– All prices shown here are in listed USD (United States Dollar).
– Such promotional programs are subject to change without notice, from time to time in our sole discretion.
– Data may vary based on different systems or computers.
Excellent
RouterGuard 2023 from Abelssoft is a great way to ensure secure access to your home or business's internet connection. It provides real-time protection for the popular AVM router and allows you to easily recognize and secure third party WLAN users. It has a simple, easy-to-use interface that makes it straightforward to monitor all FritzBoxes running Fritz!OS version 7.0.
---
Thanks for reading Abelssoft RouterGuard Review & Enjoy the discount coupon. Please Report if RouterGuard 2023 full version Giveaway has a problem such as expired, broken link, sold out, etc while the deal still exists.