70% Off Coupon on Ashampoo Backup Pro 12 – A Convenient Backup Solution with Cloud Support – for Windows

Everything you need to backup single files or entire disk partitions to any storage type, offline or online. Get Ashampoo Backup Pro 12 full version license now with 70% Off Coupon
You save $34.99 | 30-day Money-back Guarantee | Secure Payment | 24×7 Customer Support
Ashampoo Backup Pro 12 Review at a Glance
Faulty hardware, virus attacks or software errors, only regular backups can provide total data security! And the recent Windows 10 upgrade has once again shown many users the importance of system backups. Ashampoo Backup Pro 12 has everything you need to backup single files or entire disk partitions to any storage type, offline or online. User-friendly, intuitive, fast. Restore your backups on demand or use the special emergency recovery disc to recover your entire system in the event of total system failure!
Ashampoo Backup Pro 12 is a powerful software solution to back up and restore individual files or entire disk drives, including bootable OSes. Auto-updated backups render malware, ransomware or hardware defects inconsequential. All operations happen in the background and the program becomes active only when enough system resources become available so it won't disrupt your work. Innovative compression and encryption algorithms ensure backups are small and protected against unauthorized access.
Apart from classic storage media, Ashampoo Backup Pro 12 also supports multiple cloud providers for easy uploading. Backups can be restored either through the program or Windows Explorer. An integrated rescue system creates bootable DVDs / USB drives that provides assistance in the event of a total system failure and restore your backups even when your system refuses to boot.
Experience new powerful features in Ashampoo Backup Pro 12! Use the handy disk health checker to get a precise picture of your disk healths and and avoid nasty surprises when you back up your files! Find out how you can directly access your files without compromising the integrity of your backups. Or follow the path to the cloud and select from even more service providers including OneDrive Business / Office 365, Owncloud and Nextcloud. Discover the untamed power of Ashampoo® Backup Pro 12!
back to menu ↑
Features
Key Features of Ashampoo Backup Pro 12:
Where can I backup to:

Local hard disks
Removable storage devices
OneDrive Business / Office 365, Owncloud and Nextcloud support
OneDrive
1&1 Cloud
Dropbox
Google Drive
Strato HiDrive (WebDav)
Deutsche Telekom Mediencenter
Online storage
Network-attached storage devices (NAS)
Any cloud storage provider that supports WebDAV

What can I backup?

Partitions and hard disks
Backup and restore entire Windows systems
Files and folders
Network drives
Windows Mail, calendar & contacts (App)
Smart rules for Microsoft Outlook
Smart rules for Mozilla Thunderbird
Smart rules for Google Chrome
Smart rules for Microsoft Edge
Smart rules for Internet Explorer
Smart rules for Firefox
How are backups created?

Disk image (backup images to restore your Windows system)
1:1 file copies with comparison and integrity check
Complete (full system backups with easy data recovery)
Incremental (50% smaller backups through Infinite Reverse Incremental Backup technology)
Based on file types (backup custom file types, e.g. images, videos, documents)
Versioning (backup entire file histories automatically)
Proactive (backup process will pause automatically at high CPU loads
Automatic synchronization (background service)

Other features:

Backup Viewer: Convenient access to backed up files
New and self-explanatory user interface
Windows-based rescue system
Adaptive sleep mode control during backups
Self-explanatory handling (no technical knowledge required)
Detailed email reports
Encryption (256-bit AES)
Compression (7Zip/LZMA)
Password protection
Program wizards
Task scheduler
Virtual drive feature (direct file access to backup images)
Data integrity checks (prevents faulty backups)
Error reporting
Create backup images of hard disks > 2 TB
Extended time scheduler
back to menu ↑
Requirements
To run Ashampoo Backup Pro 12 with optimum reliability and performance, your system should match the following requirements:
Operating System: Windows® 10, Windows® 8 / 8.1, Windows® 7
Computer: Any computer that supports the above operating systems.
Other: An Internet connection is required to activate the program. The program license is verified repeatedly at regular intervals.
Full administrative rights are required to use the program.
back to menu ↑
Download
Not sure if Ashampoo Backup Pro 12 does what you need? Try it out now. Please feel free to download Ashampoo Backup Pro 12 here. This backup software by Ashampoo has been tested professionally and we are assured that no viruses, Trojans, adware or malware contained.
back to menu ↑
Buy Now
Ashampoo Backup Pro 12 retails for $49.99, But, through our website, THE Software Shop, you can save on your purchase of its license key with 70% discount coupon code. This offer is available for a limited time!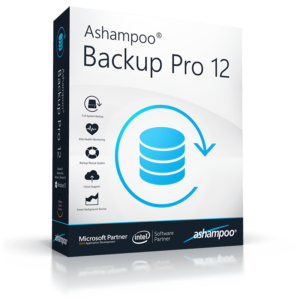 Ashampoo Backup Pro 12 - Full Version
The backup solution against data loss and reinstallations
Powerful disk checking for 100% reliable backups
Backup and restore entire Windows systems
Backup Viewer: Instant access to backed up files
Support for OneDrive Business / Office, Owncloud and Nextcloud
Your lifesaver against ransomware
New and self-explanatory user interface
Well-structured and clear design
Handy rescue system with UEFI support
New system recovery tool
30-day Money-back Guarantee
$49.99
Ashampoo Backup Pro 12 Giveaway is unavailable at this moment.
Please note that once you signed in, do not close this page. You will be shown how to get this offer for free.
Also, check out the latest software giveaways that are available here on the software giveaway page.
NOTE:
– All prices shown here are in listed USD (United States Dollar). Your local currency will be converted automatically, You can also switch to any other currencies during the checkout process.
– The discount coupon & your local VAT (Value added tax – if available, vary by country) will be applied at checkout automatically.
– The order(s) for the software are processed by the CleverBridge company. This company accepts paying on-line, via PayPal, by fax, bank-wire transfer, check, cash, or purchase order.
– You will receive a notification e-mail from Ashampoo/Celeverbridgewhen your order is processed which will also include your license information.
– Such promotional programs are subject to change without notice, from time to time in our sole discretion.
– Data may vary based on different system or computer.
---
Thanks for reading Ashampoo Backup Pro 12 Review & Enjoy the discount coupon. Please Report if Ashampoo Backup Pro 12 Discount Coupon/Deal/Giveaway has a problem such as expired, broken link, sold out, etc while the deal still exists.