64% Off Coupon on Ashampoo Burning Studio 20 – A classic among burning programs brand new! – for Windows
Burn discs, backup files, create movies and slideshows and process disc images – Feel the heat! Get Ashampoo Burning Studio 20 full version with 64% discount coupon code.
You save $31.99 | 30-day Money-back Guarantee | Secure Payment | 24×7 Customer Support
Ashampoo Burning Studio 20 Review Video
64% Off Coupon on Ashampoo Burning Studio 20 – A classic among burning programs brand new! – for Windows
Ashampoo Burning Studio 20 Review at a Glance
Ashampoo Burning Studio 20 is our award-winning one-stop burning application to burn, backup and process all your documents, photos, videos and music. The only burning software you will ever need! Unleash your creativity with Ashampoo Burning Studio 20. Burn your files, backup important data or use the extensive multimedia capabilities to create video and slideshow discs.
Thanks to disc spanning, data can be spread across multiple discs automatically and scratch protection ensures readability even for damaged discs. Ashampoo Burning Studio 20 also comes with various multimedia features that let users create, edit and burn their own movie and slideshow discs. Multimedia capabilities include custom animated menus and designs, opening and closing credits as well as auto-play for nearly endless possibilities. Resulting files and discs are playable on almost any device thanks to built-in support for popular formats like MPEG-4, H.264, AAC, MP3 and WMA.
Not only does the program also create MP3 and standard audio discs, but also supports disc-ripping with automatic track naming and cover search. The integrated cover editor has been redesigned to make it even more easy to create custom covers, booklets and inlays or disc labels.
Ashampoo Burning Studio 20 also provides an elegant solution to create and browse disc images in common formats like ISO, CUE/BIN or ASHDISC complete with handy image previews. The backup section has been overhauled and now features smart backup plans with support for multiple device categories like cellphones, tablets, MP3 players and more. The car radio module has also been updated and now comes with built-in support for 1,600 different models and multi-disc player emulators.
What's New
The Ashampoo Burning Studio 20 Anniversary Edition has been tailored to your requests! The backup module now features clever plans and better backup management with instant updates. The program can even remind you when it's time for the next update! Cover Editor now features a modern and more intuitive interface with a more powerful start page that takes care of important settings and image selection right off the bat. The popular car radio module now contains over 1,600 radio models based on customer feedback and, by popular demand, supports multi-disc CD player emulators! Prefer a bright interface with high contrasts that is easy on the eyes? Here you go! These are just a few of the myriad of new features and subtle changes that await you in Ashampoo Burning Studio 20. You won't be disappointed!
back to menu ↑
Features
Key Features of Ashampoo Burning Studio 20:
Burn files and folders

Improved disc burning options
Automatic disc spanning for unlimited storage capacity
Scratch protection for always accessible data even with damaged surfaces
Disc Spanning with safety mode
Enhanced blank disc detection
M-Disc support
BDXL support
Disc encryption to protect sensitive data against prying eyes
Disc spanning to automatically split huge amounts of data across several discs
Subsequent finalize CD, DVD and Blu-ray discs
Create CD/DVD/Blu-ray discs with autostart capability
Create data discs with autoplay menus
Create CD, DVD and Blu-ray data discs
Update existing discs and add/remove files and folders
Erase rewritable CD/DVD/Blu-ray discs such as BD-RE and CD-RW discs

Internal program features and functions

New intuitive editor for covers and inlays
Bright, high-contrast user interface theme
Optimized work flow for less clicks and waiting times
Ready-made presets for over 1,600 car radios
Multi-disc CD player emulator support
Numerous special cases supported in car radio module
Burn password-protected discs
Ingenious history view for the last 20 projects with recovery feature
New modern themes and templates for covers, slideshows and menus
Extensive sound module for your car radio
Import Windows Media Player and iTunes playlists easily
Create individual playlists for your car
For the perfect MP3 stick: Always the right format and song order, automatically!
Retrieve cover images based on MP3 tags
Online cover searching also for unknown tracks
Fascinating mosaic covers
Improved selection of burning settings
Custom user interface skins
Cover Studio: design and print booklets, cases and labels
Use your own background image
Work safer with auto-save
Media analysis
Use compact mode to run long burning operations in the background and still receive status notifications
New customizable file browser for improved navigation
File browser supports custom favorites
Access external online sources such as Facebook and Picasa

Burn movies

Probably the easiest video editor ever made
New modern slideshow and disc menu themes
Record live commentary with your slideshows
Faster video encoding through Intel Media with many onboard cards
Native MPEG-4, H.264 and AAC support
Smart wizards for perfect slideshows
Convenient sort features for slideshow images
More than 140 slide transition effects
Professional fade in/out effects plus cross-fades for music
Support for SRT-based subtitles
Free theme downloads
Create custom slideshow themes
Up to 15% faster encoding
Sound effects for videos and slideshows
Record from any registered Windows recording device
Adjust volume and normalize MP3 and WMA files video audio tracks
Create custom menu templates
Create slideshows
Add motion to slides through free camera movement and zooms
Cut and split movies
Multi-core support for fast rendering and encoding
Create video Blu-ray from prepared folder
Create video DVD from prepared folder
Create Video CD (VCD)
Create Super Video CD (VCD)
Create disc menus for Video discs
Add themes and subtitles to movies

Disc images

Easier disc image creation
Create disc images from CD/DVD/Blu-ray discs
Improved ISO browser with image previews
Browse disc images
Create disc images from projects
Added support for CUE+MP3, CUE+Flac and CUE+Wav

Burn music

Equalize and adjust frequencies for your music files automatically with the integrated equalizer module
Adjust volume and normalize MP3 and WMA files
Shuffle feature
Custom pause lengths
Supported file format:APE
Create playlists during audio disc ripping
Supported file format: OPUS
Cover artwork auto-retrieval during audio disc ripping
Rip to FLAC and OGG
Create audio CDs
Create and burn audio CDs from playlists
Support for 96kHz sampling
Include meta data in audio conversion
Export track lists
Create MP3 and WMA CD/DVD/Blu-ray discs
Extract audio from audio discs

Backup files and folders

Smart backup plans for reliable data backups
Reminder feature for backup plans
Backups from mobile devices such as smartphones and tablets (e.g. iPod, iPhone, iPad and Android devices) at the click of a button
Create file and folder backups
Compress and encrypt backups

Advanced functions

Create modified copies of CD/DVD/Blu-ray discs
Jump list support for swift access to essential features
Define file system (ISO/Joliet/UDF)
Create bootable disc
Set emulated boot environment
back to menu ↑
Requirements
To run Ashampoo Burning Studio 20with optimum reliability and performance, your system should match the following requirements:
Operating System: Windows® 10, Windows® 8 / 8.1, Windows® 7
Software:

Windows Media Player 10
Microsoft .NET Framework 4.5
DirectX 9.0C

RAM: 2 GB
Hard Drive Space:

250 MB for installation
Up to 9 GB for temporary files (DVD)
25/50 GB for temporary files (Blu-ray)
100 GB for temporary files (Blu-ray XL)

Graphics card: DirectX 9 Hardware Pixelshader v2.0, min. 128 MB RAM.
Sound Card: Any standard sound card (on-board or USB)
Other: An Internet connection is required to activate the program. The program license is verified repeatedly at regular intervals.
For some services, an Internet connection is required Internet connection may be required to verify the serial number during usage of certain features.
back to menu ↑
Download
Not sure if Ashampoo Burning Studio 20 does what you need? Try it out now. Please feel free to download Ashampoo Burning Studio 20 here. This disc burning software has been tested professionally and we are assured that no viruses, Trojans, adware or malware contained.
back to menu ↑
Buy Now
Ashampoo Burning Studio 20 retails for $49.99, But, through our website, THE Software Shop, you can save on your purchase of its license key with 64% discount coupon code. This offer is available for a limited time!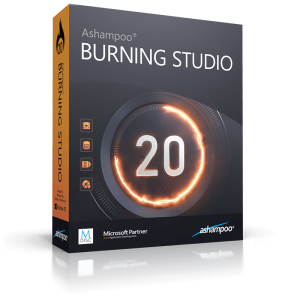 Ashampoo Burning Studio 20 - Full Version (64% Off)
Copy CDs, DVDs and Blu-ray discs with ease
Extensive backup features with encryption and password support
Backup external devices like cellphones and tablets
Create Audio CDs and MP3/WMA discs
Backup data to one or more CDs, DVDs or Blu-ray discs
Print covers and booklets for any disc type
Burn password-protected discs
$49.99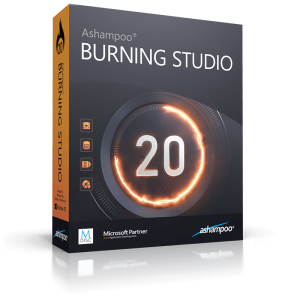 Ashampoo Burning Studio 20 - Upgrade (70% Off)
If you have the previous version, you can get special upgrade price for just $15
Require the previouse license key
$49.99
Ashampoo® Burning Studio 20 Giveaway is unavailable at this moment.
Please note that once you signed in, do not close this page. You will be shown how to get this offer for free.
Also, check out the latest software giveaways that are available here on the software giveaway page.
NOTE:
– All prices shown here are in listed USD (United States Dollar). Your local currency will be converted automatically, You can also switch to any other currencies during the checkout process.
– The discount coupon & your local VAT (Value added tax – if available, vary by country) will be applied at checkout automatically.
– The order(s) for the software are processed by the Cleverbridge company. This company accepts paying on-line, via PayPal, by fax, bank-wire transfer, check, cash, or purchase order.
– You will receive a notification e-mail from Ashampoo/Cleverbridge when your order is processed which will also include your license information.
– Such promotional programs are subject to change without notice, from time to time in our sole discretion.
– Data may vary based on different system or computer.
---
Thanks for reading Ashampoo®
Burning Studio 20 Review & Enjoy the discount coupon. Please Report if Ashampoo®
Burning Studio 20 Discount Coupon/Deal/Giveaway has a problem such as expired, broken link, sold out, etc while the deal still exists.