BEST OFFER
70% Off – Ashampoo® Photo Optimizer 10: Lifetime License | The Intelligent Fast Image Auto-optimization Software – for Windows
Brilliant photos are just one click away. Optimize colors and contrasts, adjust sharpness, remove scratches and noise, and realign your photos – fast, simple, and no prior knowledge required. Get Ashampoo Photo Optimizer 10 – Lifetime License with a 70% discount coupon!
Save $30.00 | Lifetime License | 30-day Money-back Guarantee
Ashampoo Photo Optimizer 10 Review at a Glance
Ashampoo Photo Optimizer 10 is the intelligent tool for that certain something in your photos! All functions are clearly arranged and easily accessible. This allows you to achieve amazing results right from the start. Add brilliance and refinement to your pictures in just a few clicks!
Nothing gets past Photo Optimizer's sophisticated algorithms! The built-in split-view makes it easy to compare results against their originals and every action is instantly reversible at the click of a button. If you prefer to enhance your photos manually, you can.
Photo Optimizer comes with a broad range of easy photo manipulation tools to straighten image horizons, fix perspective issues or apply various artistic effects. Red eyes, skin impurities or spots, that ruin so many portrait shots, are now gone in a matter of seconds. We've also taken great care to make rotating, mirroring, or cropping your photos as easy as can be. The same goes for text- and image-based watermarks or just plain text. Adjusting brightness, exposure, gamma, and many other settings is equally straightforward, thanks to handy sliders. The multiple built-in artistic effects are where you can let your creativity really shine.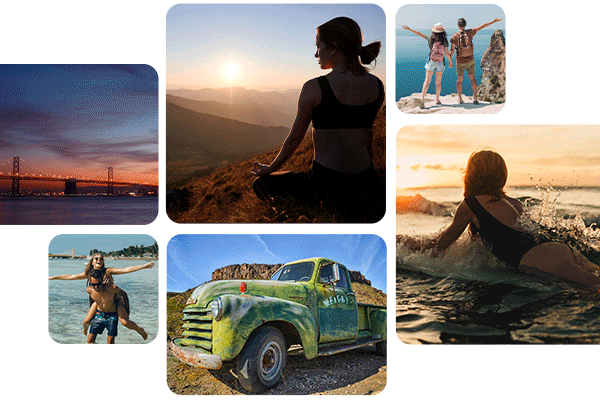 Why not age your images, apply double exposure effects or turn them into elegant oil paintings? Photo Optimizer's user interface is well-structured and logical so there's no learning curve at all. Just install the program and start doing some photo editing magic. Version 10 features enhanced photo auto-optimization, a perspective tool to fix unfavorable camera angles, favorites to keep your most frequently used features in a single location, and manual adjusting of light curves and color temperatures.
There is no need to worry about unwanted changes or losing your pictures! You can always return to the original version at any time. Ashampoo Photo Optimizer 10 automatically makes backups of the original versions of your photos in a database with a location that you can determine yourself. It allows you to restore your original images instantly so you are free to explore and experiment. This way you can experiment extensively with all the amazing effects and try out different settings without having to worry about the original image. Thanks to the integrated before and after view, you never lose track of your modifications.
The program's core component, auto-optimization, has been completely rewritten based on feedback from 5.000 customers. Your photos have never looked this stunning! Thanks to new white balance and contrast stretch features, perfect color temperatures and contrast settings are now achievable by anyone. The new user interface screams ease of use with no more nested menus and a streamlined workflow where every feature is always just two clicks away at max. Your photos are precious memories, it's time to make them shine again!
And you can bundle your favorite functions in a single menu now, thanks to favorites support. It's the smooth and perfect workflow, you've always wanted! On top, It has been added new memory management for greater speed and stability so you can finally breeze through giant image resolutions or humongous file collections. Get the best-in-class photo enhancer and start making the most of your photos today!
If you are looking for a fast and easy way to optimize your photos, Ashampoo Photo Optimizer 10 is the ideal solution for you.
Screenshots
What's New
Ashampoo Photo Optimizer 10 introduces an exciting new feature with the addition of Lookup Table (LUT) support, offering users a vast array of artistic effects to instantly transform their photos. This latest version comes with over 30 pre-installed LUTs, designed by experts to modify color, saturation, and brightness with just one click, facilitating an effortless and time-saving approach to achieving stylistic consistency and stunning visual enhancements across photo libraries. Alongside the traditional ease-of-use and the ability to revert changes, the new LUTs feature ensures perfect results in seconds, catering to both novices and seasoned photographers looking for that extra touch of magic in their images.
Here's something to look forward to:
New Feature: Support for Lookup Table (LUT) for artistic photo effects.
Built-in LUTs: Over 30 expert-crafted LUTs included for instant photo transformations.
User Experience: Simplified process for applying effects, ensuring quick and uniform style across photos.
Performance: Behind-the-scenes computational enhancements for pixel-perfect adjustments.
Flexibility: Easy undo function for any modifications including LUT effects.
Expert Crafted LUTs: Time-saving feature providing professional looks with a single click.
Consistency: Tool for achieving uniform lighting and exposure across photo collections.
Extensibility: Capability to import additional LUTs from various online sources or create custom ones.
Creative Freedom: Maximized artistic options with thousands of quality LUTs available for use.
Features
Key Features of Ashampoo Photo Optimizer 10
Image editing

Significantly improved image optimization
Manual color temperature adjustments
Tonal curve adjustments
Smart white balancing
Automatic contrast stretching for best results
Auto-optimize images
Insert watermark from text or image
Crop
Rotate freely
Straighten horizontally
Mirror and rotate images
Color correction

General

Improved memory management for better stability and speed
Super-fast feature access through Favorites
64-bit optimized
Eye-friendly ergonomic user interface
Logical and intuitive program structure
Super easy program handling and navigation
Batch processing
Save time with multi-core support
Export and present
Integrated Ashampoo webspace uploader
Set as background image
Send email
Portrait editing

Whiten Teeth
Remove Spots
Clone Areas
Remove Red Eyes

Effects

Image overlay
Emboss
Distort: Shear, Wave Implode/Explode and Swirl
Shade
Blue Shift
Segmentation
Solarize
Posterize
Sketch
Noise: Add Noise, Median, Reduce Noise and Pixelate
Invert
Grayscale
Sepia
Age image
Sharpen
Unsharpen
Median
Contours
Denoise

Export and present

Integrated Ashampoo webspace uploader
Set as background image
Send emai
Requirements
To run #THE SOFTWARE with optimum reliability and performance, your system should match the following requirements:
Operating System: Windows® 11, Windows® 10, Windows® 8 / 8.1, Windows® 7
Computer: Any computer that supports the above operating systems.
Other: Microsoft Visual C++ 2015 x86 Redistributable
An Internet connection is required to activate the program. The program license is verified repeatedly at regular intervals.
Ashampoo Photo Optimizer Downloads
Not sure if #THE SOFTWARE does what you need? Try it out now. Please feel free to download the Ashampoo Photo Optimizer 10 trial here. This image auto-optimization tool by Ashampoo GmbH & Co. KG has been tested professionally and we are assured that no viruses, Trojans, adware, or malware are contained.
New Version V10 (Windows) Current Version V9 (Windows)
Buy Now
Ashampoo Photo Optimizer 10 retails for $40.00, But, through our website, THE Software Shop, you can save now by getting the Ashampoo Photo Optimizer 10 Lifetime License with a 70% discount coupon code. This offer is available for a limited time!
ORDER HERE:
➕Bundle

Old Version

You also might like

Giveaway
NOTE:
– All prices shown here are in listed USD (United States Dollar).
– Such promotional programs are subject to change without notice, from time to time in our sole discretion.
– Data may vary based on different system or computer.
---
Thanks for reading Ashampoo® Photo Optimizer 10 Review & Enjoy the discount coupon. Please Report if Ashampoo® Photo Optimizer 10 Discount Coupon/Deal/Giveaway has a problem such as expired, broken link, sold out, etc while the deal still exists.
Awesome
Ashampoo Photo Optimizer10 is the user-friendly solution to optimize and organize your photos. The program is instantly usable by anyone thanks to numerous automatic features. I must admit that all the photos on my computer are being optimized and improved with the photo optimizer from Ashampoo. One of my favorite functions is the automatic optimization that can be launched with just one click. The tool offers new convenient functions to put finishing touches to your photos. Furthermore, this new version provides various new effects that leave much room for creativity. Emailing or sharing optimized photos with friends has already become a common practice nowadays
PROS
Rotate, crop and straighten images freely
Efficiently whiten teeth, remove red eyes and skin imperfections
Batch-optimize any number of images
Straighten image horizons with precision
Powerful color correction
Eye-friendly ergonomic user interface
Easy emailing and uploading