BEST SELLER
76% Off – Ashampoo WinOptimizer 26: Lifetime License, 3 PCs | The Comprehensive PC Optimization Suite for a Speed & Security Boost – for Windows
Optimize and rids your computer of junk files and system errors, permanently. For a limited time, you can get Ashampoo WinOptimizer 26 with 76% Discount Coupon
Ashampoo WinOptimizer 26 Review at a Glance
In the ever-evolving world of technology, Windows operating systems have become a staple for millions of users worldwide. However, even the most reliable systems can experience a decline in performance, stability issues, and privacy concerns over time. This is where Ashampoo WinOptimizer 26 comes to the rescue. With its comprehensive suite of optimization tools, WinOptimizer 26 breathes new life into your PC, restoring it to its former glory.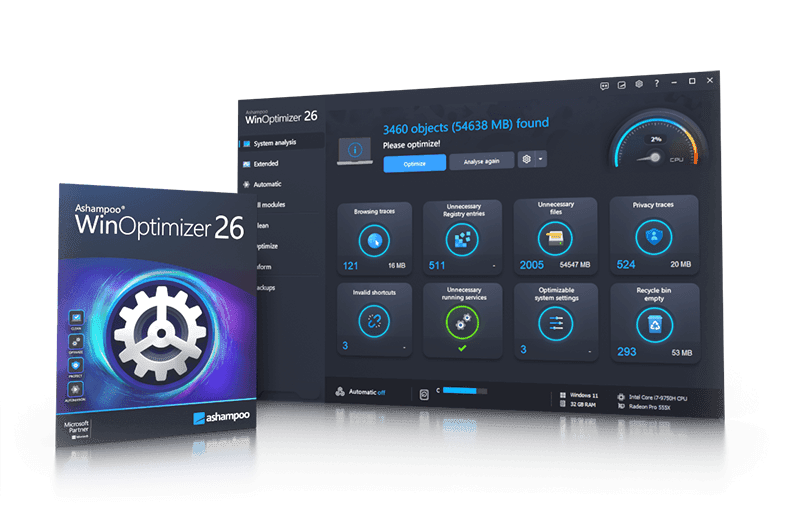 Understanding the Need for PC Optimization
Performance Issues and System Instability
Over time, the performance of your computer may deteriorate, leading to sluggishness and frustrating user experiences. Application launches take longer, and tasks that once ran smoothly now become arduous. Ashampoo WinOptimizer 26 addresses these performance issues head-on, providing solutions to optimize and fine-tune your system for maximum efficiency.
Cluttered System and Missing Settings
As you continue to use your Windows PC, temporary files, leftover remnants from software uninstallations, and browsing traces accumulate, occupying valuable disk space. Additionally, important system settings can be buried deep within the operating system, making them challenging to access. WinOptimizer 26's cleaning modules and optimization features tackle these challenges, streamlining your system and recovering lost performance.
Privacy Concerns and Telemetry
Windows' built-in telemetry functionality has sparked concerns about privacy intrusion. Ashampoo WinOptimizer 26 takes privacy seriously and protects your sensitive information. By eliminating privacy-sensitive data and managing internet cookies, WinOptimizer 26 ensures your online activities remain private while preserving login sessions and offering granular control over your browsing experience.
Introducing Ashampoo WinOptimizer 26
Overview of the PC Optimization Suite
Ashampoo WinOptimizer 26 is a feature-rich PC optimization suite that encompasses over 30 modules. From performance enhancement to system cleaning and privacy protection, WinOptimizer 26 provides a holistic approach to optimizing your Windows PC.
Boosting Performance and Fixing System Issues
WinOptimizer 26's performance-boosting capabilities help revitalize your computer. By disabling unnecessary background services, optimizing security settings, and customizing Windows for improved performance, you can enjoy a faster, more efficient, and secure Windows experience. WinOptimizer 26's Tuning Assistant guides you through the optimization process, making it a risk-free and user-friendly endeavor.
One Click Optimizer, File Wiper, and Disk Doctor
WinOptimizer 26 offers several convenient one-click tools that simplify system maintenance. The One Click Optimizer streamlines the optimization process by applying recommended settings and cleaning actions with a single click. The File Wiper securely deletes sensitive files beyond recovery, ensuring that your private information remains protected. The Disk Doctor scans your hard drive for errors and fixes them, improving the overall health and reliability of your storage. These one-click tools in WinOptimizer 26 make system maintenance quick and effortless.
Reducing File Clutter and Cleaning Browsing Traces
The built-in cleaning modules in WinOptimizer 26 have become synonymous with excellence in system maintenance. They efficiently remove web browsing traces, temporary files, and leftovers from software uninstallations, freeing up valuable disk space and streamlining your system. With WinOptimizer 26, you can bid farewell to unnecessary clutter and experience a cleaner, more organized PC.
Advanced Cleaning and Optimization Features
In-Depth Cleaning for Enhanced Junk File Removal
WinOptimizer 26's cleaning capabilities go beyond surface-level cleaning. The new in-depth cleaning feature delves deep into your system, targeting even the most stubborn junk files. By removing outdated Windows versions, Windows update backups, and Windows usage statistics, WinOptimizer 26 reclaims significant amounts of hard disk space and ensures your system operates at its optimal capacity.
Fixing Display Issues and Speeding up Windows Explorer
Display issues and a sluggish Windows Explorer can hamper productivity and frustrate users. WinOptimizer 26 provides targeted solutions for these problems. By clearing the DirectX shader cache, WinOptimizer 26 addresses display issues in games, while also improving the overall performance of Windows Explorer. Say goodbye to slow load times and enjoy a seamless computing experience.
Managing Internet Cookies for Improved Privacy
Internet cookies have become a hotbed for privacy concerns. WinOptimizer 26's innovative cookie manager allows you to take control of your cookies across all browsers. You can easily identify and eliminate privacy-invading cookies while preserving login sessions. WinOptimizer 26's wildcard character support enables you to mark entire domains as safe, ensuring consistent privacy settings across your browsers and devices.
Comprehensive Tools and Modules
In addition to its cleaning and optimization features, WinOptimizer 26 offers a wide range of tools and modules that elevate your Windows experience.
Process Manager for Better System Control
WinOptimizer 26's Process Manager provides insights into the processes running on your PC. With this module, you gain a better understanding of the resource utilization and can optimize your system accordingly. By identifying resource-hungry processes, you can streamline your system's performance and ensure a smoother computing experience.
Privacy Manager for Enhanced Privacy Protection
Protecting your privacy is paramount in today's digital landscape. WinOptimizer 26's Privacy Manager empowers you to safeguard your sensitive information. By eliminating privacy traces and securely managing your data, you can rest assured that your privacy remains intact. WinOptimizer 26's comprehensive privacy protection ensures that your personal information stays protected from prying eyes.
Icon Saver and File Wiper for Organizing and Secure Data Erasure
WinOptimizer 26 goes beyond optimization and cleaning by offering additional modules that enhance your system's organization and security. Icon Saver allows you to arrange your desktop icons effortlessly, ensuring a clutter-free and personalized desktop environment. File Wiper ensures secure data erasure, making it impossible for anyone to recover your sensitive files. With these modules, WinOptimizer 26 provides a comprehensive solution for organizing your system and protecting your data.
Protecting Privacy and Removing Traces
Privacy Traces Cleaner and its Functionality
WinOptimizer 26's Privacy Traces Cleaner is designed to eliminate privacy-sensitive data from your system. Its specially designed search algorithms scan files, folders, and the Windows Registry to locate and remove any traces that may compromise your privacy. You have full control over the cleaning process, allowing you to review and confirm the removal of privacy traces. WinOptimizer 26 also includes a built-in Registry backup feature for added safety and whitelisting functionality for individual exceptions. Multi-user support ensures that all user profiles can be cleaned simultaneously, providing comprehensive privacy protection.
Registry Backup and Whitelisting Features
The Registry plays a crucial role in the functioning of your Windows system. WinOptimizer 26's Registry backup feature ensures that you can restore previous configurations if needed. This provides an added layer of safety when performing cleaning and optimization tasks. Additionally, the whitelisting feature allows you to exclude specific items from being cleaned, ensuring that essential files or settings are not accidentally removed.
Multi-User Support for Cleaning Multiple Profiles
If you share your computer with others or have multiple user profiles, WinOptimizer 26's multi-user support is a valuable feature. With a single click, you can clean all user profiles, ensuring that each account benefits from the optimization and cleaning processes. WinOptimizer 26 simplifies the task of maintaining a clean and optimized system, regardless of the number of user profiles on your PC.
System Analysis and Insights
CPU Load, Disk Usage, and Privacy-Related Information
Understanding your system's performance and resource utilization is crucial for optimization. WinOptimizer 26 provides a comprehensive system analysis that presents valuable information at a glance. In addition to the CPU load speedometer, you now have insights into disk usage and privacy-related information. These insights enable you to make informed decisions about system optimization and resource allocation.
Irrelevant Files, Services, and Reclaimable Disk Space
The system analysis in WinOptimizer 26 goes beyond surface-level information. It provides in-depth details about the number of irrelevant files, services, and Registry entries present on your system. Additionally, it highlights the amount of potentially reclaimable disk space, empowering you to identify areas for optimization. WinOptimizer 26's system analysis equips you with the knowledge needed to make informed decisions about cleaning and optimization.
Valuable Information Provided by the System Analysis
The system analysis feature in WinOptimizer 26 is a treasure trove of valuable information. By expanding the program window, you can access additional system details that provide insights into the performance and health of your PC. From the number of irrelevant files and services to the potential disk space that can be reclaimed, WinOptimizer 26's system analysis ensures that you have a comprehensive understanding of your system's state.
Auto-Optimization and Tuning Assistant
Windows Auto-Optimization and its Benefits
Ashampoo WinOptimizer 26 seamlessly integrates with Windows auto-optimization, enhancing your system's performance effortlessly. By disabling unnecessary background services, optimizing security settings, and customizing Windows according to your preferences, WinOptimizer 26 ensures that your system operates at peak efficiency. Let WinOptimizer 26 take care of the optimization process while you focus on your work and enjoy a faster and smoother Windows experience.
Tuning Assistant for Customizing Windows Performance
WinOptimizer 26's Tuning Assistant is a valuable tool for customizing your Windows performance. By guiding you through a series of questions and explanations, the Tuning Assistant helps you understand the impact of different optimization settings. You can fine-tune your system to meet your specific requirements and preferences, ensuring a personalized and optimized Windows experience. With the Tuning Assistant, WinOptimizer 26 puts you in control of your system's performance.
Casual Conversation and Risk-Free Optimization
The Tuning Assistant in WinOptimizer 26 takes a unique approach to guide you through the optimization process. Instead of overwhelming you with technical jargon, the Tuning Assistant engages you in a casual conversation. It explains optimization options in a user-friendly manner, making the process enjoyable and risk-free. WinOptimizer 26 ensures that you have complete control over the optimization process, with the ability to review and confirm changes before they are applied.
Convenient Notifications and Background Tasks
Windows Notification Center Integration
WinOptimizer 26 seamlessly integrates with the Windows Notification Center, keeping you informed about important system tasks and updates. Notifications ensure that you stay up to date with the status of background tasks, cleaning progress, and optimization results. With WinOptimizer 26's integration with the Windows Notification Center, you can conveniently manage and monitor the optimization process.
Customizable Notifications for User Preferences
WinOptimizer 26 allows you to customize the notifications according to your preferences. You can choose the types of notifications you want to receive, enabling you to stay informed about specific activities or events. Whether you prefer detailed notifications or minimalistic updates, WinOptimizer 26's customizable notifications ensure that you have full control over the information you receive.
Powerful Cleaners for Comprehensive Results
Four-Way Cleaning Action for Maximum Efficiency
WinOptimizer 26's cleaning modules employ a comprehensive four-way cleaning action, ensuring maximum efficiency in removing junk files and unnecessary data. The cleaners target web browsing traces, temporary files, invalid Registry entries, and leftover files from software uninstallations. By addressing these four areas, WinOptimizer 26 provides a thorough cleaning process that frees up disk space and enhances system performance.
Instantaneous Results and High Detection Rates
WinOptimizer 26's cleaners deliver instantaneous results, providing you with immediate feedback on the cleaning process. You can witness the amount of disk space recovered and the number of cleaned items in real-time. With high detection rates, WinOptimizer 26 leaves no stone unturned, ensuring that even the most hidden and stubborn junk files are removed. You can trust WinOptimizer 26 to deliver a clean and optimized system with every cleaning operation.
Meticulous Tailoring to Modern Windows Versions and Browsers
WinOptimizer 26 is designed to cater to the latest Windows versions and popular web browsers. It stays up to date with the ever-evolving landscape of operating systems and browsers, ensuring that its cleaning and optimization features are tailored to deliver maximum effectiveness. Whether you are using Windows 11 or the latest browser releases, WinOptimizer 26 has you covered, providing a seamless and efficient cleaning experience.
Enhanced Uninstallation and System Management
UnInstall Manager 2 for Windows Apps
WinOptimizer 26 includes UnInstall Manager 2, a powerful tool for managing Windows apps and uninstalling unwanted software. With UnInstall Manager 2, you can thoroughly remove software from your system, ensuring that no leftover files or Registry entries remain. It provides an organized overview of installed apps, allowing you to quickly identify and uninstall programs that are no longer needed. UnInstall Manager 2 streamlines the app removal process, improving system performance and freeing up disk space.
Startup Tuner and Service Manager
WinOptimizer 26's Startup Tuner and Service Manager empower you to take control of the programs and services that start with your system. By managing startup entries and services, you can optimize your system's boot time and overall performance. WinOptimizer 26's intuitive interface makes it easy to identify and disable unnecessary startup items and services, ensuring that your system starts up quickly and efficiently.
Improved Interface, Smart Filters, and Additional Helpers
Ashampoo WinOptimizer 26 introduces an improved interface that enhances the user experience and makes navigation more intuitive. The interface has been redesigned to provide a streamlined and user-friendly environment, ensuring that you can easily access all the features and modules offered by WinOptimizer 26. With a clean and modern look, the interface allows you to navigate through the program effortlessly, making optimization tasks a breeze.
Smart filters are another notable addition to WinOptimizer 26. These filters intelligently categorize and organize the system analysis results, making it easier for you to identify areas that require optimization. The smart filters highlight critical issues, such as performance bottlenecks or privacy concerns, allowing you to prioritize and address them promptly.
In addition to the smart filters, WinOptimizer 26 offers a range of additional helpers that assist you in optimizing your system. These helpers provide specific guidance and recommendations based on the analysis of your PC, helping you fine-tune your settings for optimal performance. Whether it's optimizing security settings, managing startup items, or tweaking system parameters, the additional helpers in WinOptimizer 26 offer valuable insights and suggestions to enhance your system's performance.
SSD Wizard for Drive Optimization and Performance Enhancement
Ashampoo WinOptimizer 26 understands the importance of optimizing solid-state drives (SSDs) to maximize their performance and lifespan. The new SSD Wizard is specifically designed to cater to the unique needs of SSD users. With the SSD Wizard, you can gather detailed information about your SSD, including its health status, firmware version, and available capacity.
The SSD Wizard provides optimization recommendations tailored to your specific SSD model, ensuring that you can achieve the best possible performance. It offers guidance on optimizing SSD settings, such as enabling TRIM support or adjusting power management options. By following the recommendations of the SSD Wizard, you can enhance the performance of your SSD and prolong its lifespan, ultimately improving the overall speed and responsiveness of your system.
Awesome
Ashampoo WinOptimizer 26 is a comprehensive PC optimization suite that offers powerful cleaning and optimization features. With its in-depth cleaning capabilities, advanced privacy protection, and customizable optimization options, WinOptimizer 26 ensures that your Windows PC operates at its best. Whether you want to reclaim disk space, improve system performance, or protect your privacy, WinOptimizer 26 provides the tools and modules necessary to achieve your goals. Experience a faster, cleaner, and more efficient Windows PC with Ashampoo WinOptimizer 26.
What's New
Ashampoo WinOptimizer 26, The latest version of Ashampoo's highly popular PC optimization software. Packed with new features and enhancements, WinOptimizer 26 takes performance, cleanliness, and privacy protection to a whole new level.
What's new in Ashampoo® WinOptimizer 26?
Privacy Traces Cleaner: Safely find and delete sensitive data to enhance privacy protection.
Tuning Assistant: A dialogue-driven approach for personalized system optimization.
One-click optimization: Powerful 1-Click Optimizer combines four modules for superior cleaning results.
Redesigned system analysis module: Provides in-depth information and visual clarity for a comprehensive system overview.
Super-fast cleaners: New search algorithms ensure faster and more efficient cleaning.
Windows Notification Center-based program notifications: Smooth and unobtrusive updates.
UnInstall Manager 2: Uninstall Windows apps with ease using the improved interface and additional helpers.
SSD wizard: Enhanced handling and detailed information for optimizing solid-state drives.
Data-rich dashboards: Condensed and up-to-date system overview with quick shortcuts to essential modules.
Extended tweaking module: Offers individual Windows customization with the latest tweaks, including those for Windows 11.
Improved performance: Enhancements across all 30 WinOptimizer modules for better overall system performance.
Enhanced information presentation: Clear and concise presentation of system information for easy understanding.
The system analysis module has been redesigned to provide a wide range of optimization options right from the start page, allowing you to quickly and easily optimize your operating system. The cleaner modules have also received significant improvements, effectively removing web browsing traces, temporary files, and leftover files from software uninstallations. These cleaners are now faster and more thorough than ever before, ensuring a clean and efficient system.
WinOptimizer 26 includes Auto-Clean, Live-Tuner, and Game-Booster, which work together to keep your system clean and ensure faster program launches and smoother gaming experiences. The data-rich dashboards provide a condensed yet up-to-date overview of your system, serving as quick shortcuts to essential modules. The tweaking module offers extensive Windows customization options, including tweaks for Windows 11.
Additionally, WinOptimizer 26 introduces Privacy Traces Cleaner, allowing you to find and delete sensitive data that may compromise your privacy. The new Tuning Assistant provides personalized system optimization based on a dialogue-driven approach. The popular 1-Click Optimizer now combines four powerful cleaning modules for superior results. Program notifications now utilize the Windows Notification Center for seamless and unobtrusive updates. UnInstall Manager 2 enables the uninstallation of Windows apps with ease.
Furthermore, WinOptimizer 26 features an SSD wizard with improved handling and detailed information. With enhanced performance, information presentation, and a host of new features, Ashampoo WinOptimizer 26 empowers you to optimize your PC like never before.
Features
Key Features of Ashampoo WinOptimizer 26:
General

Updated start page with CPU speedometer and up-to-date hardware details
Access to Windows license key

All features fully Windows 11 compatible
Handy tooltips with context-sensitive help information for important features

Greatly reduced memory consumption in multiple modules
Dashboards for always up-to-date data and instant feature access
Completely intuitive user interface
Two program skins available
Ready for future Windows updates
Conserve energy efficiently and preserve battery life
Ingenious navigation bar with access to all features
Ready for future Windows updates
Start page with eight optimization tools
Brilliant visuals at any resolution on any display
New usability concept
Completely intuitive user interface
Interactive start screens with problem analysis
Enhanced user experience
Excellent gaming performance at the click of a button with Game Booster
Manage system policies easily with User Rights Manager
Increased performance, more efficient memory usage
Manage system restore points comfortably with System Restore Manager
Save and restore all changes with Backup Manager
Speed up any application launch with Live Tuner as a background task
Wizard-driven optimization with Tuning Assistant

System maintenance

Thorough in-depth cleaning of system critical areas
Find and delete old Windows versions, updates, and system caches

Reduced and clearer cleaner user interfaces
Up to 75% faster cleaners
Super-fast 1-click optimization based on new cleaner modules
Convenient cookie manager for "safe" cookies
Totally overhauled 1-Click Optimizer

Auto-emptying of Windows recycle bin
Instant access and always up-to-date information with dashboards
Merge free disk space with Defrag
Extensive drive analysis and hardware review with Defrag
Handy task scheduler for maintenance and optimization
Manage Opera plugins with ease
No more unwanted browser extensions
Clean multiple users accounts simultaneously
Automatically delete web browsing traces and temporary files
Powerful drive cleaner with significantly improved results
Newly developed Internet cleaner with multi-user support
Updated search algorithms for all cleaner modules
Clean hard disks with Drive Cleaner
Remove internet traces with Internet Cleaner
Optimize Windows Registry with Registry Optimizer
New filter settings to narrow down search results
Defragment Windows Registry
1-Click optimization with One-Click-Optimizer
Defragment hard disks for improved performance
Pro-active defragmentation as a non-disruptive background task
File tools

New confirm dialog in File Wiper plus deletion method selection
Locate file duplicates faster with new filters
Over 80 new and faster components
Redeveloped for enhanced speed
Support for ExFat partitions
Find duplicate files with Duplicate Finder
Recover accidentally deleted files with Undeleter
Safely and securely encrypt and split up a file with File Manipulator
Render deleted files unrecoverable with File Wiper
Securely delete files with File Wiper
Remove the contents of the trash safely and permanently
Find invalid program shortcuts with Link Checker
Overwrite free space and safely destroy old file remnants
Securely encrypt and decrypt files with File Encrypter and Decrypter
Split up huge files with File Splitter

System analysis

Support for modern multi-core processors in System Information
ADS Scanner for hidden data streams
Extended system details view with new categories
Support for extremely large partitions
More details about running services
New and dramatically faster DiskSpace Explorer
Support for extremely large partitions
Get detailed system information
Innovative hard disk benchmark with detailed results
Optimum SSD support for increased lifespans
Manage installed fonts with Font Manager
Detect hard disk issues on time with HDD Inspector
View disk space usage and find large files with DiskSpace Explorer
Benchmark system with System Benchmark
Compare benchmark results online

Improve system performance

New designs for UnInstall Manager and Process Manager
Analyze and accelerate boot times with Boot Center
Autorun module with startup times for individual programs and system apps
Manage and disable Windows tasks individually
Enhanced Uninstall Manager with additional details
SSD Wizard for solid-state drives
Optimize Internet connections with Internet Tuner
Disable unnecessary system services for more performance with Service Manager
Speed up Windows startups with Startup Tuner
View and manage running processes with Process Manager
Review and uninstall applications

Customize Windows

Multiple new Windows 11 tweaks for taskbar, Explorer and more
Powerful Privacy Manager module to disable Windows telemetry
New Windows 10 customization tweaks
Maximum privacy protection for Windows 10 with Win10 Privacy Control
Save Windows desktop icon arrangement with Icon Saver
Improve privacy with AntiSpy
Adjust hidden settings with tweaking module
Customize Windows context menu with Context Menu Manager
Adjust file associations with File Associator
Requirements
To run Ashampoo WinOptimizer 26 with optimum reliability and performance, your system should match the following requirements:
System Requirements for Windows OS:
Operating System: Windows® 11, Windows® 10, Windows® 8 / 8.1, Windows® 7
Computer: Any computer that supports the above operating systems.
Full administrative rights are required to use the program.
An Internet connection is required to activate the program. The program license is verified repeatedly at regular intervals.
System Requirements for Mac OS:
Downloads
Not sure if Ashampoo WinOptimizer 26 does what you need? Try it out now. Please feel free to download Ashampoo WinOptimizer 26 for Windows here. The Windows Optimizer Software by Ashampoo Software GmbH & Co., KG has been tested professionally and we are assured that no viruses, Trojans, adware or malware contained.
Ashampoo WinOptimizer 26 Ashampoo WinOptimizer Free
Buy Now
Ashampoo WinOptimizer 26 retails for $50.00. But, on our website, THE Software Shop, you can get Ashampoo WinOptimizer 26 Full Version license key with an 76% discount coupon. All these offers are available for a limited time!
ORDER HERE

Mac OS X

You also might like

Software Giveaway
Please Report if Ashampoo WinOptimizer 26 Deal/Discount Coupon/Giveaway has a problem such as expired, broken link, sold out, etc.