BEST SELLER
40% Off on Auslogics BoostSpeed 13 Pro: 3-PC 1-Year License | Tune-up Your PC for Peak Performance! – for Windows
The simplest way to repair, clean up, and speed up your PC. Get your own license key of Auslogics BoostSpeed 13 Pro with a 40% Discount Coupon!
30-day Money-back guarantee | Included Future Updates & Upgrades | Technical Support by Auslogics
Auslogics BoostSpeed 13 Pro Review at a Glance
Auslogics has released a new major version of its most popular and most powerful PC optimization tool: Auslogics BoostSpeed 13 Pro. Make 2023 the year you start taking better care of your PC, so you can get more things done in less time! It's a totally new program that supports the newest technology developments but still works great for Windows versions as old as XP. This means you can boost all your Windows computers with one program.
Auslogics BoostSpeed 13 Pro is a comprehensive collection of PC tune-up tools that have been recommended on the Discovery Channel and on various industry websites as a must-have for maintaining any Windows computer. This PC optimization toolkit has a huge catalog of tools that will help you bring your system up to speed. This ranges from a tweak manager to a service manager that helps you kill whatever processes you don't need and free your resources for better work.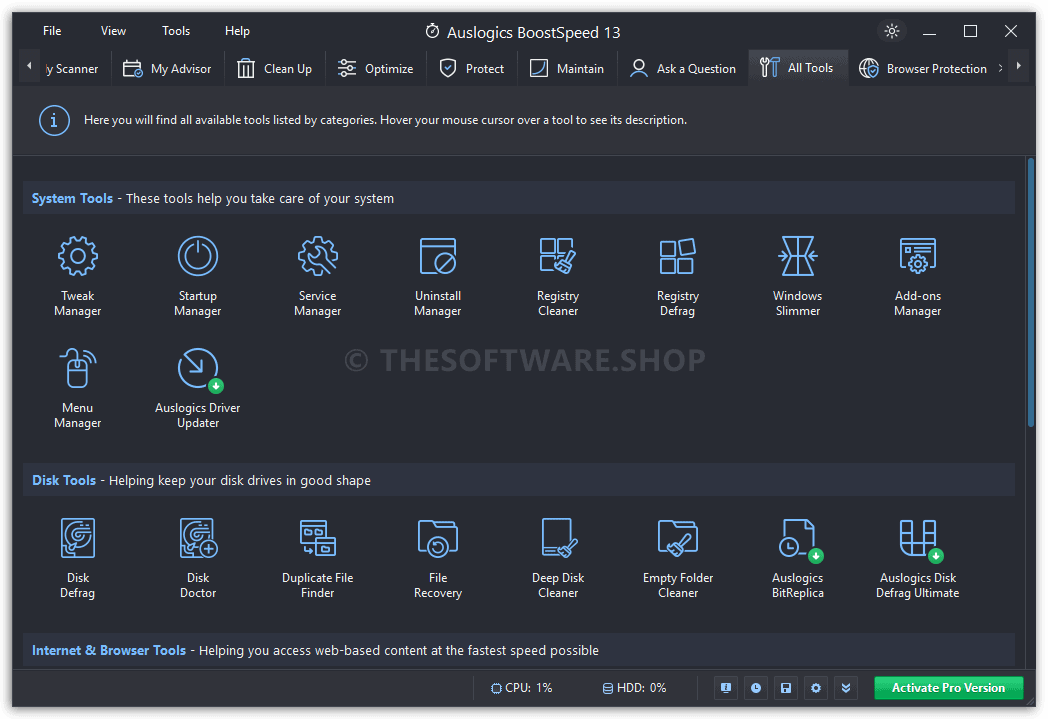 You can tweak configuration settings manually or let BoostSpeed 13 Pro handle the tricky decisions. That's not the only way BoostSpeed takes care of the hard work, either. Launch a System Scan, and BoostSpeed will automatically and quickly identify Registry problems, leftover hard drive junk, file fragmentation, and other issues. Then you can have the program fix all these issues in just one click.
Alternatively, the System Advisor tool can scan your PC for unwanted programs, surplus services, and misconfigured settings, recommending tweaks and automatically applying them on demand. BoostSpeed also has other key features, such as its Live Speedup module. A Disk Priority Manager optimizes applications in real-time, your hard drive is monitored to prevent file fragmentation, while disk and Registry cleanups can now be run automatically.
Though these coupled with the disk defrag, free space wiper and startup managers are expected, the fact that Auslogics managed to bundle it all into one comprehensive easy to use suite makes it an absolute win.
What's New in Auslogics BoostSpeed 13 Pro
At a glance, This major upgrade brings you:
Full Windows 11 support to optimize your PC with all of the new Windows system strengths and weaknesses taken into consideration.
Improved SSD support in the Disk Defrag utility allows users to accurately assess the health of installed drives and manage disk space with confidence.       
New customizable interface makes BoostSpeed 13 more flexible and lets you enjoy a smoother experience in dealing with any issue.       
The new stylish dark theme provides comfort of use at night or in low-light environments, and helps to extend battery life on devices with OLED screens.       
New and improved functionality in nearly each of the 20+ tools that have already proven effective in helping users optimize their PCs.
Fine-tune your computer for the specific task at hand
Like most of us, you probably have a computer that's used for multiple purposes. For instance, you work with documents during the day and like to watch movies or play your favorite game at night. Oftentimes, a home PC is used by different generations, all with their own likes and needs. Wouldn't it be great to have a PC that's fine-tuned for office work, another one for home entertainment, and yet another one that would give you outstanding FPS rates in your games? BoostSpeed 13 lets you fine-tune your computer for the specific task at hand by simply clicking a button. Switch the mode to one of 4 pre-configured options or customize your own mode and switch to it when needed. It's all possible in the brand-new version 11!
clear more space than ever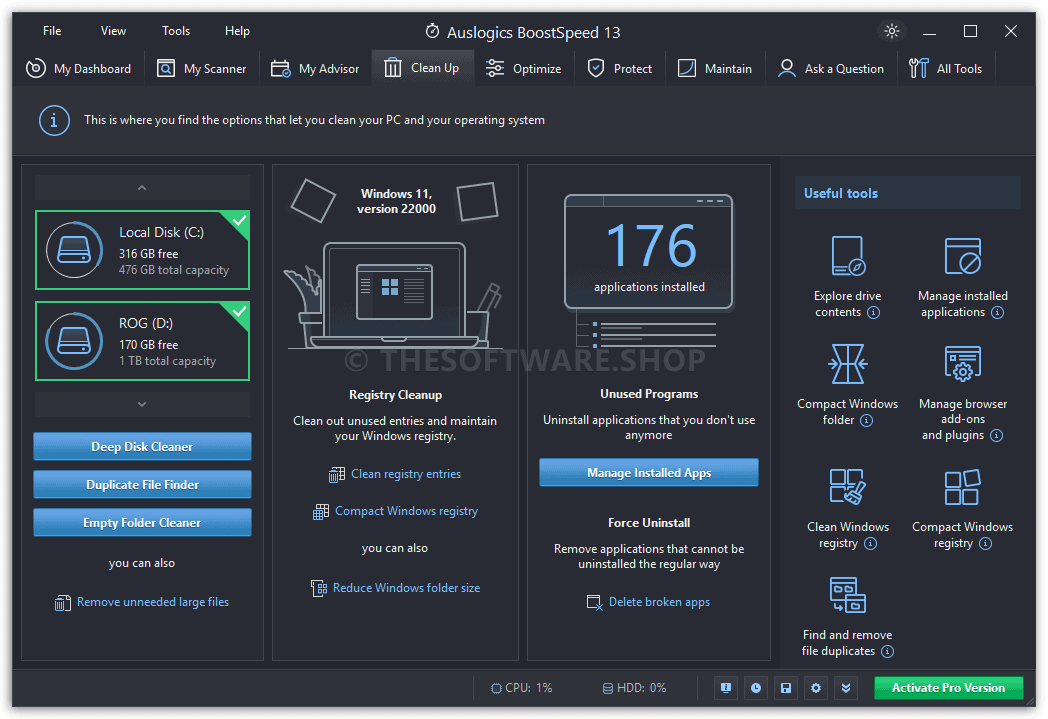 No matter how big our drives are, after using a PC for a couple of years, we all find ourselves wishing for more disk space. Auslogics BoostSpeed Pro 13 will let you clear more space than ever with the new Deep Cleanup tool. It will go through advanced categories, such as temporary database and development files, various backup and log files, archive descriptions and a lot more, and let you safely delete tons of files without compromising system operation. Your drives will get lighter and you'll be able to store more photos, music or videos on your PC.
Ask a Question button and access a community of PC experts
Wouldn't it be great to have a tech-savvy friend by your side when you are trying to get your computer tweaked and optimized? The brand-new feature that's coming in BoostSpeed 13 gives you just that! You'll be able to click the Ask a Question button and access a community of PC experts and other users, who can share their tips with you or provide answers to your questions.
BoostSpeed 13 makes it a lot easier to get great results, as you'll get the guidance and all the knowledge you may need to accomplish each task.
Lock your keyboard when your PC is idle
BoostSpeed 13 will now protect your computer from your kittens, among other things. Imagine the tragedy if your cute little furball walked on your keyboard and got important files deleted or closed an unsaved document for you? BoostSpeed will lock your keyboard when your PC is idle. You will need to press a combination of keys to unlock the keyboard, which no kitten on this planet can reproduce with its paws. At least not yet
Active Browser Protection
Another exciting feature of the program – Active Browser Protection that protects your active web browser from hacker attacks or unauthorized changes of settings and offers a whole array of useful tools:
Home Page advisor;
Active Browser AntiTracker;
DNS protection;
It is the next level of Browser Protection and provides maximum security and extreme convenience in use.
Screenshots
Features
Key Features of Auslogics BoostSpeed 13 Pro:
Slim down your Windows – Reduce the amount of disk space taken up by system files and data, tweak Windows privacy settings for a safer and smoother user experience.
Optimize SSD or HDD – Boost traditional HDDs or apply special algorithms to optimize data placement on SSD drives and help extend the drive's life.
Disk Defrag – Defrag files for maximum hard drive efficiency
Startup Manager – Disable unneeded startup items for faster boot
System Info – Gather detailed info on your system components
Task Manager – Cancel nonessential tasks to save resources
Service Manager – Stop unneeded services to free up memory
Tweak Manager – Tweak system settings for an improved experience
Duplicate File Finder – Locate duplicate files and get rid of the extra copies
Disk Doctor – Scan for disk errors and attempt to fix them
Disk Explorer – Explore your disk drives for biggest space hogs
File Recovery – Recover files that got deleted in error or by a virus
Uninstall Manager – Uninstall software you don't use or need anymore
Registry Cleaner – Remove invalid entries to improve stability
Disk Cleaner – Free up disk space from all types of junk files
Internet optimizer – Optimize Internet settings for faster connection
File Shredder – Shred files to prevent their recovery by criminals
Free Space Wiper – Wipe free disk space to protect your privacy
Menu Manager – add options to the context menu, or remove items you don't need from it, in a few quick clicks.
Add-on Manager – Safe and easy way to sort through browser plugins and add-ons
Compact OS – Compact your system files to save gigabytes of space with no ill effect on PC performance
My Tasks feature – you will always know what to do next, and will be able to optimize your PC in a few quick clicks.
The program omes in 2 modes – Basic and Advanced – to accommodate users of any experience level.
Program dashboard can now be customized to include the frequently used tabs and options for quick and convenient access.
Multi Uninstall feature now allows removing several unneeded programs at once.
Many tools and features have been improved and enhanced to boost the performance effect.
Requirements
To run Auslogics BoostSpeed 13 Pro with optimum reliability and performance, your system should match the following requirements:
System Requirements for Windows OS:
Supported Operating System:

Windows 11 (32 or 64 bit),
Windows 10 (32 or 64 bit),
Windows 8/8.1 (32 or 64 bit),
Windows 7 (32 or 64 bit),
Windows Vista SP2 (32-bit only),
Windows XP SP3 (32-bit only)

Hardware Requirement

Recommended screen resolution: 1024×700
Memory: 512 MB
Hard disk space: 60 MB
BoostSpeed 13 is currently available in English, German, French, Italian, Japanese, Spanish and Russian.
Auslogics BoostSpeed Pro Download
Not sure if Auslogics BoostSpeed 13 Pro does what you need? Try it out now. Please feel free to download Auslogics BoostSpeed 13 free for Windows here. This ultimate PC Utility by Auslogics has been tested professionally and we are assured that no viruses, Trojans, adware or malware contained.
Buy Now
Auslogics BoostSpeed 13 Pro retails for $59.95, But, on our website, THE Software Shop, you can get Auslogics BoostSpeed 13 Pro license key with a 40% discount coupon. This offer is available for a limited time!
BUY HERE:

You also might like

Giveaway
LIMITED TIME OFFER - 40% Off
Auslogics BoostSpeed 13 PRO - 1 Year, 3 PCs (40% Off)
1 Year, 3 PCs
Ultimate speedup and performance improvement
Use coupon code to get 40% Discount!
A license can be used on up to 3 PCs
The license is valid for 1 year
Enjoy exclusive PRO features

Advanced PC cleanup & optimization
Automatic Internet optimization for an ultimate connection speed boost
Advanced privacy protection for all data stored on your PC
Browser Anti-Tracker to protect your online privacy
Full SSD optimization
Full registry cleanup
Advanced disk cleanup options to maximize available space
Intelligent Defrag to optimize file placement on drives for an even bigger speed boost
Scheduled disk defragmentation to maintain drive health
Scheduler for effortless regular scans and maintenance
Unlimited use of all advanced PC tools
Customize notification settings
Ask (Up to) 3 Questions option for live expert answers

Enjoy a full year of free product updates.
24/7 Free Customer Support by Auslogics
30-Day Money-Back Guarantee
Platform: Windows
$59.95
Auslogics Essential Tools - 1 Year, 3 PCs (50% Off)
1 Year, 3 PC
This set of powerful tools is designed to resolve driver issues, clean and optimize PC, protect from cyber threats and ensure top data access speed.
Use coupon code: HHLC50HP to get 50% Discount!
What you get:

Auslogics BoostSpeed (a $59.95 value)
Auslogics Driver Updater (a $39.95 value)
Auslogics Anti-Malware (a $29.95 value)
Auslogics Disk Defrag Ultimate (a $29.95 value)

A license can be used on up to 3 PCs
Unlimited: Ask a Question option for live expert answers
Unlimited use of all advanced PC tools
Ultimate connection speed boost
License is valid for 1 year
Enjoy the latest full version
Enjoy a full year of free product updates.
24/7 Free Customer Support by Auslogics
30-Day Money-Back Guarantee
Platform: Windows
$159.80
OTHER Auslogics BoostSpeed 13 PRO DISCOUNT COUPONS:
Auslogics BoostSpeed 13 PRO (30% Off)
You don't need to enter the coupon code, it will be applied automatically.
$59.95
Auslogics BoostSpeed 13 PRO (15% Off)
You don't need to enter the coupon code, it will be applied automatically.
$59.95
Auslogics BoostSpeed 12 Pro License Key Giveaway is available now FREE for a limited time!
Please note that once you signed in, do not close this page. You will be shown how to get this offer for free.
Also, check out the latest software giveaways that are available here on the software giveaway page.
---
* VAT information can be found in the shopping cart
.** All prices shown here are in listed USD (United States Dollar). You can switch to any other currencies during the checkout process.
Thanks for reading Auslogics BoostSpeed 13 PRO Review & Enjoy the discount coupon. Please Report if Auslogics BoostSpeed 13 Pro Discount Coupon/Deal/Giveaway has a problem such as expired, broken link, sold out, etc while the deal still exists.
Excellent
AUSLOGICS BoostSpeed is a comprehensive suite of tools that will improve performance in just about every area of your PC's operations. If your system is slow to boot, for instance, then use the Startup Manager to locate and disable unnecessary Windows startup programs, Explorer extensions, and more. BoostSpeed can highlight 'dangerous' items, programs it believes may be spyware, for an additional security benefit. There are also tools for removing junk files from your storage drives, and once it's done, the excellent Auslogics Disk Defrag will rearrange your files to deliver the best possible performance. Then, there are tools to clean up and then defragment the Registry, and even a module to speed up your internet connection.