GIVEAWAY
Expired
Software Giveaway – AutoClose 3 PRO: Free Registration Code | A Program Closing Timer – for Windows

Manage your computer's activities and tasks by automatically closing programs, shutting down or logging out of the system, hibernating, rebooting, and more. Get AutoClose 3 PRO full version with a registration code for free!
You can also get AutoClose 3 PRO full version with a lifetime license that includes free upgrades and support for just $29.95
✔ Free Product Updates ✔ 24×7 Customer Support
AutoClose PRO Review at a Glance
Leaving Computers Unattended: People who work on computers are well aware of the potential drawbacks of keeping their systems running for prolonged periods. Whether it's a desktop or a laptop, extended operation can lead to overheating, system malfunctions, and even reduced battery lifespan. Yet, there are situations where leaving a computer operational for extended periods is unavoidable. Tasks such as rendering, downloading large files, or system updates might necessitate hours of uninterrupted operation.
Here's where AutoClose PRO enters the scene, offering an intelligent way to automatically end programs and execute specified actions once tasks are completed.
Introducing AutoClose PRO: Your Efficient Solution
A Seamless Solution: AutoClose PRO steps in as a powerful utility application designed to alleviate these concerns. By automatically ending all running programs and executing specified actions after a designated timeframe, AutoClose bridges the gap between productivity and resource conservation.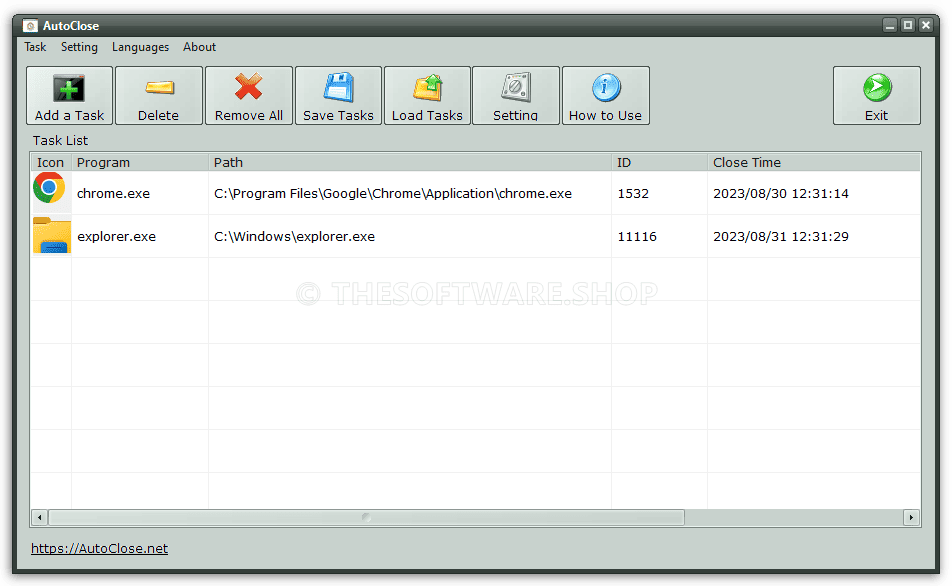 Imagine being able to confidently set a rendering task in motion, knowing that once the estimated time is up, AutoClose will gracefully bring your system to a halt. With AutoClose PRO, you can focus on your work without worrying about manually closing applications or wasting system resources. It provides a seamless experience by automating the process of ending tasks, allowing you to maximize productivity while conserving valuable computing power.
How AutoClose PRO Enhances Your Workflow
Empowering You with Control: At the core of AutoClose's functionality lies the ability to dictate how and when programs on your Windows system close. Whether it's shutting down, logging off, hibernating, or rebooting, AutoClose PRO empowers you to make informed decisions that align with your workflow.
Automating Program Closure
With AutoClose PRO, the days of manually overseeing program closures are over. By specifying precise closure times, you eliminate the need for constant monitoring, allowing you to focus on tasks without worry.
Scheduled Program Quitting
Have a task that requires hours to complete? AutoClose's scheduled program quitting feature lets you set estimated task durations. Once the time is up, AutoClose PRO steps in to efficiently close all running programs, freeing you to take a break or move on to other tasks.
Unlocking the Benefits of AutoClose PRO
Energy Efficiency and System Health: Beyond the convenience factor, AutoClose PRO contributes to energy conservation and system health. Automatic shutdowns, log-offs, and hibernations not only save power but also prevent unnecessary wear and tear on your system.
Streamlining Task Management: The efficiency gains from AutoClose PRO extend to task management. With the software handling program closures, you're free to manage tasks without the constant distraction of open applications.
Data Security and Privacy: AutoClose PRO adds a layer of security by allowing you to turn off the display monitor or log off when you step away from your system. This prevents unauthorized access and safeguards sensitive information.
Battery Life Preservation: For laptop users, AutoClose's benefits are particularly noteworthy. By closing background processes and optimizing system performance, it helps extend battery life.
Navigating AutoClose PRO: A User-Friendly Experience
Installation and Setup: Getting started with Auto Close PRO is a straightforward process. After a quick installation, you're ready to optimize your system's performance.
An Intuitive Interface: AutoClose's interface is designed with user-friendliness in mind. Setting closure times, managing tasks, and customizing preferences are seamlessly integrated into the software.
Customizing AutoClose PRO for Your Needs
Tailored Closure Times: AutoClose's flexibility shines through its ability to set specific closure times. Whether you're stepping out for a short break or need an extended closure, the software adapts to your requirements.
Efficient Handling of Tasks: Multitasking is made easier with AutoClose's batch close feature. Simultaneously managing multiple applications is now more efficient than ever.
Secure and Confidential: In workplaces where information security is paramount, AutoClose's display monitor turn-off feature adds an extra layer of confidentiality. It's an ideal solution for preventing data leaks.
Boosting Productivity with AutoClose
Task-Specific Efficiency: AutoClose's prowess shines in tasks that require significant processing power or time. Whether it's rendering a large file or running resource-intensive applications, AutoClose's ability to close background programs speeds up your processor.
Effortless Background Process Management: Hidden processes can subtly slow down your system. AutoClose PRO efficiently identifies and terminates such processes, optimizing your computer's performance.
The Future-Proof Solution: AutoClose PRO
With AutoClose, you're not just investing in a program closing timer; you're revolutionizing your computing experience. From task efficiency to energy conservation and data security, Auto Close PRO covers it all. Regardless of whether you're a student, designer, or software developer, the benefits are undeniable.
Conclusion: Navigating the Digital Landscape
In the realm of modern computing, AutoClose PRO stands as a beacon of efficiency and convenience. Its ability to automate program closures, optimize task management, and enhance system health makes it a valuable addition to any user's toolkit. As we continue to rely on technology to drive productivity, tools like Auto Close ensure that we do so while keeping our systems running optimally and securely.
Features
Key Features of AutoClose PRO
Close Programs at a Specific Time: Schedule programs to automatically close at designated times.
Scheduled Programs to Quit after a Period: Set programs to quit automatically after a specified duration.
Close Hidden Processes: Terminate hidden background processes efficiently.
Auto Shutdown/Hibernate/Reboot/Log Off: Choose from various actions to be executed automatically.
Multiple Tasks / Batch Close: Manage and close multiple programs simultaneously.
Auto Turn Off Display Monitor: Automatically turn off the display monitor for privacy and energy conservation.
Save & Load the Task List: Easily save and reload configured task lists.
Run Programs at a Specific Time: Schedule programs to run automatically at specified times.
Run or Close after No Mouse/Keyboard Actions: Execute actions based on inactivity.
Customize Closing or Running Programs in Loop: Set programs to close or run in a loop as needed.
Requirements
To run #THE SOFTWARE with optimum reliability and performance, your system should match the following requirements:
Supported Windows OS: Windows 11 / Windows 10 / Windows 8 / Windows 7 / Vista / XP & Server (64/32 bit)
Downloads
Not sure if #THE SOFTWARE does what you need? Try it out now. Please feel free to download AutoClose PRO here. This Automatic program closer has been tested professionally and we are assured that no viruses, Trojans, adware or malware contained.
Installer, Windows Portable, Windows
BUY NOW
Limited Time Offer: Buy now AutoClose PRO and unlock a lifetime license with free upgrades and support for only $29.95! Don't miss out on this exclusive deal!
Software Giveaway: You can also get AutoClose 3 PRO with a registration code for free in the Giveaway tab below.
ORDER HERE:

You also might like

Giveaway
AutoClose PRO Key Giveaway is available now free for a limited time!
Please note that once you have signed in, do not close this page. You will be shown how to get this offer for free.
Also, check out the latest software giveaways that are available here on the software giveaway page.
NOTES:
– All prices shown here are in listed USD (United States Dollar).
– Such promotional programs are subject to change without notice, from time to time in our sole discretion.
– Data may vary based on different systems or computers.
---
Thanks for reading AutoClose Pro Review & Enjoy the discount coupon. Please Report if AutoClose Pro Discount Coupon/Deal/Giveaway has a problem such as expired, broken link, sold out, etc while the deal still exists.