Make protecting your site simple with automated penetration tests and insights on how to fix security issues. Get lifetime access to Beagle Security with a discount offer of up to 93%!
✔ Save up to $3845.00. ✔ Lifetime Access ✔ 60-day Money-back Guarantee. ✔ Secure Payment. ✔ 24×7 Customer Support
93% Off on Beagle Security (Lifetime Access) – Web Application Penetration Testing Tool
93% Off on Beagle Security (Lifetime Access) – Web Application Penetration Testing Tool
Beagle Security – Review at a Glance
You already know hackers are on the prowl, and tracking your website's security is a huge time suck that comes with a hefty price tag. Well, not with Beagle Security.
Beagle Security is a website security tool that helps you uncover loopholes on your website before hackers get to them by using intelligent, in-depth penetration tests. BeagleSecurity lets you leverage the power of AI to run accurate in-depth penetration tests. You'll have the ability to secure multiple websites from one dashboard and automate your security testing on a weekly or monthly basis.
Once a test is complete, you can access details like security score, number of vulnerabilities, and classification based on severity. You'll also get the OWASP top 10 indicators that show the vulnerability trend of a particular site over time.
BeagleSecurity's reports offer recommendations on how to efficiently fix each security vulnerability. Plus, you can grant report access to your team or clients so you can get the issues resolved as soon as possible.
BeagleSecurity integrates with all major DevOps pipelines, like Gitlab, Bitbucket, Azure, and more, so you can test web apps before important releases. It also connects with Slack, Jira, and other apps to notify developers of security changes.
Bottom line: BeagleSecurity optimizes your security processes and provides keen insights to keep your website safe from cyberwarfare.
How does Beagle Security work?
Let's dive in. When you log into your BeagleSecurity account, you've got a home dashboard that delivers a basic overview of the projects you're monitoring and tests you're running.
Plus, you get an at-a-glance look at your most vulnerable applications and what needs immediate attention. Keep scrolling to see your tests in progress, what's going down at that very moment, and the latest reports. Scroll a little more to see your scheduled tests and what's up next.
Alright, let's start a security test! Give it a project name, application name, and enter the web URL. Next, we'll verify the domain to make sure a legit person is running these tests. You have the option to run a file verification or a DNS verification, for which you create a new TXT record in your DNS.
Alright, we're verified! and we can start our first test.. The penetration test will run in the background and can take a couple of hours depending on the size of your website, server response time, and several other factors, so you can go about your business and get a notification when it's over.
Check it out, here's what it looks like when the test is complete. You'll get a high-level overview of the number of critical, high risk, medium risk, and low-risk threats facing your website, complete with graphs and a record of the vulnerabilities over time. If you have any other upcoming tests for this site, that'll show up down here, along with a record of all the previous test sessions.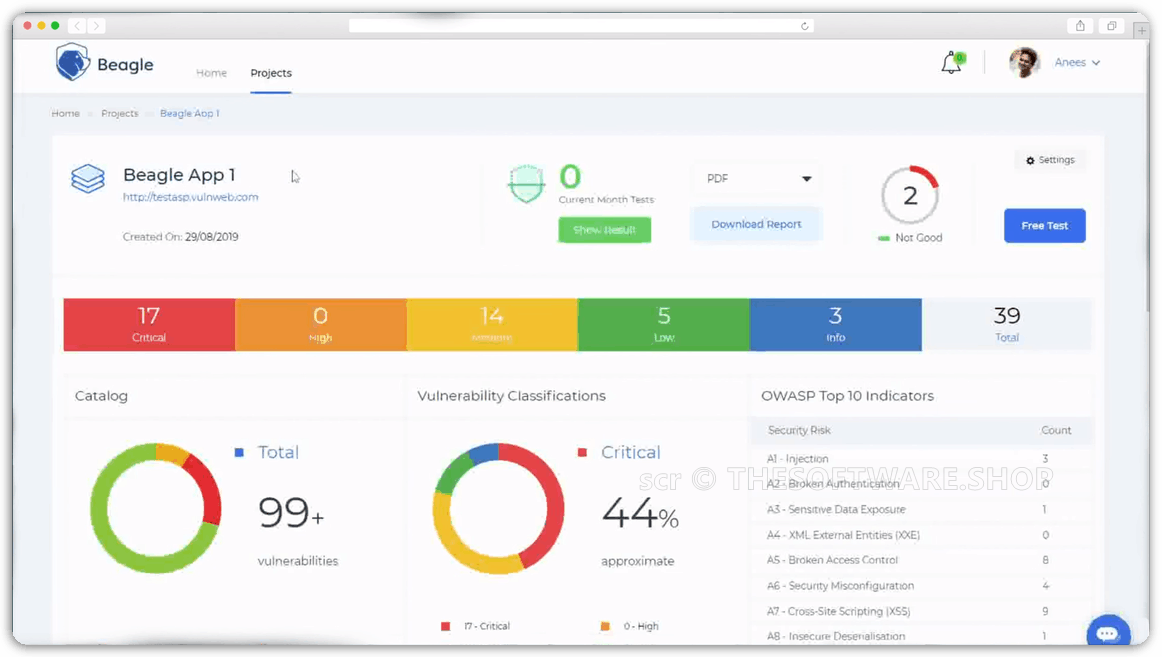 Next, let's take a deeper dive into these test results. Beagle Security delivers a description of the vulnerability and a recommendation for how to handle it and prevent it going forward. BeagleSecurity also brings the receipts, including evidence of where the vulnerability is present on your website and a timeline of each vulnerability. You can filter through the vulnerabilities based on severity and status to prioritize what needs your attention most.
Now it's time to download the report! BeagleSecurity hooks you up with a fresh, professional report complete with a table of content, an executive summary for the management team to get a quick overview of the results, a detailed technical section for developers to understand how to fix issues, and a whole lot more!
Alright, let me show you just a few more features! First up, there's the test scheduler that lets you run tests on a weekly or monthly basis. You can also give user input details, so Beagle Security can still run on SaaS applications or internal applications with login or authentication details. Go ahead and integrate with fan favorites like Slack, Asana, and Trello so you can receive test results somewhere other than email. Next, add a badge to your website, so you can show users you're legit and provide them the details on the security of your website.
And last but not least, you can integrate BeagleSecurity in your development pipeline to address security issues earlier in your development lifecycle — all you need is the application token, and access token to integrate it smoothly.
So, keep your website safe from cyber warfare. Get protected by BeagleSecurity today!
Screenshots of Beagle Security
Dashboard

New App

Test

Result

Vulnerabilities

PDF Report

Application Scheduler

Beagle Security Review Download Discount Sale
back to menu ↑
Features
Key Features of Beagle Security
Intelligent Security – AI-powered technology to cut down false positives
OWASP Top 10 – Identify vulnerabilities documented by OWASP Top 10
SANS 25 – Find SANS 25 vulnerabilities present on a website
Numerous Test Cases – OWASP, SANS 25 and a large number of custom test cases
Security Compliance – Stay compliant with global security standards
DevSecOps CI Plugins – Integrate security into the DevOps pipeline
Authenticated Testing – Security test complex web apps with login modules
Team Access – Invite teammates and collaborate easily
Schedule Tests – Easy scheduling of tests for continuous security checks
Integrations – Integrate with popular tools like Slack, Jira, Asana and Trello
Export Report – Export test results in multiple formats
Security Badge – Display a security badge and build trust with customers
back to menu ↑
Free Plan
Not sure if #THE SOFTWARE does what you need? Try it out now. Please feel free to get Beagle Security Free Plan here. #THESOFTWARE has been tested professionally and we are assured that no viruses, Trojans, adware or malware contained.
back to menu ↑
Buy Now
Beagle Security is available starting at $49.00/month. But, through THESOFTWARE.SHOP, You can get lifetime access to Beagle Security starting from $59.00/lifetime. This offer is available for a limited time!
Included in all plans
Lifetime access to BeagleSecurity Standard Plan

Add unlimited domains and swap for testing anytime
Configure concurrent & recurring tests
Full evaluation of JavaScript to support dynamic web pages
User authenticated testing for web apps with login
Export results in PDF, JSON, CSV, or XML
API integration
DevSecOps CI Plugins: Azure Pipelines, Bitbucket, AWS CodePipeline, Gitlab, Github Actions, Jenkins, and more
Result integrations with Slack, Jira, Asana, Trello, Azure Boards, Pabbly Connect and email
Custom webhook integration
Security badge and certificate
WordPress plugin

No codes, no stacking—just choose the plan that's right for you
You must activate your license within 60 days of purchase
All future Standard Plan updates
Ability to upgrade/downgrade between 5 license tiers
Only for new BeagleSecurity users who do not have existing accounts
60-day money-back guarantee, no matter the reason
Order Here!

You also might like

Giveaway
Beagle Security Giveaway is unavailable at this moment.
Please note that once you signed in, do not close this page. You will be shown how to get this offer for free.
Also, check out the latest software giveaways that are available here on the software giveaway page.
NOTES:
– All prices shown here are in listed USD (United States Dollar).
– Such promotional programs are subject to change without notice, from time to time in our sole discretion.
– Data may vary based on different systems or computers.
back to menu ↑
User & Media Reviews
What are their users saying about #THE SOFTWARE? Why they loved it?
Very aggressive security testing I just tested 3 different web apps and watched this service beat them up over the course of 14 hours or so. I watched server and firewall logs as well as the logs on the Beagle status console and witnessed how thorough the system actually is. It hits heaps of SQL injections / login / parameter abuses / etc. It's SQL injection testing uses benign (SLEEP) calls so if it does get through it doesn't mess anything up. The product seems well thought out. There are a lot of concerns about the number of tests included, and I agree with the sentiments of the community, however, this isn't a tool you probably want beating up your site constantly. This is definitely a hard core, abusive, penetration and security test. What I would like to see is the concept of a followup test that can take place after an initial test that doesn't count toward limits and only tests the previous vulnerabilities. Like sell me 3 tests a month with unlimited followup tests on each site for 30 days that test only the previous vulnerabilities. This would allow me to fix individual problems and test over a period of time to make sure they are fixed without subjecting my site and their servers to the massive load of retesting everything. (Source: Appsumo)
Embarising great! I've so far only tested 2 sites and I'm already embarrassed. I pride myself in making sure websites are built as good as they can and are secured in terms of hosting, but the report has come up with some issues…. luckily no critical but enough that I can see there is potential areas for exploit so have already applied some fixes ready for a rescan In truth it's rare I find a product that out of the box shows it's full potential but this is one on them. I did a 5 code purchase to allow multiple scans and that's my only downside, as wish I could do more scans, or let's say a rescan of the same site following fixes. So for me 5 codes is the way to go and would pay for more, or ideally the deal changes to allow more scans 😉 This is probably my top buy this year already and hope to see this grow with more scans (even if I have to buy more codes) and white label reports to share with clients. Great app and certainly recommend (Source: Appsumo)
Easy to use + security badge! I stacked up today and so far am impressed with how easy Beagle was to set up and use. Domain verification was quick (two methods available – file upload or DNS TXT entry). Starting the testing process was clear. Testing takes several hours to a few days depending on various factors. I'm grabbed this deal for the peace of mind to find out if anything security-related was overlooked. I'm also interested in displaying the security badge after testing which can be valuable for e-commerce sites. As for the number of testings per month limits, that's unfortunate in that one has to either wait until the next month to recheck for identified vulnerabilities following an update or stack more codes. (Feature suggestion: Perhaps just the vulnerable areas could be rechecked?) I chose to stack as I feel the tool is worth having and most security badge verification providers cost more than a full stack after a few months usage. (Source: Appsumo)
A product with huge potential I have been using other monitoring tools that quickly scan your website and provide generic recommendations but Beagle security took almost 2 days to scan the whole website. But the wait was well worth it when i could see lot of errors and security loopholes in my site. Would have preferred if they had provide a tutorial below each pointer on how to address it. Overall happy with the product although would have liked to have more no of tests each month. (Source: Appsumo)
The guard dog for your website! First things first: I love the logo! Reason alone to jump on this deal. But seriously, after trying out many other security tools, I find BeagleSecurity very easy to set up and use. The dashboard is well designed and gives you an overview of all the key stats. The reports are also very nicely done. This is especially true compared to the competition that seems to ignore design concepts and merely goes for barebone charts. I initially had concerns about the limit on tests. Still, I reckon that it will be sufficient: First, I'm not overly paranoid, and second, the months pass so quickly these days that I wouldn't have the time to study into more than one report per site anyway. I'm keen to see how BeagleSecurity evolves and hope they maintain their focus on simplicity and design for what's otherwise tedious data analysis. (Source: Appsumo)
---
Thanks for reading Beagle Security Review & Enjoy the discount coupon. Please Report if Beagle Security Discount Coupon/Deal/Giveaway has a problem such as expired, broken link, sold out, etc while the deal still exists.