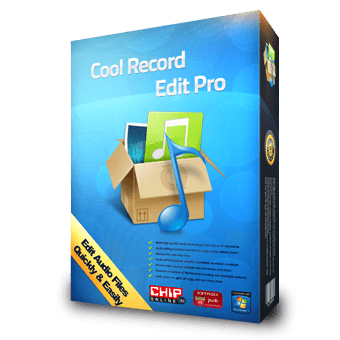 55% Off Coupon on Cool Record Edit Pro – High-Quality Audio Recorder & Editor for Windows
Record audio from any sound source or input losslessly & edit any audio files by versatile tweaking. Get Cool Record Edit Pro license with 55% Off Coupon now in The Software Shop Promotion of the day!
55% Off Coupon | 30-day Moneyback Guarantee | Secure Payment | 24×7 Customer Support
Cool Record Edit Pro Review at a Glance
Cool Record Edit Pro is a sound editor program for Windows. This audio recorder & editor software lets you make and edit voice and other audio recordings. You can cut, copy and paste parts of recording and, if required, add effects like echo, amplification and noise reduction.
Cool Record Edit Pro is designed to be very easy and intuitive to use. Within minutes you will be able to open or record a file and edit it. But if you take time to explore the other features you will find many powerful tools designed with the professional sound engineer in mind.
With Cool Record Edit Pro, you have a set a features designed with the professional in mind. These include a file batch converter and automation tools, bookmarks, file regions additional file formats and more.
back to menu ↑
Features
Key Features of Cool Record Edit Pro:
Support All Key Formats – Cool Record Edit Pro supports a number of file formats including MP3, WAV, WAV, VOX, GSM, AIF, OGG, CDA… almost all key formats you can find to enable you to deal with audio files from any source.
Preset Quality – For users who don't have experience with audio processing as well as pros trying to save some efforts from settings parameters, this audio editor provides quality preset for quick access.
Extract Audio form Video – Whenever you find a video with sound that you want to save as an audio file, use Cool Record Edit Pro to extract audio from video. You can extract songs from music videos or convert movies to audio.
Batch Processing – If you have a ton of audio files that need to be enhanced or converted, Cool Record Edit Pro supports batch processing up to 32000 files, allowing you to add effects and/or convert audio as a single function.
Create Ringtones – With the editing features and audio effects, you can create ringtones for all your cellphones. Personalized and ear-catching ringtones will be much easier to get from your favorite music.
Convert & Merge Audio – The video joining process cannot be faster with the CUDA and DXVA technologies integrated. Just import as many video files as you want and they will be merged in a short while.
Convert Text to Speech – The integrated Text-to-Speech (TTS) converter enables you to input text and turn them into spoken audio in human voice. You can save the converted speech as an audio file or insert it to current track for further usage.
CD Ripper & YouTube Downloader – An Audio CD ripper with free CDDB support is included to help rip Audio CD tracks to audio files for portable playback and backup. You can also download and convert YouTube videos from YouTube URLs.
Easy & Customizable UI – The design of Cool Record Edit Pro is plain & easy. You can finish any operation in 3 steps. The interface is customizable to suit your habits and there are hotkeys, shortcuts and key tips for fast access.
back to menu ↑
Requirements
To run Cool Record Edit Pro with optimum reliability and performance, your system should match the following requirements:
System Requirements for Windows OS:
Supported OS: Windows XP/Vista/7/8/8.1/10 (32-bit/64-bit)
System Requirements for Mac OS:
back to menu ↑
Download
Not sure if Cool Record Edit Pro does what you need? Try it out now. Please feel free to download Cool Record Edit Pro for Windows here. Cool Record Edit Pro by CoolMedia (RuiQing Software Technology Beijing Inc) has been tested professionally and we are assured that no viruses, Trojans, adware or malware contained.
back to menu ↑
Buy Now
Cool Record Edit Pro retails for $39.95, But, on our website, THE Software Shop, you can save 55% on your purchase of its license key with our exclusive discount coupon code. This offer is available for a limited time!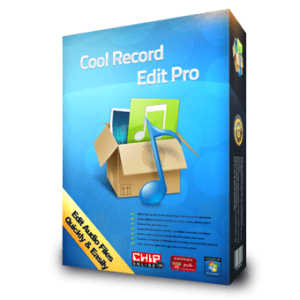 Cool Record Edit Pro
Record & Edit Audio Files Quickly & Easily
Free Technical Support
Free upgrades
30-day Money-back Guarantee
10+ Years on the Market
20.000.000 Satisfied Customers
*The discount coupon & your local VAT (Value added tax - if available, vary by country) will be applied at checkout automatically including your local currency will be converted.
$39.95
Cool Record Edit Pro for Mac is unavailable but you might like the following similar app for Mac:
Cool Record Edit Pro Giveaway is unavailable at this moment.
Please note that once you signed in, do not close this page. You will be shown how to get this offer for free.
Also, check out the latest software giveaways that are available here on the software giveaway page.
Thanks for reading Cool Record Edit Pro Review & Enjoy the discount coupon. Please Report if Cool Record Edit Pro Discount Coupon/Deal/Giveaway has a problem such as expired, broken link, sold out, etc while the deal still exists.
Excellent
Cool Record Edit Pro does everything users have hoped for. Amazingly it can be used to record voice from microphone, internet streaming audio or music played on any devices.
PROS
Make high-quality audio recordings from any external source.
Audio editing functions include cut, copy, paste, delete, insert, silence, trim, mix and more.
Audio effects include, amplify, normalize, equalizer, envelope, reverb, echo and more.
Supports all modern codecs.
Extract audio from video.
Convert Text to speech.
Batch processing / CD Ripper/Burner / Ringtone Maker and much more!
Add your review