30% Off Coupon on COVERT Pro – Protects All Your Computer Activity From Spywares & All Other Preying Eyes – for PC
An innovative solution that provides complete privacy while working on a computer and exchanging messages. Get 30% Off Coupon on COVERT Pro registration key!
30% Off Coupon on COVERT Pro – Protects All Your Computer Activity From Spywares & All Other Preying Eyes – for PC
30% Off Coupon on COVERT Pro – Protects All Your Computer Activity From Spywares & All Other Preying Eyes – for PC
COVERT Pro Review at a Glance
We will talk about the masking method. Its essence lies in the creation of a secure platform within which any user can run their applications while remaining invisible to the spies. It's not a sandbox. A user being inside the platform has access to all resources of the computer and can run any application. Spyware can't intercept keyboard input, take the image from the screen and record sounds from the microphone of user's computer. This approach is significantly more reliable than traditional hard drives scanning and comparison with signature databases. The fact is that many antiviruses and antispyware do not consider many types of spyware as a threat to the user.
COVERT Pro is designed to protect the user's actions on the computer from viruses and spyware – Trojans. This privacy masking software prevents the following actions: intercepting keystrokes, creating screenshots of your actions, any covert videotaping of your screen using a special program, prevents the recording of data displayed on the screen (including timeout), hides the contents of the clipboard. COVERT Pro prevents all attempts to similar actions by using a remote connection.
COVERT Pro masks the user's actions, creating a secure platform, which allows you to run applications for work, but makes the process invisible to software – Spyware or surveillance using a remote connection. COVERT Pro has features that allow detecting Driver spies working at the kernel level. Camoufleur monitors system services, the network connection to the computer, the system processes and the clipboard. The program has built-in identification (authorization) feature. Its purpose to protect and fix applications and their data for recovering them after the sudden closure. Covert provides quick launch buttons for favorite applications.
COVERT Pro USB
COVERT Pro USB has the same functionality as the COVERT Pro, but installs on a flash drive and can protect user's work on any Windows PC. You can connect this USB flash drive to the unlimited number of PCs.
COVERT Pro USB allows you to send and receive encrypted messages everywhere. After inserting this USB flash drive in any PC and choosing "secure messenger" feature, you will get all the messages that have been sent to you by other messenger's users.
back to menu ↑
Features
Key Features of COVERT Pro:
Secure platform. Entrance to the platform and exit in one click.
Network Monitor. Shows a list of programs that have access to the Internet at the current time.
Database threats (malicious or unwanted programs). Available for replenishing by the user.
Driver Monitor. Shows a list of active and hidden drivers in the operating system.
System processes. Provides information about the processes (running programs) that occur on your computer.
Service system. Used to display the list of running services.
Hidden services and analysis services. Allows you to analyze the svchost.exe file.
Monitor hidden processes. This is a special function that is used to detect and display the list of hidden processes (rootkits).
Internal protection mode. There are three modes of protection to control running applications within the platform.
Quick Launch Buttons application.
The login ID in the platform to create multiple platforms protection.
The scale of CPU usage.
The scale of loading the platform.
Scale of loading the clipboard.
Selection of interface languages (English, Italian, German, Czech).
Emergency exit from the program and all platforms and closing all applications.
Screenshot of registration window with the definition of the parameters of the hardware, where COVERT Pro is installed. Designed to protect the user from losing registration details and obtaining a new registration key free of charge.
Adjusting the speaker volume and microphone inside a secure platform. Allows you to lock the microphone in order to protect from the listening room where the computer is located.
New! "Secure messenger" allows users to exchange encrypted messages without logins and passwords.
New! "Monitor DLL" displays the list of loaded DLL when COVERT Pro is running.
back to menu ↑
Requirements
To run COVERT Pro with optimum reliability and performance, your system should match the following requirements:
System Requirements for Windows OS:
OS: Windows
Minimum screen resolution 800×600
Pentium processor or better
128 MB RAM
90 MB free disk space
System Requirements for Mac OS:
–
back to menu ↑
Download
Please feel free to download COVERT Pro for Windows PC here. COVERT Pro by COVERT Prague Ltd. has been tested professionally and we are assured that no viruses, Trojans, adware or malware contained.
CONVERT Pro(29.8 MB)  CONVERT Pro USB(29.75 MB)
back to menu ↑
User & Media Reviews
What their users are saying about COVERT Pro?
Covert Pro does a great job at keeping you and your computer activities anonymous. Since it is compatible with virtually all antivirus software, it will be a great way to add that extra edge over spyware you need when running important applications.
COVERT Pro is handy and easy to understand application, that protects all your computer activity from spywares and all other preying eyes. This hides all your activity in a secure platform, that is accessible and visible to you only. Moreover, it let's you find out unusual activity and spywares hidden in your system easily, which otherwise is not possible.
back to menu ↑
Buy Now
COVERT Pro retails for $46.35 (39 EUR) for Regular edition & $93.89 ($79 EUR) for USB Edition, But, on our website, The Software Shop, you can save on your purchase of its license key with a discount coupon code up to 30% Off. This offer is available for a limited time!
The 70% Off Coupo  has been sol out, but you can still get a discount coupon up to 30%. Enjoy 🙂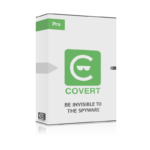 Provides confidential work on one computer. When working in secure platform, all user's actions in all applications (browsers, email clients, office software, messengers, etc.) are safely hidden.
$46.65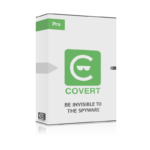 COVERT Pro USB has the same functionality as the COVERT Pro, but installs on a flash drive and can protect user's work on any Windows PC.
Connect to unlimited number of PCs.
$93.89
This software is unavailable for Mac OS
COVERT Pro Giveaway is unavailable at this moment. You may go to the software shop giveaway page to get the available software giveaways
Please note that once you signed in, do not close this page. You will be shown how to get this offer for free.
Please Report if the Software Deal/Discount Coupon/Giveaway has a problem such as expired, broken link, sold out, etc.
Excellent
COVERT Pro is a lightweight and reliable software application, designed to hide all your activity on the computer by providing a space or platform inside which you can run applications, analyze, monitor and do lots of other stuff. This ensures no trace of your activity is left, and you can work with your privacy and anonymity from spyware and other users.
Add your review