27% Off Coupon on G DATA Internet Security – Next Generation Cyber Security – for Windows
Internet Security with Antivirus and exploit protection! Security against viruses, spyware, hackers and malware. Get G DATA Internet Security with 27% discount coupon!
You save $15.00 | 30-day Money-back Guarantee | Secure Payment | 24×7 Customer Support
G DATA Internet Security Review at a Glance
G DATA Internet Security offers the best protection against viruses, keyloggers and Trojans, plus a powerful firewall. Whatever you're doing – sending email, doing online banking or just browsing – you get the best protection against phishing, spam and spyware, and every other danger on the Internet.
When surfing, the virus monitor checks every file that comes from the web. G DATA Internet Security stops infected documents, images and the like while they are being downloaded. This means that unnoticed downloads no longer pose a threat to you. When doing so, Internet Security not only relies on hourly updated virus signatures.
Besides the signature scan, G DATA Internet Security works with a Cloud solution. The properties of current files that contain malware are stored in this online memory. These properties are compared with those in your files – and you quickly find out if everything is OK.
When banking and shopping online, The connection between your bank and your computer is usually encrypted. Decryption of the data transfer takes place in your browser. Cyber criminals use banking Trojans to infiltrate this process. As soon as you carry out a transfer, the attackers manipulate the data being sent. Your money no longer goes to the intended recipient, such as an online shop, but ends up in a different account.
Of course, the virus scanner detects banking Trojans on the basis of their characteristics. If the malware already has its own signature, G DATA Internet Security renders the malware harmless while it is being downloaded. G DATA BankGuard technology also protects you against dangers that are still unknown. The function ensures that your browser only displays checked, genuine content.
back to menu ↑
Features
Key Features of #THE SOFTWARE:
Firewall – Monitors all incoming and outgoing connections to protect against hackers and spyware – fully automatically or according to your own rules.
Cloud-Backup – Automatically store your encrypted backups in the Cloud – using Dropbox or Google Drive.
Anti-Ransomware – No opportunity for extortion Trojans: Internet Security stops criminals encrypting your files.
G DATA BankGuard – Our patented technology secures your browser against manipulation by data thieves – for secure online banking and shopping.
Anti-Spam – Stops spam such as advertising and phishing emails and keeps your mailbox clean.
Parental Controls – Control your children's Internet usage. Specify times and only let your children surf to approved sites.
Virus scanner – Put your trust in the highest detection rates with technologies working in parallel. Receive new virus signatures every hour, for the best protection against malware.
Exploit protection – Protects your computer against criminals exploiting security holes in Office applications and PDF readers, for example.
back to menu ↑
Requirements
To run #THE SOFTWARE with optimum reliability and performance, your system should match the following requirements:
Microsoft Windows 10 / 8.x / 7:
min. 2 GB of RAM
All of the functions in the G DATA solutions are supported on 32 and 64 bit systems
An Internet connection is required to install the software and for virus signature and software updates
back to menu ↑
Download
Not sure if #THE SOFTWARE does what you need? Try it out now. Please feel free to download G DATA Internet Security for Windows here. This internet security program by G DATA Software Inc,. has been tested professionally and we are assured that no viruses, Trojans, adware or malware contained.
back to menu ↑
Buy Now
G DATA Internet Security retails for $59.95, But, through our website, THE Software Shop, you can save on your purchase of its license key with 40% discount coupon code. This offer is available for a limited time!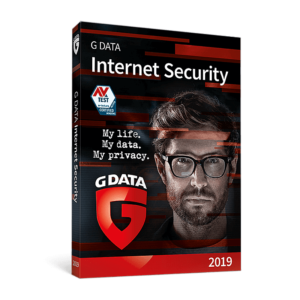 G DATA Internet Security - 1 PC/1 Year
1 Device, 1 Year
Your powerful protection on the Internet.
Multiple award-winning protection against viruses and other malware
Protection against online blackmailers and other Internet criminals
Full PC performance with maximum security
Online banking and shopping protection
Automatic inspection of USB sticks
Powerful firewall against hacker attacks
Keep an eye on your children's PC usage
Automatic data backup on request in a cloud
English hotline at local rates 24 hours / 365 days
30-day Money Back Guarantee
24/7 Support by G DATA Software
Platform: Windows
$54.95
G DATA Internet Security Giveaway is unavailable at this moment.
Please note that once you signed in, do not close this page. You will be shown how to get this offer for free.
Also, check out the latest software giveaways that are available here on the software giveaway page.
NOTE:
– All prices shown here are in listed USD (United States Dollar). Your local currency will be converted automatically, You can also switch to any other currencies during the checkout process.
– The discount coupon & your local VAT (Value added tax – if available, vary by country) will be applied at checkout automatically.
– The order(s) for the software are processed by the G Data Software company. This company accepts paying on-line, via PayPal, by fax, bank-wire transfer, check, cash, or purchase order.
– You will receive a notification e-mail from G Data Software when your order is processed which will also include your license information.
– Such promotional programs are subject to change without notice, from time to time in our sole discretion.
– Data may vary based on different system or computer.
---
Thanks for reading G DATA Internet Security Review & Enjoy the discount coupon. Please Report if G DATA Internet Security Discount Coupon/Deal/Giveaway has a problem such as expired, broken link, sold out, etc while the deal still exists.