61% Off on Game Fire 6 PRO (1 Year Subscription / 1 PC) – The Ultimate PC Games Booster for Windows
Game Fire 6 PRO – Enjoy the best gaming experience without lags or slow down! Get Game Fire 6 PRO license key includes free updates & support with our discount coupon and save up to 68% Off.
Game Fire 6 PRO Review at a Glance
Game Fire 6 PRO is a powerful game booster, that enables you to enjoy a smoother and more pleasant gaming experience with a touch of the button by optimizing your computer for peak performance and focusing all system resources on running your favorite games. This PC game optimization tool boosts your computer performance by suspending unnecessary Windows features, defragging system memory, optimizing Windows scheduled tasks, turning off unnecessary applications, defragging game files and applying several system tweaks.
Besides improving system performance and reliability, Game Fire 6 Pro enhances your gaming experience by enabling you to organize and manage your favorite games whether local or online in one centralized place, where you can manage, launch, defrag and search cheats for your favorite games.
Game Fire PRO optimizes computer performance based on configuration profiles for specific game titles. You can easily create these profiles in the program, resp. you can let Game Fire search for installed games and prepare settings to ensure maximum performance for playing them. Of course, you can also use performance optimization outside of gaming – purely to achieve higher performance and fluency when working with any application. The optimization settings offer several levels of performance increase.
What's new in Game Fire Pro?
The release of Game Fire 6 Pro edition with This major update for the best game booster brings new improved UI and dozens of new features, enhancements, and bug fixes.
[-wpsm_toggle class="active" title="What's New in Game Fire 6 PRO"]
Added support for Steam games

As requested by many of Game Fire users
Automatically import your Steam games even non-Steam games added to the Steam client
Optimize Steam games' performance.
The ability to create game shortcuts and pin games to Taskbar and Start Menu.
Bigger game thumbnails
The ability to customize thumbnail back color,
Improved games search
The ability to add games directly from My Games desktop widget.

Added New Languages

Added support to the Portuguese language for users in Portugal and Brazil.
Will continue to support more languages in the upcoming software releases.

New great user interface

Major changes and enhancements in Game Fire's interface,
some feature names have been changed to increase simplicity
Game Adviser became System Optimizer
System Status became System Performance.
To reduce clutter, less commonly used features were moved from the main interface
Windows Tools feature which contains system built-in performance and management tools was moved to System Optimizer (Game Adviser)
Games Defragment became Optimize Game Files option in My Games right-click menu.
System Performance (System Status) has been improved to show more information related to system performance like Disk IO usage, network usage, and system fan speed.
Game Fire notifications and various UI components were greatly improved and discovered bugs were fixed.

Enhancements & Bug fixes

Game Fire license manager received enhancements and bug fixes, for example When an error occurs it will show more detailed messages with potential solutions also a bug causing previous versions of Game Fire to fail loading license when user re-installs Windows has been fixed.
Game Fire 6 brings better support to the latest releases of Windows 10 including the 64-bit edition.
Fixed a bug preventing My Games to load thumbnails of games imported from Game Explorer.
Fixed a bug affecting certain Windows versions causing failure to launch online games or any web pages from Game Fire.
Fixed a bug causing Game Fire to optimize apps and services which have been already excluded from the optimization process.
[/wpsm_toggle]
back to menu ↑
Features
Key Features of Game Fire 6 PRO
Optimize and Manage all your Favorite Games from One Place
Basic System Tweaking and Performance Optimization
Boost Games and Applications Performance in Real-time
Automatic Performance Boost when Launching Games
Optimize Windows 10 Apps & Processes
Prevent Background Processes from Consuming Available Resources
TuneUp System Settings to Eliminate Lags and Interruptions
Optimize Internet and Network Performance
Defrag Hard Drive to Boost Games Performance
Tweak All Resources Consuming Processes, Services, and Scheduled Tasks
Automatic RAM Optimization to SpeedUp Games and Applications
Game Mode Power Plan for Maximum Performance and Reliability
Monitor System Health and Performance in Real-time
Get Detailed Information about System, Hardware, and Performance using System Diagnostics
Automatic Update to the Latest Version
24/7 Premium Support
Better Gaming Experience
Game Fire Pro can significantly enhance your gaming experience by boosting system performance and reliability to eliminate any in-game lags and improve games' FPS (frames per second). This game booster tool optimizes your computer performance by turning off unnecessary system features, applying various system tweaks, and focusing computer resources on the game you are playing. The result would be a great gaming experience with a single mouse click.
Real-time Optimization
Unlike other game boosters, Game Fire 6 Pro can boost games and applications' performance in real-time allowing them to fully utilize computer resources like CPU and memory and at the same time, it deprioritizes unnecessary and background processes. It also provides real-time system health and performance information like the CPU and GPU temperature, to help you optimize PC gaming performance.
Customizable Optimization
Game Fire Pro allows experienced users to have control over every aspect of the optimization process by using easy-to-understand options. It also provides a wide range of powerful optimization tools that can squeeze every bit of performance out of your computer like a disk defragment utility, settings tweaking tool, applications optimizer, and much more.
Games in One Place
Besides boosting your PC gaming performance, Game Fire enhances your gaming experience by allowing you to organize and manage your favorite games whether local or online in one centralized place that you can reach from anywhere on your computer.
Safe Optimization
It is a safe PC game tweaking solution as no over-clocking is done to your hardware and almost all changes made by Game Fire to your system settings are temporary.
back to menu ↑
Requirements
Minimum System Requirements for Game Fire 6 PRO
Microsoft Windows Vista, 7, 8, 8.1 and 10 including 64-bit versions.
Microsoft .NET Framework 4.5.2
back to menu ↑
Game Fire Download
Please feel free to download Game Fire 6 for PC here. Game Fire 6 has been tested professionally and we are assured that no viruses, Trojans, adware, or malware are contained.
Windows
Why install? The purpose of the Game Fire application is to ensure that as much CPU power and memory capacity as possible is available to the currently running game or other system-intensive application. Game Fire gains additional resources by stopping unnecessary Windows processes and services, as well as restricting other applications' access to system resources. The result is a smoother run of demanding game titles with a higher frame rate and an overall better gaming experience. Once activated, Game Fire optimizes computer performance in real-time, so it constantly checks where to get additional system resources for running games or other demanding applications (video editors, 3D modeling programs, etc.). Optimizing the performance of a computer with Game Fire is completely safe even for less experienced users.
back to menu ↑
Media Reviews

"Game Fire is stable, reliable, and useful. It's the game accelerator most of us would pick."
"Game Fire is the kind of acceleration tool I especially need when playing games that seem to ignore my recent attempts at hardware updating and freeze, slow down and drag like hell. Games are rarely the avatars of speed, so accelerators are in high regard, and Game Fire can easily be listed among the best." – SoftwareInformer.com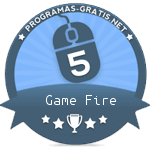 back to menu ↑
Buy Now
Game Fire 6 PRO by Smart PC Utilities retails for $17.95 instead of $29.95 But, on our website, The Software Shop, you can save more on your license purchase with our exclusive extra discount coupon code. This offer is available for a limited time!
Order here

Mac OS X

You also might like

Software Giveaway
Thanks for reading Game Fire 6 PRO Review & Enjoy the discount coupon. Please Report if Game Fire 6 PRO Discount Coupon/Deal/Giveaway has a problem such as expired, broken link, sold out, etc while the deal still exists.
Excellent
Game Fire Pro is a powerful PC games booster that enables you to enjoy a smoother and more pleasant gaming experience with a touch of button by optimizing your computer for peak performance and focusing all system resources on games you are playing. Game Fire can reduce currently unnecessary processes and functions and redirect your computer's hardware resources for better gaming performance.
PROS
Full PC Optimization
Real-time Game Booster
System Settings TuneUp
Full Apps Optimizer
Advanced Optimization Tools
Automatic High Priority Updates
24/7 Premium Support