Featured
27% Off on GameGuru – Lifetime License: Easy Yet Comprehensive Game Creation Software – for Windows
Build your own game world, using creative and enjoyable tools includes over 6GB of complimentary game assets to get you started. Get GameGuru full version with a Steam key at a 27% discount!
27% Off on GameGuru – Lifetime License: Easy Yet Comprehensive Game Creation Software – for Windows
27% Off on GameGuru – Lifetime License: Easy Yet Comprehensive Game Creation Software – for Windows
GameGuru Review at a Glance
GameGuru, in short it is an incredibly easy to use first and third person game creation tool. At its simplest, you can drag and drop elements (called entities) onto a large sculptable terrain and very quickly create your first game. Of, course, it doesn't stop there. If you're a more advanced user you can combine these simple tools with the inbuilt LUA based scripting language to create almost anything your imagination can conjure.
When you first launch GameGuru, it may appear to be a simple level editor, but it's actually crammed with lots of useful tools you will need to make your own game, including a character creator, model importer, building maker, complete scripting language and of course, over 6GB of complimentary game assets to get you started. The fact it's as easy as any in-game level editor is a plus, and unlike level editors, you get to save out what you've made and even sell your game!
Features
Key Features of GameGuru
Drag & Drop Editor – Browse a library of game making assets and drag them into your game level
Character Creator – Design your own male and female characters from a range of heads and bodies
Terrain Editor – You can create stunning vistas by raising, lowering, and painting your game terrain
Building Editor – Sculpt simple structures and apply custom textures, no 3D modeling skills required
LUA Scripting – Advanced users can code the deeper game logic using this scripting language
Save Standalone – Export your finished game to share and sell, no royalties or license terms
Game World

Large game levels – Construct huge levels for your games

Terrain editor – Take the fight outside with the terrain editing system. With easy to use controls you can create stunning vistas and unique environments for your games

Infinite vegetation system – Vegetation is auto-generated where you decide you want it to appear

Rendering Engine

Level Of Detail – The game engine supports Level Of Detail technology (LOD) to ensure smooth and fast frame rates

Cascade shadow mapping – Real-time dynamic shadows add that extra level of realism

Baked shadowing – Add ultra-realistic shadows to your levels with the shadow baking system

Ambient Occlusion Mapping – This technique adjusts how much ambient light each point in the game scene receives

Sky maps – Choose from a wide range of high-resolution sky maps

Occlusion Culling System – Fast rendering of your game worlds is ensured by the adoption of this special object culling system

Waterplane – A shimmering and reflective water plane adds a touch of realism to your levels

Light Rays – Let the light flood your game scenes with this awesome effect

Shaders for all – Shader techniques that best suit your PC's capabilities

Game Play

Environment – The player and AI bots can walk, run, duck, and navigate around any environment you design

FPS Action – Fast classic FPS gameplay mechanics

Fantasy animation – Create cartoons, animated family adventures, and fantasy worlds that would appeal to all generations

Multiplayer – Easily host and join games you make in GameGuru using Steam Multiplayer and Steam Workshop

Game Characters

Character Creator – Design your own male and female characters from a wide range of body and clothing parts.

Realistic characters – Enemy characters are high in texture and polygon detail

Animations – Dynamic and realistic animations bring the characters to life

AI – Characters are smart and equipped to navigate the environment and hunt you down

Scripting engine – The LUA based scripting engine opens up the possibilities for character control

Weapons

Projectile Weapons – RPGs, grenades, land mines, and fantasy fireballs!

Modern-day weapons – GameGuru comes with five high-quality modern-day weapons; Colt 1911 Pistol, Shotgun, Uzi, Magnum Revolver, and Sniper Rifle

Ammo pick-ups – Reload weapons during gameplay with ammo pick-ups

Animated – Fully animated weapons with improved handling and realistic sounds

Physics

World Class Physics Engine – An advanced physics engine powers the collision effects inside GameGuru. At the core of the engine is the renowned Bullet Physics system, managing the numerous collisions during your games

Ragdoll deaths – Enemies fall and die realistically

Editor

3D Editing – Edit your level from any 3D angle and instantly jump to an overhead view

Play As You Go Technology – You can now edit and test your game, and even edit the scene while playing the game

Optimized engine – The game engine is optimized for efficient use of memory, frame rate performance, and graphic card compatibility

Full-screen render – In edit mode, you can view game levels fully rendered and drop down into them

Media Importer – An easier workflow for importing models into GameGuru

Save standalone

Save Standalone – After making games in GameGuru you can save them as standalone Exe files, letting others play them

Sell your games – You have full rights to sell your games to make money!

Multiplayer

Build games – Use GameGuru to design games with multiplayer features

Deathmatch – Create single-player or team-based deathmatch games.

Multi-user – Play with up to 8 players – invite friends or others using Steam Workshop

Co-op – Create co-op levels that you can play together with your friends.

Head-Up Display

Dynamic Fonts – In-game messages use high-quality fonts for a polished look

Blood splat damage – The player's health is illustrated by blood splat damage to the screen

Directional damage – A visual indicator hints at where enemies are attacking from

Turn off blood – Set a flag to turn off blood effects

Game Creator Store

Online Store – Easily add game ready assets to your project

Model Packs – Collections of media are supported by the store

Sell – Artists and musicians can sell their own media to the community via the store
Requirements
To run #THE SOFTWARE with optimum reliability and performance, your system should match the following requirements:
Windows OS: 7, 8, 10
Processor: Intel Quad-Core (i5 2300) or AMD Octo-Core (FX 8150)
Memory: 4 GB RAM
Graphics: NVIDIA GeForce 660Ti or greater, AMD Radeon HD 7950 or greater, 2GB Video Card (Minimum Shader Model 5.0)
DirectX: Version 11
Network: Broadband Internet connection
Storage: 12 GB available space
Sound Card: DirectX Compatible Sound Card with latest drivers
MINIMUM: Windows 7, 8, 10
Processor: Intel Dual-Core 2GHz or AMD Dual-Core 2GHz
Memory: 2 GB RAM
Graphics: NVIDIA GeForce 400 series or AMD Radeon HD 6000 series, 2GB Video Card (Minimum Shader Model 5.0)
DirectX: Version 11
Storage: 12 GB available space
Sound Card: DirectX Compatible Sound Card with latest drivers
GameGuru Downloads
Not sure if #THE SOFTWARE does what you need? Try it out now. Please feel free to download GameGuru Trial here. This game creation software by The Game Creators Ltd. has been tested professionally and we are assured that no viruses, Trojans, adware, or malware contained.
Buy Now
GameGuru is available for $19.99. But, as their partner, we give you a 27% discount when you purchase GameGuru today. This offer is available for a limited time!
Order Here!

You also might like

Giveaway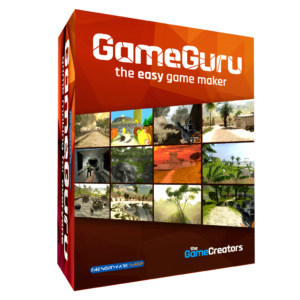 GameGuru (27% Off)Via Fanatical
An easy yet comprehensive game creation process that is open to non-programmers and designers/artists, or anyone who aspires to become a game creator.
Lifetime License
Free Software Updates
Free Support by Game-Guru.com
Platform: Windows
$19.99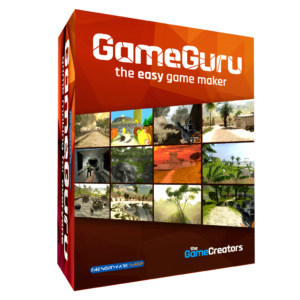 GameGuru DLC/Pack (27% Off)Via Fanatical
Get a great selection of large furniture and equipment items, as well as small objects and items you can assemble for more variety
Lifetime License
Free Software Updates
Free Support by Game-Guru.com
Platform: Windows
$24.99
GameGuru Steam Key Giveaway is unavailable at this moment!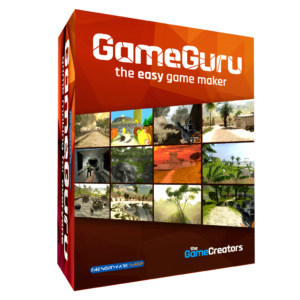 Please note that once you signed in, do not close this page. You will be shown how to get this offer for free.
Also, check out the latest software giveaways that are available here on the software giveaway page.
NOTES:
– All prices shown here are in listed USD (United States Dollar).
– Such promotional programs are subject to change without notice, from time to time in our sole discretion.
– Data may vary based on different systems or computers.
User & Media Reviews
What are their users saying about #THE SOFTWARE? Why they loved it?
Game Guru is a very nice and somewhat user friendly game maker, however sometimes you can get frustrated with bugs, but still it is still a very eazy game maker, and something to try, game guru has got a lot of bad thing people say about it and that is mostly thanks to the worthless "devs" that release unfinished (just a few things) or tutorial (built in) games on steam for money, but you can truly make something great in it.
I bought this software with the intention of using it to make the next great game with bad graphics. Then had a kid and never had time to mess with it. Now that he's 4 and I can't find anything he can just run around in without dying using my wireless 360 controller, I started using this to make him big "open" worlds to run around in safely with nothing scary. Getting use out of it after all. The free Easter pack is great for toddlers.

GameGuru is great because it is always improved by the creators and you can customize it a lot. For example, you can import your own animated models, sky boxes, music, etc…. You can also type in Lua code to really make your game unique. All this while not being overly difficult. I paid 13 dollars I think for this on steam at the time, and it is well worth the money.

easy to use. alot of options. even with out dlc theres alot to do. im glad this product exists. i would 100% recommend this even for someone who has no knowledge in programming. anyone can use it, which is great. it doesnt hurt to of course ask for help. the game guru community is very nice and helpful.

recommend it. The full version is much better than the demo, obviously. To be honest, I have yet to view any getting started material; I am the kind of person that prefers to jump in and learn for myself, that is, until I get stuck.
While I do have some programming/coding background, I entered Gameguru with no knowledge of game design or development (I write software by trade, not design games); I was able to quickly pick up the how's and where's of the app. Literally in no time at all I was creating micro levels, just for fun and learning. It really is quite impressive.
My kids are really into indie games, 8 bit's and platformers. They enjoy FPS and walking sims; I primarily got GG to develop some personal games with and for them, and GG seems to fit the bill.
While it is not as fancy or powerful as other engines that I have, and have yet to really dive into (Unreal, CE, and Unity3d), it is polished enough for my needs, and I beleive also for any would-be indie dev or those interested in bringing a design idea to fruition will minimal cost or learning curve.

---
Thanks for reading GameGuru Review & Enjoy the discount coupon. Please Report if GameGuru Discount Coupon/Deal/Giveaway has a problem such as expired, broken link, sold out, etc while the deal still exists.
Excellent
This is one of the cheapest and the best 3D game making tools, and also is easy and simple to use and i absolutely LOVE this application, it is truly the best for people who don't have enough money and also wanting to make a simple easy game, the coding is easy to use you can just get Notepad++ (which i already have), and to start coding .luas to make your own scripts and it is one of the best in my opinion, really easy and simple to use i do recommend this software, it is really great.