BEST OFFER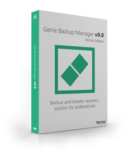 30% Off on Genie Backup Manager Home 9 – Lifetime License – Secure Your Files from Data Lost – for Windows
Backing up to all media; External, CD/DVD/Blu-ray, FTP/FTPS, and Network drives with Genie Backup Manager Home 9. Save on your purchase now with 30% discount coupon in Today's Shareware Coupon Promotion
You save $14.98 | Lifetime License | 30-day Money-back Guarantee | Secure Online Payment | 24/7 Geni9 Customer Support
Genie Backup Manager Home 9 Review Video
30% Off on Genie Backup Manager Home 9 – Lifetime License – Secure Your Files from Data Lost – for Windows
Genie Backup Manager Home 9 Review at a Glance
Genie Backup Manager Home 9 is ideal for users who want full control of their backup procedures. With 3 backup types, Disaster recovery, backup to local, external, CD/DVD/Blu-ray and FTP/FTPS GBM can comply with any backup plan.
Secure your backup with 128-bit AES encryption or password protection. For 256-AES encryption, you can use Genie Backup Manager 9Professional Version. Use disaster recovery to keep your entire system safe from virus attacks, computer crashes, and hardware failures and ensure business continuity.
With This Backup Manager for the Home user, you can power down your computer after a backup, run backups while logged off, and control how much GBM can take from your resources with a few clicks. Access backups without the need for the software. You can use the swift restore option to restore your entire backup on any machine; no installation required, or backup without compression to view and access your backups directly from Windows Explorer.
This Backup Manager by Genie9 is a very easy to use yet powerful and flexible software that can backup and restore files, documents, emails, settings, programs and more, to virtually any local or remote location, including internal and external hard disks, FTP locations, across network, optical media, removable media, memory sticks, and Amazon S3 storage. GBM is the only backup software on the market that offers unlimited FREE Plugins, which the user can download or create to extend the capabilities of Genie Backup Manager™ .
Features
Key Features:
Features

MS Exchange backup (2003-2007)
MS SQL Server backup (2000-2012)
System State Backup
CPU Affinity Control
Differential Backups
Amazon S3 Backup Support
Multi-Drive Spanning
Pre & Post Commands
Preserve NTFS Alternative Data Streams
Advanced Scheduling
Backup Performance Control
Military Grade 256-bit AES Encryption
Military Grade 192-bit AES Encryption
Military Grade 128-bit AES Encryption
Full Backups
Incremental Backups
Open File Backup (VSS)
Wizard Based Interface
Easy Backup Wizard Layout
Jobs Manager
Report Manager

Home

x
x
x
x
x
x
x
x
x
x
x
x
x
V
V
V
V
V
V
V
V

Professional

x
x
x
x
V
V
V
V
V
V
V
V
V
V
V
V
V
V
V
V
V

Server

V
V
V
V
V
V
V
V
V
V
V
V
V
V
V
V
V
V
V
V
V
Requirements
System Requirements for Genie Backup Manager Home 9
System Requirements for Windows OS:
Support OS: Windows XP/Vista/7/8/10 (32-bit/64-bit)
Intel Pentium® 4 processor or above, AMD Athlon™ 64
512 MB RAM (1 GB RAM recommended)
200 MB free disk space
System Requirements for Mac OS:
Genie Backup Manager Home is not supported for Mac OS
Genie Backup Manager Home 9 Download
Please feel free to download Genie Backup Manager Home 9 here. This personal backup manager by Genie9 has been tested professionally and we are assured that no viruses, Trojans, adware or malware contained.
Buy Now
Genie Backup Manager Home 9 retails for $49.95, But, on our website, The Software Shop, you can save on your purchase of its license key with our exclusive discount coupon code up to 30% Off in the software shop Promotion. This offer is available for a limited time!
Order Now Here!

You may like

Software Giveaway
Genie Backup Manager Home 9 - Single License (30% Off)
1 License
Effortless protection for all your files for home users
1 License
Powerful and Robust
Backs up all your important data
Keep your backup safe with military-level encryption
Seamless System Recovery
Lifetime License with free maintanance upgrades
Enjoy 30-day money-back Guarantee
$49.95
Recommended
The Award-winning backup and disaster recovery solution for professionals - Get Genie Backup Manager Pro 9 with a 77% ...
Genie Backup Manager Home 9 Giveaway is unavailable at this moment.
Please note that once you signed in, do not close this page. You will be shown how to get this offer for free.
Also, check out the latest software giveaways that are available here on the software giveaway page.
User & Media Reviews
Genie Backup Manager Professional has a clear simple interface which lets you manage the application without problems and in just a few minutes. As soon as you start working with it, you'll see that behind it's simple appearance lie some advanced options not found in higher-end products.

Genie Backup Manager certainly qualifies as a GEM. It is very easy to download and install. It is easy enough for a beginner to use, but major geeks will appreciate the more detailed and powerful features also available in the software.

After thorough testing, I can only say your product far exceeds my expectations. It is, without doubt, the most versatile, easiest to configure, and fastest backup product I've tried. The ability to restore a file using off-the-shelf zip products is also a great plus. It certainly makes searching old archives for information much easier. We especially like the ability to backup to most any medium and across networks. We were performing backups of our primary server within ten minutes of installation. Thank you for a great product."

---
Thanks for reading Genie Backup Manager Home 9 review & enjoy the discount coupons. Please Report if Genie Backup Manager Home 9 Discount Coupon/Deal/Giveaway has a problem such as expired, broken link, sold out, etc.