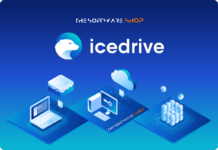 Expired
69% Off Coupon on Icedrive – Lifetime Subscription: The Next Generation of Cloud storage
Store, backup, & Protect your data with the unbreakable client-side, zero-knowledge encryption. Get lifetime access to Icedrive at a 69% Discount!
You save $110.00 | Lifetime Access | 60-day Money-back Guarantee | Secure Payment | 24×7 Customer Support
Icedrive Cloud Storage Review video - Cloud Drive Mounting Sofware
69% Off Coupon on Icedrive – Lifetime Subscription: The Next Generation of Cloud storage
Icedrive Review at a Glance
Whether you're a business owner, photographer, or both, having a place to manage your countless files is crucial. And in a world where we worry that our tech giants are listening to us through our devices, it's also crucial that those files have some privacy. All too often we're forced to trade convenience for security (e.g., TSA lines at the airport and your secret stash of Oreos in the top cabinet). That was until Icedrive came along.
Icedrive is the only encrypted cloud storage solution to use the bulletproof twofish algorithm. This cloud drive software lets you upload your files to a zero-knowledge, 256-bit encryption cloud drive for safekeeping and ultimate accessibility.
IceDrive lets you automatically upload images from your phone, edit your files from anywhere, and share those files with your peeps using a public link or direct user-to-user sharing. In the IceDrive's web dashboard, which is available from your internet browser, Users can drag and drop their files into the cloud, manage their storage, share files, create publicly accessible links, and loads more. It's super easy to use, and because IceDrive is the only cloud storage service that uses the bulletproof, Twofish encryption algorithm, you can rest easy knowing that your files are safe and sound.
IceDrive's Cloud Drive mount app is available for Windows now, with Mac in the pipeline. In the meantime, Mac users can use the Mac app. When you download the installer to Windows, a set of drivers will mount a neutral virtual disk drive on your computer – this is where your IceDrive cloud storage lives. To the naked eye, the drive appears exactly the same as a hard disk or USB, except you don't have to worry about misplacing it.
You can make changes to your files directly in IceDrive. All changes made in the mounted app will be reflected in the web dashboard, and vice versa. When you make edits in your Doc, the old file is saved and archived in the version history. And of course, all of your changes are saved across devices in just seconds.
Calling all busy professionals! If you want to edit your documents from various devices and locations, and know that those documents re protected then you better get your hands on IceDrive. IceDrive is the perfect solution for securely managing your files in the cloud from all kinds of devices.
back to menu ↑
Features
Key Features of Icedrive
Client-Side Encryption: Protect your data with our unbreakable client-side, zero-knowledge encryption.
Massive Storage: Massive amounts of storage ensuring you never run out of space.
Generous Bandwidth: Buckets of bandwidth to ensure your services are never interrupted, no matter how often you use your cloud storage space.
Password Protection: Control access to your shared files by using password protection.
Share Timeout: Make sure your files are only shared for a set amount of time.
Upgraded Features: Access tons of new and enhanced features on the Mobile apps.
Native OS Feel: Use your cloud within the native operating system environment as if it was another hard drive.
No Sync Needed: No bandwidth and time consuming syncing is required. Mounting the drive is a simple click.
Cache-Control: Intelligent caching system speeds up the application while using as little space as possible.
Stream your Media: Stream your video and audio directly from the cloud using our built-in media player.
Share with Friends: Share files & folders directly with friends, family and colleagues within the app.
Full Backup: Perform an entire device backup with our easy to use backup wizard.
Full-Featured GUI: State of the art, clean and easy to use interface. Drag, drop, right-click – It all works and feels just right.
Advanced Browser Upload: Complex browser-based upload system utilizing chunked uploads for uploading large files without interruption.
Document Conversion: We convert every popular document and vector type to a format that allows you to preview directly in your browser.
back to menu ↑
Requirements
To run #THE SOFTWARE with optimum reliability and performance, your system should match the following requirements:
Supported OS:

Windows: Windows 7/8/8.1 & Windows 10
Mac: MacOS Yosemite to Catalina,
Linux: All
Mobile Apps:Android, iOS

Internet Connection
back to menu ↑
Icedrive Downloads
Not sure if #THE SOFTWARE does what you need? Try it out now. Please feel free to download Icedrive software here. This cloud storage by ID Cloud Services LTD has been tested professionally and we are assured that no viruses, Trojans, adware or malware contained.
Windows/Mac/Linux Android/iOS Web App Free 10 GB Cloud Storage
back to menu ↑
Buy Now
Icedrive is available starting at $1.99 /month, But, through our website, THE Software Shop, you can get the lifetime access to IceDrive for just $49 instead of $159 (69% discount). This offer is available for a limited time!
ORDER NOW

You also might like

Giveaway
Icedrive - 500 GB Lifetime
The most affordable cloud storage plans to suit every need. Lose the hassle of recurring payments with the lifetime packages!
Lifetime access to Icedrive
1 User
500 GB Storage
1 TB Monthly Bandwidth
Client-Side Encryption
Password Protection for Shared Files
Share Timeout
iOS and Android Mobile Apps
Web, Windows, Mac, & Linux Apps
Trash History
File Versioning
Stackable

Add 1 Code = +500 GB Storage and +1 TB Monthly Bandwidth
Stack up to 4 codes

All future plan updates
GDPR Compliant
Only for new Icedrive users who do not have existing accounts
You must redeem your code(s) within 60 days of purchase
60-day money back guarantee, no matter the reason
$159.00
Icedrive PRO Plus - 5 TB Lifetime
The most affordable cloud storage plans to suit every need. Lose the hassle of recurring payments with our lifetime packages!
Lifetime access to Icedrive
1 User
5 TB Storage
8 TB Monthly Bandwidth
Client-Side Encryption
Password Protection for Shared Files
Share Timeout
iOS and Android Mobile Apps
Web, Windows, Mac, & Linux Apps
Trash History
File Versioning
All future plan updates
GDPR Compliant
14-Day Money Back Guarantee
$749.00
Icedrive Giveaway is available now FREE for a limited time!
Also, check out the latest software giveaways that are available here on the software giveaway page.
Icedrive - 10 GB Lifetime
The most affordable cloud storage plans to suit every need. Lose the hassle of recurring payments with our lifetime packages!
Lifetime access to Icedrive
1 User
10 GB Cloud Storage
3 GB Daily Bandwidth
Client-Side Encryption
Password Protection for Shared Files
Share Timeout
iOS and Android Mobile Apps
Web, Windows, Mac, & Linux Apps
Trash History
File Versioning
All future plan updates
GDPR Compliant
14-Day Money Back Guarantee
$5.00
NOTE:
– All prices shown here are in listed USD (United States Dollar).
– Such promotional programs are subject to change without notice, from time to time in our sole discretion.
– Data may vary based on different systems or computers.
back to menu ↑
User & Media Reviews
What are their users saying? Why they loved it?
Great Value
I bought 1 code to test out. Since I use Windows, Mac OS, and Linux (LinuxMint 19.3), I love having the flexibility to sync my data across all platforms.
Since I have tested a few cloud storage clients that supposedly run on Linux, I wanted to test it out. I download the Linux client and unzipped it. The Linux is very bare-bones; however, I was able to it installed and set to run at startup. It works very well. I did have to contact support to get instructions on how to install the Linux client.
So, the next test was the ability to migrate my data from PCloud to IceDrive. I did not see a native backup utility like PCloud; however, I was able to use a third-party tool, MultCloud, to move my data via WebDAV, which was amazingly fast. I moved 175 GB of data between PCloud and IceDrive in about 3 hours. Note, this has to be enabled under the Access section as it is disabled by default for security.
I have been waiting on AppSumo to bring a deal like this and they came through with flying colors.
I have two pieces of feedback:
1) Please add a ReadMe or Instructions document to the Linux client. This will cut down on the customer service request.
2) It would be nice to have a backup client like PCloud. I understand this may be a long-range project, but this will add value and simplify the task of moving from one cloud service to another.
I loved this deal so much I bought an additional code.
A Dream Come True
I must say that this software is a dream come true for me.
I've always been a tad unhappy about the prices charged for online storage and so got tempted to use 'one-time-special-offers' that were decidedly dodgy and ended out losing everything online when the vendor took the money and ran. Oftentimes taking days on end of continuous uploading, all wasted once the deal turned sour.
My first attempt at uploading to Icedrive was fast and clean. No hangs, no disappearing files and so easy to use, it was a delight to watch it doing its thing.
The Share facility means that I can have other people download my pre-recorded radio shows whenever they need to, quickly and efficiently.
But one of my favourite features is the 'virtual hard drive' which appears on my computer and where I can backup, add, edit and remove files at will.
I went right for stacking 3 codes as I use large files and need the space.
No more iffy online storage for me, this is the way forward, no question.
Great value for money!
As a digital media strategist and blogger, this is a great deal for me! Hosting and sharing PDF and zip files using shared hosting is always not a good option. I was using dropbox premium for that. Now instead of paying monthly, I can use it forever with great features and security! I stacked full because I'm sure Icedrive is going to improve and going to attract many users!
Easy to Use
I have been a paid subscriber for dropbox and google drive. There is no learning curve for this product if you have used these two major players in the consumer cloud drive market before. Excellent interface and excellent upload speed.
Won't get a cloud storage lifetime deal like this again
Very simple and basic cloud storage software. It does with it says. Uploading isn't slow for me. Has been fine to me but I guess it depends on where your location in the world is..
pros: Mobile app, virtual drive, downloadable app. Nice UI. Easy UX. Great for storing files. Encrypted files without being charged extra like pcloud.
cons: not sure how to share files.. NO teammates. This is important. Need more users so we can send and share files to our team. Could use more features but looks promising in the long run. Like other reviews, needs syncing.
Bottom line… get this tool even if you have enough storage. This would be a great back up for other things that you might use down the road.
---
Thanks for reading Icedrive Review & Enjoy the discount coupon. Please Report if Icedrive Discount Coupon/Deal/Giveaway has a problem such as expired, broken link, sold out, etc while the deal still exists.
Excellent
Icedrive isn't simply another cloud storage app, we're a comprehensive service which work with our members to help them achieve absolute security for their data storage. Unlike most cloud storage companies which use the AES algorithm (or in the case of some who actually use no additional security). Icedrive utilises the absolute bulletproof Twofish encryption algorithm to protect your data and give you that much needed piece of mind that your personal or professional files are safe.
PROS
Affordable lifetime cloud storage. This itself is amazing for the price.
Strong Encryption.
Windows and Android app! Many other cheap cloud storage providers don't provide these. Great job Icedrive.
The android app can upload a picture taken by phone's camera instantly.
Windows app shows up as a drive in My Computer. Thumbs up!.
The upload speed is good.