Today, you can get MovieJack 4 full version with a 1-year license key for free! With MovieJack, you can quickly and completely legally download videos from the internet to your computer.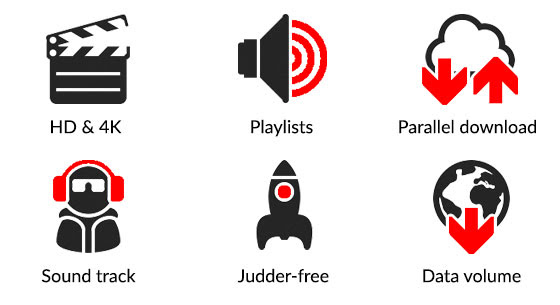 MOVIEJACK from Engelmann Software is a classic online video ripper that allows you to download clips from YouTube, Clipfish, Dailymotion, Vevo, Vimeo and other portals. The small tool automatically downloads clips in the best quality and also supports HD and 4K videos.
MovieJack supports virtually any file size download, including videos available in 4K. Depending on the speed of the Internet connection, MovieJack can download up to 10 videos simultaneously. The number of downloads and the quality of the video files are defined under the menu item "Settings".
It also processes playlists that can be used to download numerous videos to the computer one after the other with just one click. In order to use the full bandwidth of your internet access, MOVIEJACK can also download several videos from different portals in parallel.
On request, the program also extracts the audio track of a video and saves it as an MP3 file on the hard disk. The software runs on Windows 7, 8 and 10.
MOVIEJACK Discount Promotion
You can also get MOVIEJACK latest version includes free updates and support for just $9.99. Click on the picture below.
use MOVIEJACK to download all the videos from the Internet to your hard disk – before they disappear from the Net! What are you waiting for? Go ahead and download your favorite songs and movies now and enjoy them offline and on the move. For just $9.99!
You also may like
100% Software Giveaway on MovieJack 4 Full Version – Free 1-year License Key – for Windows