GIVEAWAY
Software Giveaway – O&O AutoBackup 6 Pro: Free Serial Number – Backup & Sync Your Files and Folders Automatically for Windows
With O&O AutoBackup, you can backup and sync your files and folders quickly and automatically. Get O&O AutoBackup 6 PRO with serial number for free ($29.95 Value)
O&O AutoBackup 6 PRO Review at a Glance
On every day of the week, we are contacted by desperate PC users who have accidentally lost important data that is often impossible to recover. Memorable photos that can never be reshot or a video of baby's first steps are just a couple of the sorry examples we encounter. Sad to say, data backup still plays a minor role for far too many people. O&O AutoBackup 6 PRO is now available and offers quick and easy protection for your most important data in the event you've never made a backup of your computer or it's been a while since the last backup.
O&O AutoBackup 6 PRO automatically synchronizes selected files and folders with an external backup device (USB Stick, external USB hard disk, FireWire volume). As an example, you can use O&O Auto backup to create a backup copy of your photo folder onto a USB stick and set it so that changes made to the original data are automatically taken into account for the next backup.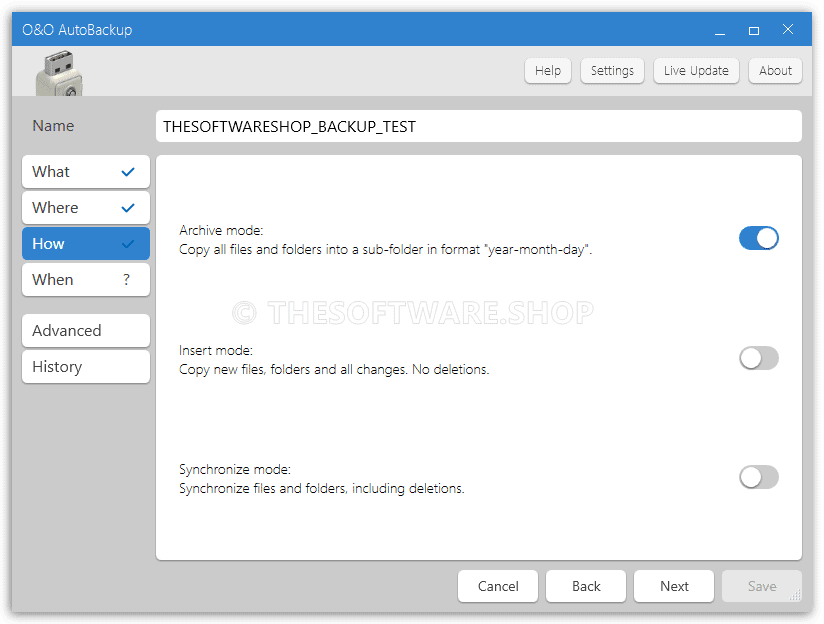 O&O AutoBackup 6 PRO Benefits
Backup options include: Full backup, backup of the changes, synchronization, and real-time synchronization
Future-proof: Compatible with Windows 10
Compatible with all previous versions: backups created with earlier versions can still be used
Automatic file backup when an external drive is connected to the computer
Trigger multiple tasks with portable devices (plug and play)
Optimized for Windows 10, Windows 8.1, Windows 8, Windows 7 and Windows Vista
And much more!
O&O AutoBackup 6 PRO is a program for quickly and automatically backing up data on external media such as USB disks. The advantage here is that you only have to make one configuration and then everything else is done automatically. The copy process will start automatically whenever you connect your USB disk to the computer.
Screenshots
Features
Key Features of O&O AutoBackup 6 PRO:
Full Backup, backup of the changes and real time file sync
Advanced program settings
New user interface for an even quicker and easier user experience
Schedule a backup for new connections only, or on a daily/weekly basis
Supports Windows 10, Windows 8.1, Windows 7 and Vista
Requirements
To run O&O AutoBackup 6 PRO with optimum reliability and performance, your system should match the following requirements:
System Requirements for Windows OS:
Supported OS: Windows® 11, 10, 8.1, 8, 7 and Vista®
System Requirements for Mac OS:
Download
Please feel free to download O&O AutoBackup 6 PRO here. O&O AutoBackup 6 by O&O Software GmbH has been tested professionally and we are assured that no viruses, Trojans, adware or malware contained.
Buy Now
O&O AutoBackup 6 PRO retails for £19.99, But, on our website, The Software Shop, you can get O&O AutoBackup 6 Pro with a discount of up to 72%. This offer is available for a limited time!
Software giveaway: You can also get O&O AutoBackup 6 Pro V6.1 full version with a serial number for free in the Giveaway tab below!
ORDER HERE:

Recommended

Giveaway
O&O AutoBackup 6 PRO Key Giveaway is available now FREE for a limited time!
Please note that once you have signed in, you will be shown how to get this offer for free.
Please, do not close this page.
Please Report if O&O AutoBackup 6 PRO Deal/Discount Coupon/Giveaway has a problem such as expired, broken link, sold out, etc.