Delete files and folders as well as cleaning of entire disks from data, which will then not be possible to recover in any way. Get O&O SafeErase Pro full version with a serial number for FREE!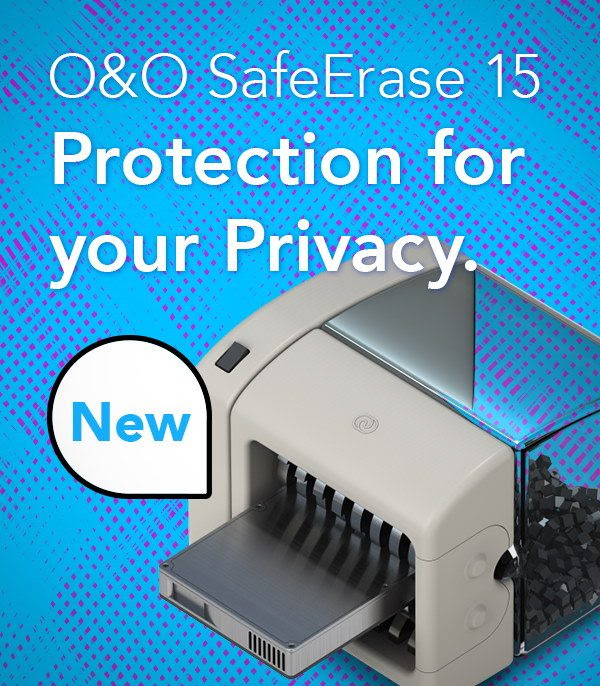 O&O SafeErase 15 uses a variety of methods to reliably erase unnecessary data, from simply overwriting old data with random characters or zeros to highly sophisticated methods that are extremely reliable but time consuming. In addition to individual files, the O&O SafeErase program can also delete history or cookies from web browsers, or completely delete the entire computer before selling it.
This can be done without restarting the computer from the boot media, which is fast and elegant. The user interface of the program is very clear and easy to use – also thanks to the support of the Drag & Drop function or the ability to perform secure data deletion from the context menu of the right mouse button in the File Explorer. Just remember
O&O SafeErase 15 focused primarily on improving procedures for retrieving temporary data from computer use and surfing the Internet, as well as detecting imperfectly deleted files. There's also a SolidErase feature, designed specifically to securely erase data from SSDs without excessive wear.
Special Offers
Giveaway
O&O SafeErase Pro was available for $29.95, but today you can get it for free!
Directions:

Click on the big GET NOW button above and you will go to the deal page of O&O SafeErase latest version.
On the deal page, go to the BUY NOW section, and open the Giveaway tab.
Enter your email address to open the offering box.
In this offering box, read the hints to get your exclusive serial number for FREE.
You can use the full version of the O&O SafeErase 15 PRO after installation and activation without the time and functional limitations but without the right to updates and technical support.
License Installation: Start the O&O SafeErase program and use the »Enter your registration code« option in the start window. After clicking on »Next«, enter the same e-mail as »Name« and »Company« as you used when registering, then the serial number from the registration e-mail. Click »Next« to complete the registration and start using O&O SafeErase. If you see the update menu for version 16 when done, select the option »Do not show this notice again« and click on the "Continue" button.
The license is for one non-commercial computer and may not be redistributed or sold. The registration, installation, and activation period is guaranteed until the end of of this month. For signup purposes, we recommend setting up a universal email in Google Mail. Domestic e-mail services often block registration messages as spam.
Software Giveaway – O&O SafeErase PRO – Free Serial Number – Full Version for Windows