Creates photo slideshow videos in all popular video formats. Get Pcwinsoft Photo Slide Show Time with 80% Off Coupon now. Only $9.99
80% Off Coupon on Photo Slide Show Time – for PC
80% Off Coupon on Photo Slide Show Time – for PC
Photo Slide Show Time Review at a Glance
Photo Slide Show Time creates incredible video slideshows from your batch of photos. The software is easy to use, handy, effective, and low cost. Photo Slide Show Time is a maker of photo slideshows that you can use to create eye dazzling videos from your wedding photos, anniversary photos, any batch of photos you would like to obtain a nice stunning video from it. What sets Photo Slide Show Time apart is the ability to generate videos of all known video formats and with the dimensions, you define so you can go full HD or Mobile.
Photo Slide Show Time creates photo slideshow videos ready to upload to YouTube on high definition. Photo Slide Show Time creates amazing looking slideshows with just a few clicks and you can preview your slideshow before exporting it to video knowing exactly what it will look like on the output video. It is a what you see is what you get feature very essential and important. What sets the software apart is its capability to export the slideshow video to a wide range of formats and targetted to devices or sites like YouTube. I
Photo Slide Show Time is a slideshow software for PC. The program is simple to use. First, you add the photos you want on the slideshow and you can do this by drag & drop or double-clicking over the image and you can also add all photos inside a folder directly to the slide show playlist. Once you have set the photos then you can drag and drop an audio track for your slideshow with options of fade-in and fade-out. Now that you are all set is that you find Photo Slide show Time comes with an extra feature which is to generate the slideshow video file in any well know video formats and according to settings, you are free to change at will.
back to menu ↑
Features
Key Features of Photo Slide Show Time:
Create eye dazzling videos from your batch of photos.
Select an audio track or more to be the background music with fade-in and fade-out options.
Target the video to any device, resolution, and format including MP4, FLV, MOV,
and much more…
back to menu ↑
Requirements
To run Photo Slide Show Time with optimum reliability and performance, your system should match the following requirements:
System Requirements for Windows OS:
Windows Vista, 7, 8, 8.1 and 10. 32 and 64-bit versions.
Intel 1.3GHz
120MB HD
256MB RAM
Microsoft .Net Framework 4.0
Minimum screen resolution of 1024×768
System Requirements for Mac OS:
–
back to menu ↑
Download
Please feel free to download Photo Slide Show Time for Windows PC here. Photo Slide Show Time by PCWinsoft has been tested professionally and we are assured that no viruses, Trojans, adware or malware contained.
back to menu ↑
Buy Now
Photo Slide Show Time retails for $49.90, But, on our website, The Software Shop, you can save on your purchase of its license key with a discount coupon code. This offer is available for a limited time!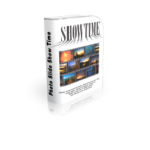 Photo Slide Show Time
Keys for all your personal PCs
Easily request keys from inside the application.
1 year of free updates.
15 day money back guarantee.
$49.90
This software is unavailable for Mac OS
The Software is unavailable as a software giveaway.
Please note that once you signed in, do not close this page. You will be shown how to get this offer for free.