A handy application that can help you generate exams and take them without effort. Get ProfExam Suite with 50% Off Coupon in today's software promotion.
50% Off Coupon on ProfExam Suite – Easy Solution for Creating and Holding Examinations.
50% Off Coupon on ProfExam Suite – Easy Solution for Creating and Holding Examinations.
ProfExam Suite Review at a Glance
ProfExam Suite is a collection of applications which are suitable for creating various quizzes and exams and conducting tests for your students conveniently and take them just as easily. This software suite can be used for both self-training purposes and testing candidates for a certain job.
ProfExam Suite integrates two utilities that can help you simplify your work: Exam Builder (ProfExam Creator) and Exam Simulator, both of which are equally easy to access with a smooth user interface and packs several straightforward controls. The former enables you to create exams for your students in an intuitive manner, as it provides you with straightforward controls. After generating an exam file on your computer, you can edit its title, number, file version, date, passing score, time limit and sections. Adding questions can be accomplished by clicking the "+ Question" button and adjusting certain parameters, such as the question, case study, answers, and section.
back to menu ↑
Features
Key Features of ProfExam Suite:
ProfExam Creator / Builder / Editor /

Intuitive rich-media editor
Interactive Questions Editor: Point & Shoot, Hot Area, and Drag & Drop
Examination Parameters: Time allotted for testing, Passing score, Exam version and date, etc.
Import from PDF, RTF, and TXT
Testlets: Initial data, Required data split into sections and subsections, Attach images

Exam Simulator / Player

Supports 3 major types of simple questions: Single choice, Multiple choice, Filling in blanks
Sessions: Your exam history, Storing sessions.
Session Setup: Display questions in a certain order or randomly; Toss answers or leave them intact; Hide or show hints during the testing; Enable or disable session timer Specify the number of questions in the new session
Testing Modes: Self-preparation, Virtual exam.
Reviewing Results: Review exam; Retake exam.
Customizable Interface
File Management
 View all questions on a single screen.
back to menu ↑
Requirements
To run ProfExam Suite with optimum reliability and performance, your system should match the following requirements:
System Requirements for Windows OS:
System Requirements for Mac OS:
back to menu ↑
Download
Not sure if ProfExam Suite does what you need? Try it out now. Please feel free to download ProfExam Suite for Windows here. ProfExam Suite by Sketchman Studio has been tested professionally and we are assured that no viruses, Trojans, adware or malware contained.
back to menu ↑
Buy Now
ProfExam Suite retails for $49.99, But, on our website, THE Software Shop, you can save on your purchase of its license key with a discount coupon code. This offer is available for a limited time!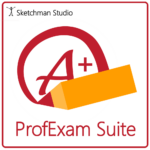 ProfExam Suite
Easy solution for creating and holding examinations.
Exam Editor
Exam Simulator
Import from RTF & PDF
No subscription
Free all updates for that version
*The discount coupon & your local VAT (Value added tax) will be applied at checkout automatically include your local currency will be converted.
$49.99
ProfExam Suite for mac is unavailable.
ProfExam Suite Giveaway is unavailable at this moment.
Please note that once you signed in, do not close this page. You will be shown how to get this offer for free.
Also, check out the latest software giveaways that are available here on the software giveaway page.
Please Report if ProfExam Suite Deal/Discount Coupon/Giveaway has a problem such as expired, broken link, sold out, etc.