New Training Model Refines Old DVDs and Low-Res Videos! To encourage more users to embrace the infinite possibilities that AI can bring, we're offering 30% deep discount on DVDFab Enlarger AI, with code EAI35, till the end of this month. Dont's miss out!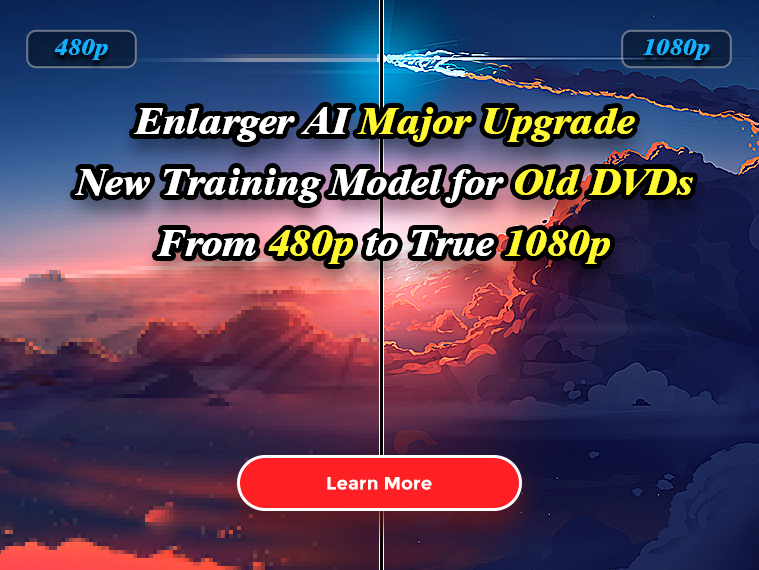 Have you ever noticed that when watching some old DVDs or other low-res videos on your big screen TV, there are always some square shaped artefacts across the screen? Now here comes a cure to that — the new training model in DVDFab Enlarger AI, with an inner AI deblocking layer, can maximally smooth those artefacts while upscaling old DVDs and other low-res videos to true 1080p quality.
Intelligent Deep-Learning, Strive only for Better
Based on the TensorFlow framework, DVDFab Enlarger AI has trained itself with millions of videos, movies and TV Shows of all genres using neural networks, to deliver stunning output video quality. Besides, it will continue to evolve itself through the course of daily using, presenting truly great videos that become only better.
Hardware Acceleration, Better Conversion Efficiency
As a highly compute-intensive work, video upscaling requires strong horsepower from a computer. Worry not! While keeping high output quality at bay, Enlarger AI can utilize the latest CUDA and cuDNN GPU acceleration technologies from compatible NVIDIA Graphics Cards, to dramatically speed up the conversion process.
30% Off on DVDFab Enlarger AI – The New Training Model Refines Old DVDs and Low-Res Videos
$55.30 - $1167.30
$79.00 - $465.00