Without strong passwords, there can be no security on the internet! The more complex they are, the harder they are to crack. But who can honestly remember all of them anymore? How can you manage highly secure passwords for dozens of different services? Sticky Password creates and manages super-strong passwords for you. Get Sticky Password Premium with a Lifetime License now at 84% Discount Coupon! All you need to remember is your master password and the program handles the rest – with maximum encryption. Use Sticky Password and turn a hacker's worst nightmare into a reality!
Enjoy the Exclusive Premium Features
Use the software for a lifetime
Free Lifetime Upgrades
100% secure Your password manager
Only one password to remember
Save time: Fill out forms instantly
Log In automatically
Manage web accounts
Integrated password generator
Manage app accounts
Create encrypted identities
Create encrypted memos
Virtual keyboard
Prevent identity theft and protect your ID
Create encrypted backups
Military-grade AES industry-leading password encryption
Passwords always at hand on your USB flash drive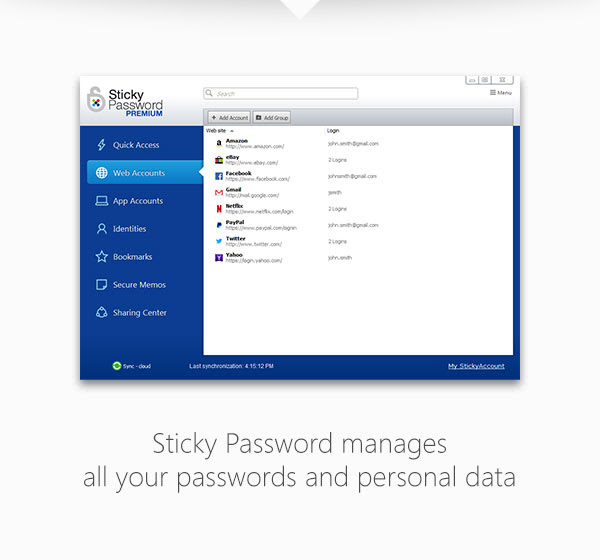 Excellent
No other password manager offers more in terms of biometric support of fingerprint scanning than Sticky Password. Identity verification of the account holder can be made with just one swipe of a finger. We support fingerprint authentication on iOS and Android phones and tablets that are equipped with fingerprint scanners. This includes Touch ID on iPhones and iPads, and the Samsung Galaxy and other Android devices.
PROS
Generates extra-strong new passwords
AES‑256 – the world's leading encryption standard.
Offline data sync – via local Wi‑Fi or manually
Fingerprint Scanning
Two-Factor Authentication
Password database auto‑lock
84% Off Sticky Password Premium with a Lifetime License – Download-Version, 1 User – for Windows, Mac, Android, iOS, Linux