Hassle-Free Data Transfer: copy all your user settings, software, files and folders to the new PC in no time. Get FastMove with a 1-year license key for free!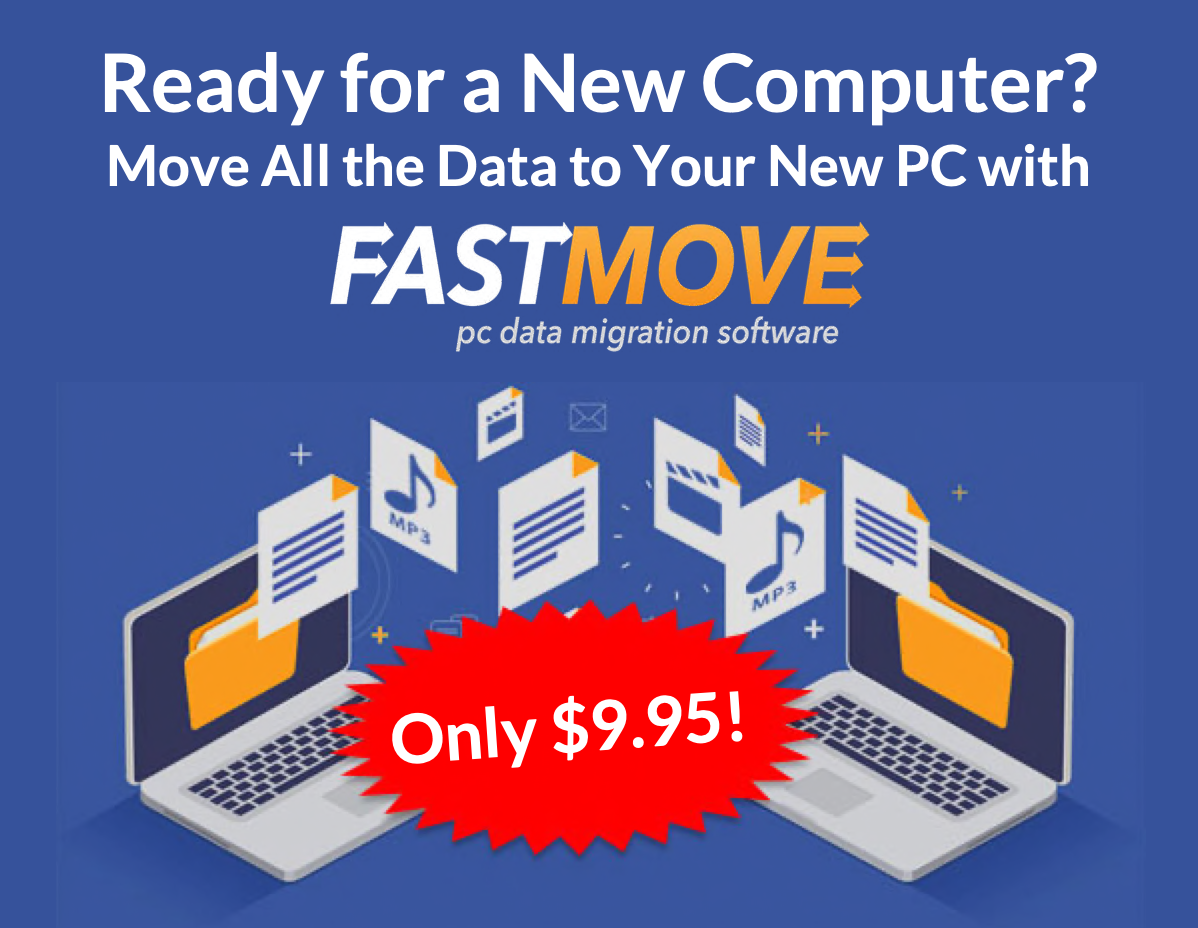 Are you in the process of setting up a new Windows computer and dreading the task of transferring your files, folders, software, and settings? Look no further! FastMove is here to simplify the data transfer process and make it a breeze. Trusted by over 5 million users worldwide since 1998, FastMove ensures a fast, easy, and reliable migration experience.
Main Features of FastMove
Fast and Lossless Data Migration
Transferring files between computers can be as simple as using a USB drive. However, when it comes to migrating all your settings, software, and drivers without any data loss, FastMove excels. Whether you're upgrading to a new computer or switching to an SSD, FastMove ensures a fast, easy, and reliable data migration process.
Move Programs Effortlessly
Setting up a new computer often involves reinstalling all your software and spending hours configuring settings. With FastMove, this time-consuming task becomes a thing of the past. Simply select the applications you want to transfer to your new PC, and let FastMove handle the rest. No more tedious manual installations or configuration hassles.
Migrate User Accounts and Settings
When transitioning to a new computer, it's frustrating when things don't work as expected. Instead of customizing Windows settings from scratch, let FastMove migrate all your user accounts and settings from the old PC to the new one. This seamless transfer includes user data, passwords, desktop settings, and more. Your new PC will feel familiar and ready to use.
Effortless Transfer of Device Drivers
Installing drivers for your devices on a new Windows computer can be a headache. FastMove simplifies this process by allowing you to select the drivers you want to move. With FastMove's assistance, you can avoid any driver conflicts and ensure that all your devices work seamlessly on the new PC right out of the box.
Seamless Transfer of Custom Files and Favorites
No need to upload files to the cloud or copy them to a USB drive for transfer. FastMove handles it all for you. Transfer your custom files, folders, and even browser favorites effortlessly in one go. It's fast, efficient, and 100% reliable.
Keep Your Folders in Sync
If you've ever felt like you've lost track of your files and folders, FastMove's Sync Folders tool is here to help. With this feature, you can easily sync and merge folders between PCs or locally. Simply select two locations, let FastMove scan them, and identify any differences or missing files. Copy only the files you need between the two folders, ensuring everything stays organized.
Getting Started with FastMove
Whether you're moving data between computers with the same operating system or migrating from an older version of Windows to the latest Windows 11, FastMove has got you covered. Follow these three simple steps:
Connect both PCs to the network.
Select what you want to transfer.
Let FastMove take care of the rest!
FastMove Free Key Giveaway
And now for the exciting news! Today, you can get FastMove full vresion with a 1-year license key for free.
The information about the giveaway is on the deal page of FastMove:
Click on the GET NOW button above and you will go to the deal page of FastMove
On the deal page, navigate to the BUY NOW section and open the Giveaway Tab.
On the Giveaway Tab, enter your email address to unlock the offering box that contains the BUY button to get the license key for free
Read the HINTS on the offering box for the next instruction.
Don't miss out on this opportunity to simplify your data transfer process and make setting up your new computer a breeze.
In conclusion, FastMove is the ultimate solution for hassle-free data transfer between Windows computers. Say goodbye to tedious manual setups and time-consuming configurations. With FastMove, you'll experience a seamless transition to your new PC while preserving all your important files, software, settings, and more.
Stay tuned for our upcoming deals, freebies, and giveaways. Be sure to follow us on social media for updates, and share this post with those who might find it beneficial.
---
Thank you for choosing FastMove for your data migration needs!
Software Giveaway – FastMove: 1-year License Key | Free Full Version – for Windows