GIVEAWAY
[UPDATED] Software Giveaway – Ashampoo Photo Converter 2: Free License Key | A Fast Image Format Converter – for Windows
Enjoy the convenience of conversion, enhancing, and manipulating your images with Ashampoo Photo Converter 2. You can now get the full version for free, complete with a license key!
Free Full Version!
Ashampoo Photo Converter 2 Review at a Glance
We may all face the challenge of dealing with a myriad of image formats, struggling to align and resize them to match our creative vision. The cumbersome task of manually adjusting colors, contrasts, and applying effects can be time-consuming and often leads to frustration. This is precisely where Ashampoo Photo Converter 2 steps in, serving as a versatile Swiss army knife for processing your image collections.
With its user-friendly interface and a multitude of features, Ashampoo Photo Converter 2 offers a streamlined approach to handling your photos, whether you're dealing with a handful or a thousand files.
Ashampoo Photo Converter 2: A Lightweight, Fast, and Versatile Image Processing Tool
Ashampoo Photo Converter 2 boasts several compelling features that set it apart from the crowd. One of its notable attributes is its lightweight nature. Unlike resource-intensive image editors, Photo Converter 2 is designed to run smoothly on both modern multi-core systems and older machines. This ensures that processing your images doesn't turn into a resource-hungry affair.
The versatility of Ashampoo Photo Converter 2 is truly remarkable. Whether you need to convert between 21 different image types, align and rotate images, adjust colors and contrasts, or even apply sophisticated artistic effects, this tool covers it all. Its comprehensive suite of functions eliminates the need for expensive image editing software, as Photo Converter 2 can handle these common image tasks with remarkable ease.
Furthermore, speed is a hallmark of this tool. Its no-frills interface translates to swift results, making your image conversion tasks a matter of seconds rather than minutes. This rapid processing is particularly handy when dealing with large image collections, saving you valuable time.
Exploring the Image Processing Functions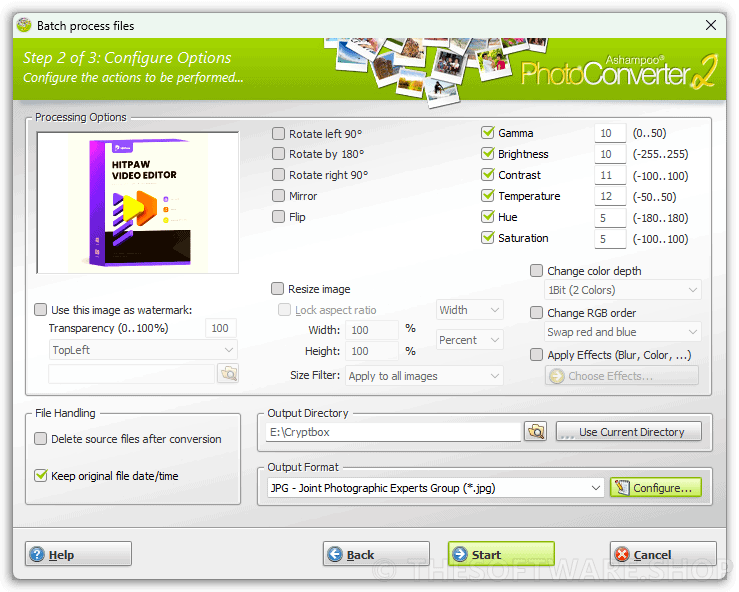 Ashampoo Photo Converter 2's array of functions ensures that you have complete control over your images. You can seamlessly convert images from one format to another, ensuring compatibility across various platforms. The alignment options, including rotation, mirroring, and flipping, enable you to get your images oriented just right.
The tool's color and contrast adjustment capabilities allow for fine-tuning to achieve the desired visual aesthetics. Additionally, the software's optimization features eliminate the hassle of tweaking colors and contrasts manually, as it can automatically determine the best settings for each image. The "Clean Skin" feature even eradicates compression artifacts, ensuring that your images look pristine.
Unleashing Your Creativity with Artistic Effects
Beyond its functional aspects, Ashampoo Photo Converter 2 empowers you to unleash your creative side. The tool offers a plethora of artistic effects, ranging from Pencil Drawing and Sepia to Oil Painting.
The built-in preview feature provides instant feedback, enabling you to experiment fearlessly and achieve your desired artistic outcomes. With Ashampoo Photo Converter 2, your images can be transformed into unique and visually striking pieces of art.
Benefits of Using Ashampoo Photo Converter 2
The benefits of integrating Ashampoo Photo Converter 2 into your image processing workflow are compelling. The tool's intuitive interface eliminates the need for trial and error, offering a live preview that allows you to experiment confidently with its wide array of features. Furthermore, the software's automatic insertion of EXIF dates aids in keeping track of your images' creation times, streamlining organization.
Conclusion: Efficient Tool for Image Processing and Creativity
In conclusion, Ashampoo Photo Converter 2 serves as a potent solution for fast and efficient image file format conversion. Its lightweight design, quick processing, versatile functionality, and artistic capabilities make it an indispensable tool for photographers and enthusiasts alike. By embracing this tool, you can optimize your image processing tasks and unleash your creative potential.
Features
Key Features of Ashampoo Photo Converter 2
Conversion: Convert between 21 different image formats effortlessly.
Alignment: Rotate, mirror, flip, and align images for the perfect orientation.
Color & Contrast Adjustment: Fine-tune colors and contrasts for optimal visual appeal.
Optimization: Automatically enhance images by determining the best settings for each.
Resizing: Resize images to specific dimensions while maintaining quality.
Artistic Effects: Apply various effects like Pencil Drawing, Sepia, and Oil Painting.
EXIF Date Insertion: Automatically add creation dates from image metadata.
Seamless Image: Create seamless images with a smooth transition between edges.
White Border: Add a clean white border to your images for a polished look.
Edge Detection: Highlight image edges for a striking visual effect.
Emboss: Add depth and texture to images with an embossing effect.
Dilation: Expand the boundaries of objects in the image.
Psychodelic: Infuse images with a dynamic and captivating psychodelic effect.
Erosion: Erode the edges of objects, creating a unique visual texture.
Pixelize: Transform images into pixelated art for a contemporary style.
Miniature: Create a tilt-shift effect, making real scenes appear as miniatures.
Vivid Colors: Enhance colors to make images more vibrant and eye-catching.
Radial Blur: Apply a radial blur effect to draw focus to a central point.
Blur: Soften images for a dreamy and ethereal aesthetic.
Sharpen: Enhance image details by applying a sharpening effect.
Watermark: Add personalized watermarks to protect your images.
Grayscale: Convert images to grayscale for a classic black-and-white look.
Invert: Invert colors for a unique and unexpected visual transformation.
Drop Shadow: Add a subtle drop shadow effect for depth and dimension.
Buttonize: Create a button-like appearance for images, perfect for web graphics.
Requirements
To run #THE SOFTWARE with optimum reliability and performance, your system should match the following requirements:
Operating System: Windows 11, 10, 8, 7
Requirements: Any device that supports the operating systems listed above. Systems with ARM processors are not supported.
Other: An Internet connection is required to activate the program. The program license is verified repeatedly at regular intervals.
Downloads
Not sure if #THE SOFTWARE does what you need? Try it out now. Please feel free to download Ashampoo Photo Converter 2 for Windows here. This image conversion & processing tool by Ashampoo has been tested professionally and we are assured that no viruses, Trojans, adware or malware contained.
BUY NOW
Ashampoo Photo Converter 2 is available for $14.99. But, through THESOFTWARE.SHOP, You can get Ashampoo Photo Converter 2 license with our exclusive 50% discount coupon. This offer is available for a limited time!
Software Giveaway: You can also get Ashampoo Photo Converter 2: full version with a license key for free in the Giveaway tab below!
ORDER HERE:

You also might like

Giveaway
Ashampoo® Photo Converter 2: Lifetime License (50% Off)
A Swiss army knife to process your photos
Lifetime License for 1 PC
Free Product updates for the current version
Free technical Support by Ashampoo team
30-day money-back guarantee
Platform: Windows
$14.99
Ashampoo® Photo Converter 2 Free Key Giveaway is available now free for a limited time!
Please note that once you have signed in, do not close this page. You will be shown how to get this offer for free.
Also, check out the latest software giveaways that are available here on the software giveaway page.
NOTES:
– All prices shown here are in listed USD (United States Dollar).
– Such promotional programs are subject to change without notice, from time to time in our sole discretion.
– Data may vary based on different systems or computers.
---
Thanks for reading Ashampoo Photo Converter 2 Review & Enjoy the discount coupon. Please Report if Ashampoo Photo Converter 2 Discount Coupon/Deal/Giveaway has a problem such as expired, broken link, sold out, etc while the deal still exists.