BEST OFFER
83% Off on CyberGhost VPN – 2-Year Subscription + 3 Months: The Best Secure & Fast Encrypted VPN Tunnel – for Windows, Mac, Linux, iOS, Etc.
Protect your digital identity from your ISP, government authorities, and snoopers. Get CyberGhost VPN at an 83% discount on a 2-Year Subscription + extra 3 Months!
✔ Save up to $292.23. ✔ Free Product Updates ✔ 24×7 Customer Support ✔ 30-day Money-back Guarantee.
CyberGhost VPN Review at a Glance
Be alone with your shame — just like the old days. Get your network traffic secured by a world-class market leader. Don't worry about whether your sub renewed in time for that risky click — for years.
With a great VPN and a bit of OPSEC know-how, you can secure your connection and kick the voyeur's convention to the curb. Big Tech big names, behind-the-scenes MarTech collectors, and wardrivers alike: out of your business or stuck by the shredder, piecing scraps together with tape.
Finally: enjoy your guilty pleasures without the sense you're doing so in a concert hall. Just like the old days, Spice Girl. Or you can just ensure your sensitive business data doesn't hit the air without some form of encryption. Either way, CyberGhost VPN is the solution!
With the CyberGhost VPN, you not only maintain your privacy but also protect yourself against spying on your data by third parties. This VPN can also be used excellently to bypass geo-blocking from streaming providers such as Netflix & Co. With a virtual private tunnel that the provider generates for you, you can trick the country blocks and get many streaming libraries all over the world into your own four walls.
This Romanian VPN service differs from almost all the other VPN providers in one important point: There are special servers for almost all major streaming platforms, including US Netflix, Amazon Prime Video, and Disney +. Why is that important? With a good VPN service, you can not only watch the content of your country's streaming platform but also have access to foreign film and series libraries.
But not only the large selection of servers in many countries speaks for itself, but CyberGhost VPN also does not lack security either. A strict no-logs policy, advertising and malware blockers as well as details on server utilization round off the service. It also supports very secure encryption according to the AES-256 standard, like most providers.
The VPN service is available on all common platforms. These include Windows, macOS, Linux, Android, and iOS / iPad as well as Fire TV and Android TV. Browser extensions are available for Chrome and Firefox. The manufacturer provides suitable instructions on its website for setting up Apple TV, Smart TVs, routers, game consoles, and other network-compatible devices.
Set and forget. Finally stop picturing the NSA, 90s Hacker-Hunting Sandra Bullock, and Judge Judy critiquing your browser history for the crit-lit club. The easy-to-use interface and the simple structure appeal to newbies as well as old VPN hands. Overall, CyberGhost is one of the better all-around packages on the VPN market.
Screenshots of CyberGhost VPN
CyberGhost's unique Dedicated IP system is here!
For a surcharge, there is the option of using dedicated IP addresses. This will assign you a fixed IP address. According to the provider, the anonymity of the user should still be guaranteed by means of a special token system. In the past, at an additional cost, the manufacturer added a special server category with the highest security standard to the basket free of charge, which should offer special protection. According to the provider, these so-called "NoSpy servers" are all located in a Romanian data center outside the jurisdiction of the 14-Eyes countries and should therefore offer special protection against data sniffers – actually a matter of course for a VPN service.
CyberGhost is setting a new standard in the industry for Dedicated IPs by facilitating the same smooth access to IP-restricted networks you would expect, without sacrificing any of your privacy and security. We're achieving this for the first time by the inclusion of our new token system. 🚀🚀🚀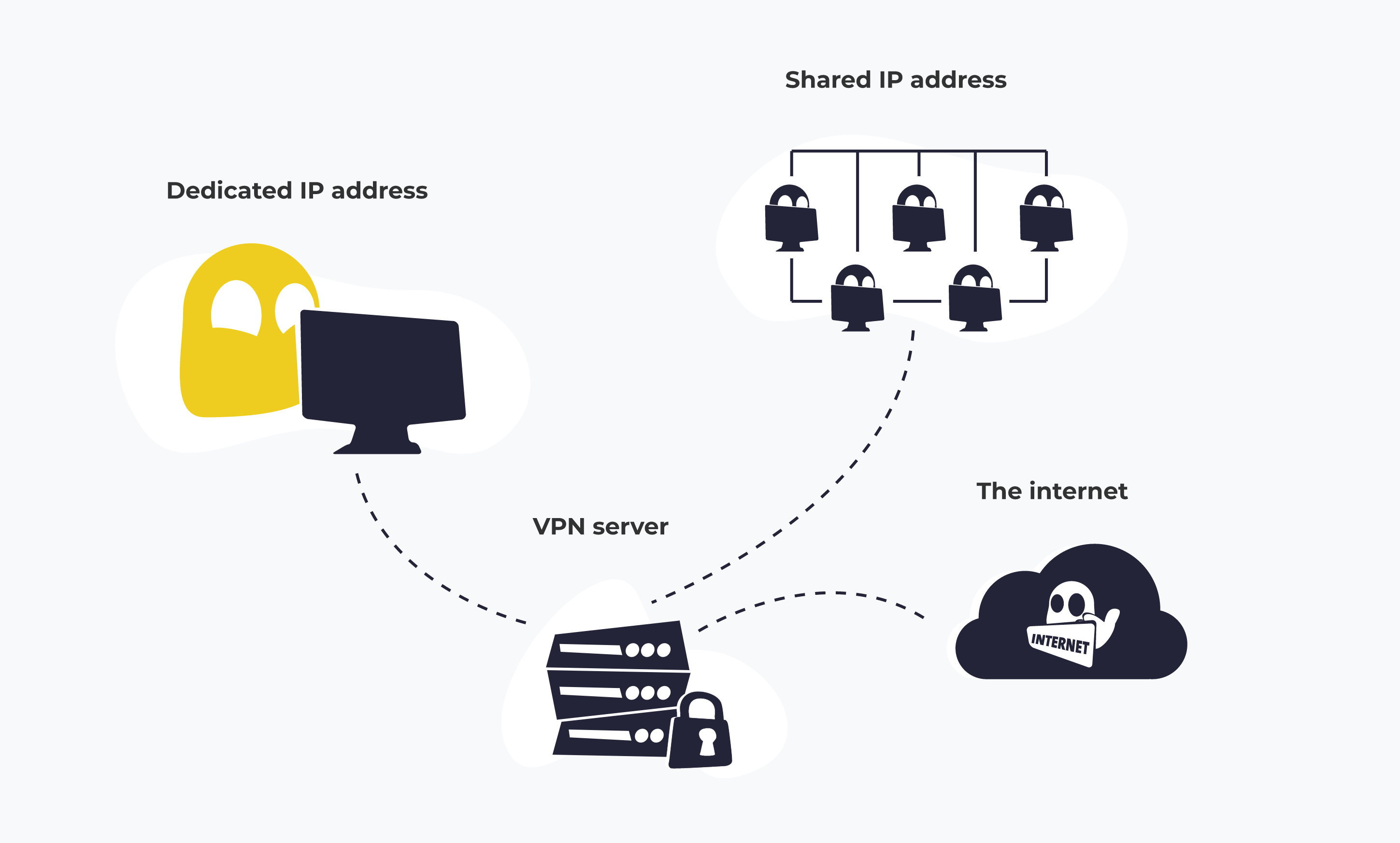 The innovative token system
Usually, when you get a Dedicated IP, the VPN provider knows what's the static IP address you were assigned. That comes with some privacy downsides, but it's still how most companies in the VPN world do it.
But we believe it's time to retire this old and outdated practice.
So, here at CyberGhost VPN, we're setting new standards for the feature.
To remove any ties between your CyberGhost VPN account and your Dedicated IP, we use an innovative token system. Thanks to it, we have no records of what's your Dedicated IP, and your static address can't be traced back to your CyberGhost account.
This makes us the first major VPN provider to offer truly anonymous Dedicated IPs.
It's fast, easy, and convenient
Customers can choose between Dedicated IPs located in the US, Germany, France, UK, or Canada. There are no complicated how-to guides to follow, and they can do it themselves. There's no need to contact Customer Support or wait around.
Our Dedicated IPs are up and running in just a couple of clicks!
Features
Key Features of CyberGhost VPN
Over 7400 VPN servers worldwide
AES 256-bit encryption
DNS and IP leak protection
Automatic kill switch
OpenVPN, IKEv2, WireGuard® protocols
Strict No Logs Policy
Unlimited bandwidth and traffic
Highest possible VPN speeds
Up to 7 devices protected simultaneously
Apps for Windows, macOS, Android, iOS & more
24/7 live Customer Support service
45-day money back guarantee
Requirements
To run #THE SOFTWARE with optimum reliability and performance, your system should match the following requirements:
Supported OS/Devices:

Desktop apps: Windows , macOS, Linux
Mobile apps: iOS, Android
Browser apps: Chrome, Firefox
TVs apps: Amazon Fire Stick, Android TV, Smart TVs, Apple TV
Console apps: Xbox One & Xbox 360, PlayStation 3 & PlayStation 4
Routers and more: Custom-connection supported Routes with OpenVPN, L2TP or IPSec and secure your internet connection.
Download
Not sure if #THE SOFTWARE does what you need? Try it out now. Please feel free to download the CyberGhost VPN trial here. This Virtual Private Network software by Cyberghost SRL has been tested professionally and we are assured that no viruses, Trojans, adware, or malware are contained.
Buy Now
CyberGhost VPN is available for $12.99/month. But, through THESOFTWARE.SHOP, You can get CyberGhost VPN with a discount of up to 83% Off on the 2-year subscription and get extra 3 Months for free. This offer is available for a limited time!
Order Here!

You also might like

Giveaway
Cyberghost VPN - 2 Years + 3 Months (83% Off)
All you need from a truly complete VPN solution
27-month Subscription (2 Year + 3 Months)
Up to 7 devices
Free Access to Privacy Guard
CyberGhost ID Guard
Boxcryptor - Cloud Security License included
Free Access to NoSpy Servers
Enjoy 7400+ VPN Servers
24/7 live Support by Cyberghost Team
45-day money-back guarantee
Billed $58.5 first 2 years and yearly thereafter
$288.00
Cyberghost VPN - 6 Months (51% Off)
All you need from a truly complete VPN solution
6-month Subscription
Up to 7 devices
Free Access to Privacy Guard
CyberGhost ID Guard
Boxcryptor - Cloud Security License included
Free Access to NoSpy Servers
Enjoy 7400+ VPN Servers
24/7 live Support by Cyberghost Team
45-day money-back guarantee
Billed $38.34 every 6 months
$77.94
Cyberghost VPN - Monthly
All you need from a truly complete VPN solution
Monthly Subscription
Up to 7 devices
Free Access to Privacy Guard
CyberGhost ID Guard
Boxcryptor - Cloud Security License included
Free Access to NoSpy Servers
Enjoy 7400+ VPN Servers
24/7 live Support by Cyberghost Team
14-day money-back guarantee
Billed $12.99 every month
CyberGhost VPN Key Giveaway is unavailable at this moment.
Please note that once you signed in, do not close this page. You will be shown how to get this offer for free.
Also, check out the latest software giveaways that are available here on the software giveaway page.
NOTES:
– All prices shown here are in listed USD (United States Dollar).
– Such promotional programs are subject to change without notice, from time to time in our sole discretion.
– Data may vary based on different systems or computers.
User & Media Reviews
What are their users saying about #THE SOFTWARE? Why they loved it?
great service from this company
used for a few years and gives me the ability not to have my rights as an individual taken away by being told what websites I am allowed to browse or not by my telecoms provider.
(Source: TrustPilot)

Affordable and great value for the price!
I think it's affordable, I love the pricing and the amount of devices they allow on the paid account. Great choice of countries too, and the most important reason I bought this VPN is for torrenting, and it does that flawlessly (I torrent about hundreds of gigabytes at at time and I also like to seed my torrents). Also, I'm on the 3 year plan (so you know that I trust Cyberghost in the long term)
(Source: TrustPilot)

Daniel G. was very kind and very helpful, helping me remotly all the way from Romania when I've been having problem with Google/Chrome. Also taught me a few tricks, showing me step by step how to fix the problem, and suggestion. I really appreciate Daniel's help. Great customer service experience with CyberGhost. Definitely will recommend this VPN. Thank you so much.
(Source: TrustPilot)

The best VPN provider for streaming and torrenting! Ifeel safe and secured with this VPN service that's why I subscribe to their premium service! Me and my family now enjoying sports streaming events without any limitations!
(Source: TrustPilot)

The best VPN application and excellent help team.
I have been using Cyber Ghost VPN for almost 7 years. It is use blocked by Turkish government while I am using it but Cyber Ghost has excellent help service and helped me whenever I needed them. They send me a link to add an extension to chrome browser so I could continue to use it until now. I wanted to renew my Cyber Ghost VPN subscription and bought new one yesterday to be able to use it in other browsers and computers. Was it enough? Of course it is not. Its installation also blocked because of VPN ban of Turkey. I circumvent this ban by using trial use of another VPN application, later uninstalled it. Thank you for your easy to use application and excellent help team.
(Source: TrustPilot)

Excellent
Enjoy a safe and fast VPN connection. Regain your digital privacy with CyberGhost and Hide your IP, Block online tracking, Protect up to 7 devices at once! CyberGhost is widely accepted as the top converting VPN solution worldwide, promoted and regarded among the best by premium publishers like Techradar, Macworld, PCMag and Android Authority.
Positive
No-logs policy
Dedicated streaming servers
Wi-Fi protection
Simultaneous connections
Over 7400 VPN servers worldwide
---
Thanks for reading CyberGhost VPN Review & Enjoy the discount coupon. Please Report if CyberGhost VPN Discount Coupon/Deal/Giveaway has a problem such as expired, broken link, sold out, etc while the deal still exists.