Create secure, advanced, and visually stunning forms in minutes with the most comprehensive form builder on the market. With the MakeForms Lifetime Deal, you can gain lifetime access to the Essential, Pro, or Agency plans at an affordable one-time fee starting at just $99.00, plus extra 20% Off. This replaces the regular rate of $29/month, allowing you to save up to 95%!
✔ LIFETIME Access. ✔ Free Product Updates ✔ 24×7 Customer Support ✔ 30-day Money-back Guarantee.
MakeForms Review
Forms serve as the bridge between businesses and their audiences, capturing crucial information and facilitating communication. However, not all form builders are created equal. In a world where security, customization, and efficiency are paramount, MakeForms emerges as a trailblazer, offering advanced features and top-tier security standards that redefine form building.
Overview
MakeForms is a robust and secure form builder platform that empowers teams to create a wide range of advanced forms with top-notch security measures, all complemented by AI capabilities. It offers versatile form types, customizable branding, domain publishing, and comprehensive response management.
With a user-friendly drag-and-drop interface and AI-enhanced features, This AI Form Builder simplifies the process of creating and managing forms while maintaining a strong focus on security and compliance with industry standards.
From small businesses to enterprises, MakeForms empowers teams to craft visually stunning forms that not only gather data effectively but also prioritize data security.
Versatility and User-Friendly Design
Unveiling the Power of MakeForms
Gone are the days of cookie-cutter forms that fail to engage users. MakeForms introduces a new paradigm with its array of form types, including step forms, card forms, and all-at-once forms. This versatility ensures that whether you're creating a succinct survey or a comprehensive application form, MakeForms has you covered.
Simplicity Meets Sophistication
One might assume that advanced form-building tools come with a steep learning curve. MakeForms defies this notion with its intuitive drag-and-drop interface. Building forms becomes a seamless process, eliminating the need for technical prowess while maintaining the flexibility to design forms tailored to your needs.
Customization Beyond Compare
A Form that Reflects Your Brand
Generic forms lack the personal touch that resonates with users. MakeForms empowers you to infuse your brand's identity into each form. With the ability to upload your fonts and establish your branding, your forms become an extension of your company's essence.
Your Domain, Your Rules
In a world that values consistency, MakeForms takes customization to another level. The platform enables you to publish forms on your domain, presenting a cohesive and professional user experience. Even non-enterprise users can revel in the benefits of a custom domain, underscoring MakeForms' commitment to inclusivity.
Security and Compliance as a Pillar
A Fortress for Your Data
In a digital landscape rife with data breaches, MakeForms stands firm as a paragon of security. Its commitment to safeguarding your data is evident in its compliance with renowned security frameworks: HIPAA, SOC2, GDPR EU & UK, ISO 27001, PIPEDA, CCPA, and Australian DPA. With encryption at the forefront, your data remains impenetrable, regardless of your chosen plan.
Data Protection that Goes the Extra Mile
MakeForms leaves no stone unturned in its pursuit of data protection. Regular backups ensure that your data remains intact, preserving the information that fuels your business operations. Its compliance with industry standards, including HIPAA, SOC2, GDPR & ISO 27001, attests to its commitment to data integrity.
A Plethora of Possibilities
Crafting Forms Your Way
MakeForms understands that one size does not fit all. Whether you're creating a quick survey or a detailed application, the platform accommodates various form-building approaches:
One at a time / Card Form: Streamline user focus by displaying a single field, making it ideal for concise surveys and contact forms.
Step Form: Guide users through a structured multi-step process, ensuring clarity and organization for longer forms such as applications and registrations.
All At Once: Simplify data entry for users by presenting all fields at once, catering to lengthy forms requiring comprehensive information upfront.
Battling the Bogus: Mobile and Email Verification
Restoring Data Credibility
In a digital landscape replete with false identities, MakeForms integrates mobile and email verification. This robust feature validates user identities, fortifying data accuracy in real-time. Bid adieu to fake leads and welcome genuine interactions that fuel meaningful connections.
A Symphony of Form and Function: MakeForms' Features
Mastering Form Aesthetics
MakeForms empowers you to shape your forms according to your vision. The platform's suite of features includes:
Branding & Fonts: Tailor the form's appearance with your brand's fonts and visual elements.
Custom Domain: Elevate professionalism by publishing forms on your domain.
Collect and Organize: Harness the power of the response manager, featuring table view, summary view, and Business Intelligence dashboard.
Unique Form Templates: Step away from the mundane with visually captivating form templates.
Link Generation: Diverse Paths, One Destination
A Multifaceted Approach
MakeForms introduces a link generation feature that transforms your form's distribution strategy:
Social Media Channel: Amplify form reach through social media and gauge success rates via the unique link generator.
Influencer Channel: Quantify influencer campaigns' impact by assigning unique links to forms.
Corporate Channels: Enhance form performance tracking across websites, email signatures, and internal communications.
Email Marketing: Elevate email campaigns with tracked performance and engagement data.
Integrate for Efficiency: MakeForms' Ecosystem
Seamless Integration
MakeForms understands the importance of a connected workflow. Seamlessly integrate popular tools like Zapier, Google Sheets, Notion, and email marketing platforms. Enhanced data management and automation become the cornerstone of your operations.
A Multitude of Perspectives: MakeForms' Response Management
Navigating Response Insights
MakeForms doesn't just collect data; it transforms it into actionable insights. With Table View, Summary View, and Business Intelligence View, you're equipped to unravel the nuances of your form's impact:
Table View: Streamline response management with features like spam marking, favoriting, tagging, and source mapping.
Summary View: Grasp data's essence through clear charts, simplifying comprehension of form results.
Business Intelligence View: Unearth deep insights by crafting pivots, paving the way for informed decision-making.
Secure Form Governance: MakeForms' WorkSpaces
A Fortress of Control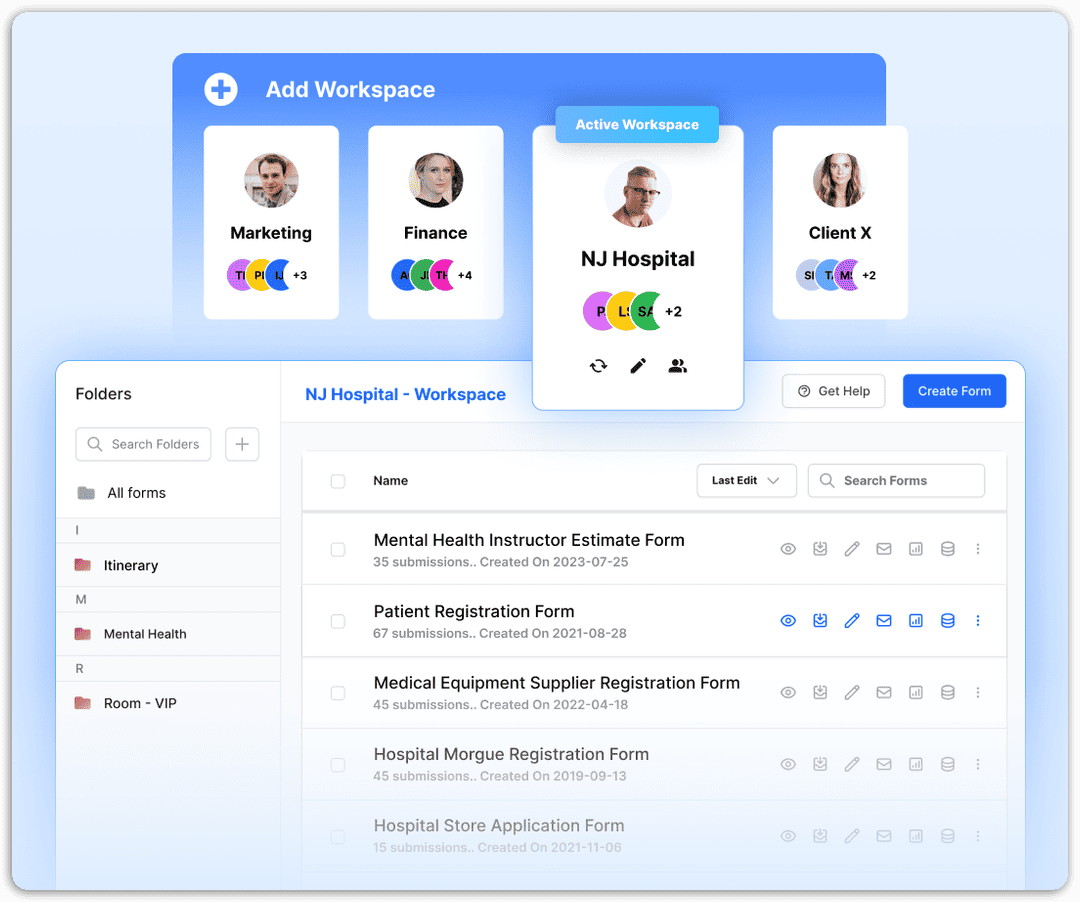 Efficient form management necessitates organized structures. MakeForms' WorkSpaces revolutionize form governance, fostering customized work environments:
Simplify with Folders: Organize forms effortlessly by grouping related ones into folders.
Workflow Wizardry: Elevate form processes with Workflow Builder, streamlining requests, applications, and more with a user-friendly drag-and-drop interface.
Email-Driven Data Collection: MakeForms' Efficiency
Harnessing the Power of Email
MakeForms leverages Google AMP technology to expedite data collection through emails. Directly launch campaigns from the dashboard, efficiently gathering responses from a broad audience. This streamlined approach maximizes form efficiency.
A New Era of Form Building: MakeForms' Uniqueness
A Remarkable Journey
The journey of form building is redefined by MakeForms, which boasts:
Quality Craftsmanship: Each feature is a testament to meticulous attention, setting a new standard.
Design and UI/UX Excellence: Polished and intuitive, MakeForms' interface reflects years of refinement.
Detail-Oriented Approach: Every aspect exudes care, marking MakeForms as an epitome of precision.
Unparalleled Versatility: Replace multiple tools with MakeForms' Swiss-army knife capabilities.
Security and Privacy Champion: Security isn't an afterthought; it's ingrained in MakeForms' DNA.
The MakeForms Team: Powering Excellence
A Team with a Proven Track Record
MakeForms is a brainchild of the same team behind MakeStories.io, the vanguard of Google Web Stories embraced by prominent entities like Verizon, Ford, Vogue, Thrillist, and more. With a team of over 20 members excelling in engineering and design, MakeForms emerges as a product of expertise.
Why MakeForms Stands Out: The Essence of Excellence
A Beacon of Distinction
What sets MakeForms apart isn't just its features; it's the essence that pervades every aspect:
Quality Craftsmanship: A dedication to excellence shines through every feature.
Design Brilliance: MakeForms' interface exudes a decade's worth of refinement.
Attention to Detail: From small touches to grand features, MakeForms' meticulous nature is evident.
Versatility and Integration: Eliminate redundant tools with MakeForms' diverse capabilities.
Security First Approach: Security isn't an afterthought; it's MakeForms' foundation.
Why Choose MakeForms: Decoding the Essence
The Unrivaled Choice
As you consider your form-building companion, MakeForms beckons with its unparalleled offerings:
Leading No-Code Form Builder: MakeForms rivals giants like Google Forms, offering advanced features.
Industry Agnostic Brilliance: Regardless of your industry, MakeForms is a necessity.
Platform Agnostic Prowess: Seamlessly integrate MakeForms into any platform.
Eliminate Tool Redundancy: MakeForms replaces multiple tools, streamlining operations.
Security and Compliance Champion: MakeForms' security and compliance stand as industry benchmarks.
Form Building Reimagined: The MakeForms Promise
Unleash Your Form's Potential
MakeForms ushers in a new era of form building with secure, advanced, and visually stunning forms. A promise to revolutionize form creation and address the challenges that have plagued the field, MakeForms redefines the landscape.
Conclusion: Revolutionizing the Art of Form Building
In a realm where form building is indispensable yet often laden with challenges, MakeForms emerges as a beacon of excellence. Its fusion of security, versatility, and user-friendly design sets a new standard for form-building solutions. MakeForms is more than just a tool; it's a testament to precision, dedication, and a vision to transform how forms are created and utilized.
FAQs: Unveiling the Insights
Is MakeForms suitable for small businesses?
Absolutely. MakeForms caters to a diverse audience, spanning small businesses to enterprises, ensuring seamless form creation and management.
Can I integrate MakeForms with my existing tools?
Certainly. MakeForms facilitates integration with popular tools like Zapier, Google Sheets, Notion, and email marketing platforms, enhancing data management and workflow automation.
How does MakeForms prioritize security?
MakeForms' commitment to security is unwavering, evidenced by its compliance with security frameworks like HIPAA, SOC2, GDPR, ISO 27001, and more. The platform embraces encryption and data security as cornerstones of its approach.
What industries can benefit from MakeForms?
MakeForms is industry agnostic, catering to diverse sectors. However, its compliance and security features make it an ideal choice for regulated industries such as banking and healthcare.
What sets MakeForms apart from other form builders?
MakeForms' unique blend of quality craftsmanship, design excellence, attention to detail, versatility, and security-first approach sets it apart as a comprehensive and exceptional form-building solution.
Screenshots of MakeForms
Features
Key Features of MakeForms:
Form Types:

One At A Time: Display one field per screen, ensuring user focus.
Step Forms: Break complex forms into manageable steps for user convenience.
All At Once: Present all form fields at once for quick data entry.

Form Builder Features:

Form Fields: Create a tailored experience with Drag-and-Drop features for various inputs.
Custom Branding: Personalize forms with fonts, logos, and colors for brand consistency.
Conditional Logic: Make forms efficient by showing relevant fields based on user responses.
Workflows: Streamline processes like HR requests with user-friendly drag-and-drop workflows.
Domain Mapping: Host forms on your domain for a seamless user experience.
Fill within Email: Enable interactive form filling directly within email campaigns.
Form Sources: Track responses from different sources and customize settings.
Team Collaboration: Organize workspaces, folders, and access levels for teamwork.
Form Designs: Choose from visually appealing form templates for professional forms.
Data Organisation: Manage form data with table, summary, and BI views for insights.
Share / Embed your form: Embed forms on websites with various display options.
Verified Submissions: Ensure accuracy with email and mobile OTP verification.
ACL: Assign distinct access levels to team members for efficient collaboration.
WorkSpaces: Organize projects, forms, and data under separate workspaces.
Sensitive Data: Mark sensitive data to ensure confidentiality.

Share / Embed your form:

Side Pop Up: Engage users with a popup from the side.
Lightbox Pop Up: Overlay form for focused user interaction.
Floating Button Embed: Capture leads without disrupting browsing.
iFrame Embed: Embed within an iFrame for complex layouts.
Full-page Embed: Display form as a full page for focus.
Raw Embed: Customize appearance using HTML code.

Verified Submissions:

Email OTP Verification: Ensure authenticity through email verification.
Mobile Number OTP Verification: Verify users via mobile OTP.

ACL:

Access Levels: Assign team members distinct access for secure collaboration.

Sensitive Data:

Data Protection: Mark and safeguard sensitive information.
Form Fields:

Name Field: Collect user names with separate options for first, middle, and last names.
Address: Gather detailed addresses using separate fields for street, city, state, and zip.
Email: Verify user emails with OTP for accurate data collection.
Phone Number: Collect phone numbers and verify with OTPs.
Time Picker: Simplify time selection with a time picker field.
Text Field: Capture data via text forms for contact, feedback, and surveys.
Number Input: Gather numerical data such as contact numbers.
Text Area: Collect detailed text answers with text area fields.
Paragraph Text: Provide instructions and context using paragraph text.
Dropdown: Offer limited options for single-choice answers.
Single Choice: Enable single-choice selection from options.
Multi Choice: Provide multiple-choice options for users.
Image: Add images for quizzes, tests, and surveys.
File Upload: Allow easy file submission for portfolios and CVs.
Divider: Organize forms with dividers for better readability.
Spacer: Enhance visual appeal by adding space between elements.
Page Break: Improve readability with multi-page forms.
Rating: Collect feedback with numerical ratings.
Like/ Dislike: Gauge user sentiment with like/dislike options.
Number slider: Choose values within a specified range.
Legal Consent: Gather user agreement to terms and conditions.
Calculated Field: Generate dynamic results based on input values.
Electronic Signature: Collect user signatures electronically.
Matrix: Allow users to input multiple answers in a table format.
Layout: Organize fields for improved user experience.
Repeater [ Coming Soon ]: Enable repetitive field sets for data entry efficiency.

Custom Branding:

Custom Fonts: Choose fonts for various text types.
Logo and Favicon: Add branding with logo and favicon.
Brand Colors: Set colors to match your branding.
Custom Domain: Publish forms on your domain for integration.

Data Organisation:

Table View: Manage form data with a comprehensive table view.
Summary View: Create visual summaries of form data.
Business Intelligence View: Analyze data using pivot views.

WorkSpaces:

Project Organisation: Organize projects and data under separate workspaces.
Free Plan
Not sure if #THE SOFTWARE does what you need? Try it out now. Please feel free to get MakeForms Lifetime Free Plan here. This AI Form Builder has been tested professionally and we are assured that no viruses, Trojans, adware or malware contained.
BUY NOW
MakeForms is available starting at $29/month. But, With the MakeForms Lifetime Deal, you can gain lifetime access to MakeForms Essential, Pro, or Agency plans at an affordable one-time fee starting at just $99.00, plus extra 20% Off. This allowing you to save up to 95%! This offer is available for a limited time!
ORDER HERE:

You also might like

Giveaway
Terms and Features included in all plans:
Deal Terms:
Lifetime access to MakeForms
All future Plan updates
You must activate your license within 60 days of purchase
30-day money-back guarantee, no matter the reason
Features Included in All Plans:
AI Form Builder
Unlimited # of Forms
Unlimited OTP Based Email Verifications
Unlimited One-at-a-Time and Step Forms
Custom Fonts & Brand Colors
No MakeForms Branding
Workflow Builder
Form Triggers & Approval Workflow
Embeddable Forms
Export Responses into CSV
Email Forms to Contact Lists
Form Insights and Analytics
1000+ Form Templates
SOC2, ISO 27001 : 2013 Compliance
GDPR Compliance
Multiple Form Links
Makeforms - License Tier 1
Essentials Plan
Easily create secure, advanced forms with a comprehensive and visually appealing form builder in just minutes.
Use the provided coupon code to receive an extra 20% off.
All features above included
All Essentials Plan Updates
Unlimited Forms & Form Submissions
50 GB Storage
10 Users
10 Custom Domains
10 Workspaces
Workflows
Makeforms - License Tier 2
Pro Plan
Easily create secure, advanced forms with a comprehensive and visually appealing form builder in just minutes.
Use the provided coupon code to receive an extra 20% off.
All features above included
All PRO Plan Updates
Unlimited Forms & Form Submissions
250 GB Storage
25 Users
25 Custom Domains
25 Workspaces
Workflows
Makeforms - License Tier 3
Agency Plan
Easily create secure, advanced forms with a comprehensive and visually appealing form builder in just minutes.
Use the provided coupon code to receive an extra 20% off.
All features above included
All PRO Plan Updates
Unlimited Forms & Form Submissions
500 GB Storage
100 Users
100 Custom Domains
100 Workspaces
Workflows
HIPAA Compliance (1 BAA issued)
Makeforms Giveaway is unavailable at this moment
Please note that once you have signed in, do not close this page. You will be shown how to get this offer for free.
Also, check out the latest software giveaways that are available here on the software giveaway page.
NOTES:
– All prices shown here are in listed USD (United States Dollar).
– Such promotional programs are subject to change without notice, from time to time in our sole discretion.
– Data may vary based on different systems or computers.
---
Thanks for reading Makeforms Review & Enjoy the discount coupon. Please Report if Makeforms Lifetime Deal / Discount Coupon/Sale/Giveaway has a problem such as expired, broken link, sold out, etc while the deal still exists.