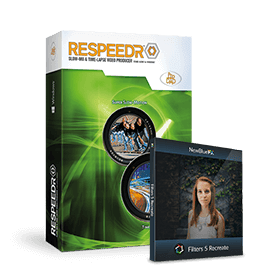 Available now for the first time: Super slow motion and time-lapse with proDAD ReSpeedr V1. Slow down or speed up your recordings in outstanding quality. Use NewBlue Filters 5 Recreate to achieve vintage styles from older films and television as well as glow and vignette effects (worth: US$208.00). Available now as part of Movie Edit Pro 2020 Premium exclusive offer at 76% DIscount!
NEW YEAR – BETTER VIDEOS with Movie Edit Pro 2020 Premium
Better videos – faster than ever before!
Transform a normal video from your travels abroad or a family celebration into a captivating movie in 4K/UHD quality. All the essential steps can be done with just 1 click – with our tools for stabilizing shaky recordings, closing gaps and even for cutting itself. The 2020 version of Movie Edit Pro Premium has all the 1-click tools you need for high-speed video editing!
The revolutionarily fast way to better videos
1-click cuts
Remove scenes you're not happy with fully automatically, or work completely manually. Work fast, intuitively and finish in record time with the full support of helpful wizards. NEW! 1-click video editing with real-time preview and automatic gap closure.
1-click optimization
Shaky or poorly lit footage, or recorded with the wrong background? It's all still usable with the special tools in Movie Edit Pro 2020. NEW! 1-click video stabilization offers quick & precise stabilization for shaky footage.
1-click design
For exciting films, you need captivating effects. You'll receive up to 1,500 high-quality intros/outros, transitions and titles with Movie Edit Pro 2020 Premium. And film scores and sound effects are also included! NEW! 1-click color matching for titles and new travel route animation.
Better videos – faster than ever before! Movies at their best in 2020! Get Movie Edit Pro 2020 Premium includes proDAD Respeedr V1 & NewBlue Filters 5 Recreate at a 76% discount. This offer is available for a limited time!
Exclusive offer on Movie Edit Pro 2020 Premium: 76% Off Bundled with NewBlue Filters 5 Recreate & proDAD ReSpeedr V1