As the holidays approach, it's likely that you, a family member, or a friend will be getting a new PC. Take away the hassle (and sometimes frustration!) with setting up a new PC by using PCmover. Transfer all your selected files, settings and more from an old PC to a new PC. For a limited time, we're offering PCmover Professional at HUGE 65% discount!
Instead of repurchasing and manually reinstalling the programs from your old PC, use PCmover Professional. Transfer the selected applications to your new PC, installed and ready to use. PCmover is the fast and easy solution for migrating your files, settings, profiles, and applications PC to PC.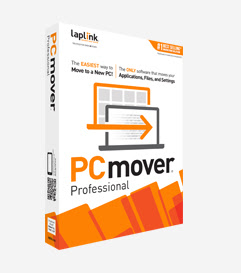 The ONLY Microsoft-recommended software that moves your applications, files, and settings.
Auto Connect – You install PCmover, it automatically connects and guides you through the transfer!
Improved Application Processing – Successfully transfer even more apps!
Free Transfer Assistance – Our trained technicians will walk you through your transfer – 24 / 7.
Buy with confidence. Laplink, a trusted name in software for over 30 years, offers a 100% Money-Back Guarantee and Free 24/7 Transfer Assistance.!
65% Off Promo: Get HUGE PCmover Discounts and Beat the Holiday Rush!