Do you want a tool that allows you to do everything with your photos? Edit – Optimize – Improve – Scale – Repair – Enhance artistically! And at an affordable price, far below the price level of Photoshop? Then we have just the thing for you: Photomizer 3 Premium: The all-inclusive suite for your photos now at a 64% discount!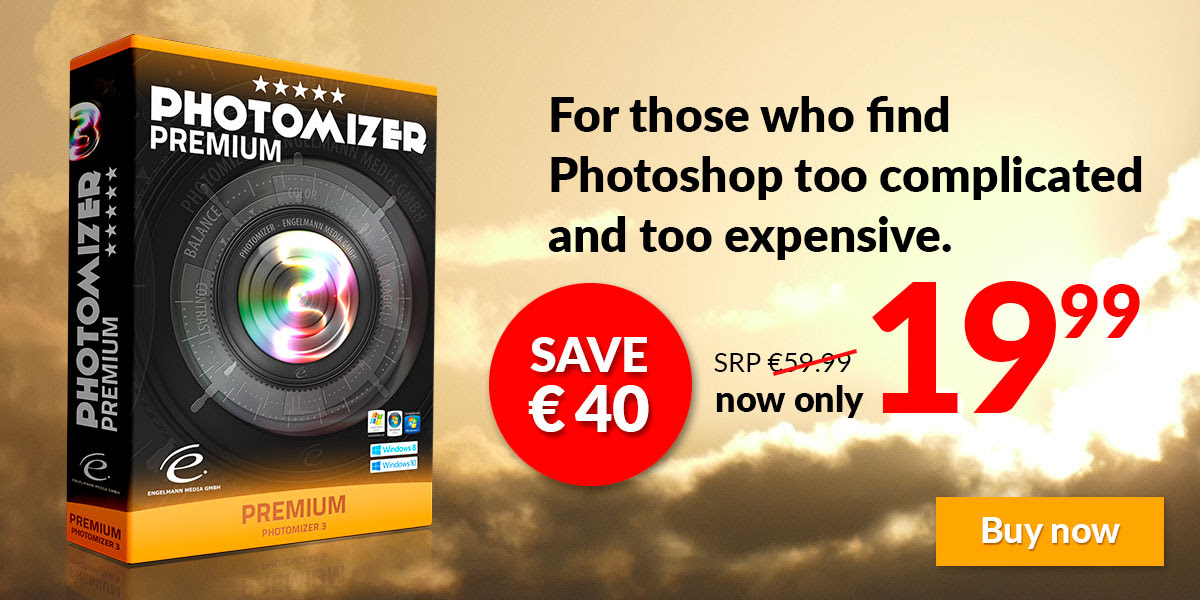 Pimp your images and photos! Provoke envious comments on Facebook, Instagram and on private slide evenings with Photomizer 3 Premium.
Snapshots become real highlights
Whether it's current holiday and travel photos or the "good old souvenir photos" from your childhood: With Photomizer 3 Premium you can optimize and repair your images and even turn poorly exposed snapshots into real highlights.
Photomizer 3 Premium at a glance
Optimize: The innovative object recognition finds exactly the areas of your image where there is a need for optimization. You do not need any selection or extraction tools.
Optimization filter 1: Color and tone values are corrected fully automatically, incorrect exposures compensated, shadows brightened, contrasts improved and much more.
Optimization filter 2: Red eyes are recognized and effectively retouched, artefacts and image impurities are adjusted, image noise is removed, halo effects are eliminated and much more.
Repair: You can scan old damaged photos (on paper, with cracks, creases and veils) and renew them with a specific filter.
Artistic photo renewal: Many different filters allow you to create sensational photo art.
Art filters: In addition to numerous retro filters and the classic black-and-white filter, tilt shift filters, for example, transform your motifs taken from a bird's eye view into adventurous toy worlds.
All formats: JPG, BMP, TIFF, GIF and RAW formats (raw, crw, orf, 3fr, nef, raf, mrw, nrw, dng, cr2, arw, x3f, rw2).
And the best:
Of course, you can select, combine and adjust all filters and functions individually. If you want it simple, choose the fully automatic optimization and activate all filters with one click.
Exactly what you need? Then order Photomizer 3 Premium now at the sensational discounted price of only $24.99 instead of $69.99. Immediately after your order, you will receive the software for download.
Photomizer 3 Premium: Today's Top Photo Software at 64% Discount!