GIVEAWAY
Software Giveaway – AnyMP4 Audio Recorder: Free 1-year License Key | A Professional Audio Recording Tool – for Windows
Easily record music, audio calls, lessons, and audio track easily as well as record your voice and other audio using a microphone. Get AnyMP4 Audio Recorder Full Version with a 1-year License Key for free!
Free Full Version
AnyMP4 Audio Recorder Review at a Glance
AnyMP4 Audio Recorder is a professional audio recording tool for Windows and Mac that allows you to record high quality audio from computer sound card and microphone. This software also lets you export MP3, M4A, WAV, AAC, etc. You can use this program to record your voice or the sounds of nature around you.
This program has the ability to capture external or internal sounds and then store them in its built-in library. It also comes with pre-listening capabilities so you can hear what you're recording before it's saved onto your computer.
The audio settings on this program are flexible, which means you have control over the quality of each file as well as how long it will last (length). You can adjust the volume, customize the output format provided with popular formats like MP3, M4A, WMA, AAC, etc. and set the sound quality ranging from lowest to lossless for your projects. and also, you can create a recording task schedule to help you capture the specified audio by setting its start and stop time.
If you want a simple solution for capturing high-quality sound without any hassle then AnyMP4 Audio Recorder is right for you!
Features
Key Features of AnyMP4 Audio Recorder
Record System Sound, Microphone, or both.

Capture audio for playback on your computer without any quality loss.
Record your voice from microphone.
Capture Audio Calls & Conferences
Grab Narration through Microphone
Record local audio files or music played by Windows Media Player, Quick Time, Real Player, etc.

Manage Audio Recordings

built-in library for storing all the recorded files
play the audio,
rename the file name,
delete any file you might not wish to have,
share your desired audio to your friends.

Audio Setting

Adjust the volume,
Set the sound quality ranging from lowest to lossless,
Customize the output format provided with popular formats like MP3, M4A, WMA, AAC, etc.
Create a recording schedule

Pre-listen to the Captured Audio
Built-in audio cutter to help you trim the unwanted parts and save the necessary parts based on your own needs.
Requirements
To run #THE SOFTWARE with optimum reliability and performance, your system should match the following requirements:
System Requirements for Windows OS:
Windows OS: Windows 11/10/8.1/8/7
CPU: 1GHz Intel/AMD CPU or above
RAM: 512 MB or more (1024MB Recommended)
Hard Disk Space: 200 MB and above free space
System Requirements for Mac OS:
Mac OS: Mac 10.10 and above (macOS Monterey is suppoted)
CPU: 1GHz (64 bit)
RAM: 512 MB or more (1024MB Recommended)
Hard Disk Space: 100 MB and above free space
Downloads
Not sure if #THE SOFTWARE does what you need? Try it out now. Please feel free to download AnyMP4 Audio Recorder here. This audio capture software by AnyMP4 Studio has been tested professionally and we are assured that no viruses, Trojans, adware or malware contained.
BUY NOW
AnyMP4 Audio Recorder is available for $39.95. But, through THESOFTWARE.SHOP, you can get AnyMP4 Audio Recorder V1.0.12 full version with a 1-year license key for free in the Giveaway tab below! This offer is available for a limited time!
Free AnyMP4 Audio Recorder Key Giveaway is available now FREE for a limited time!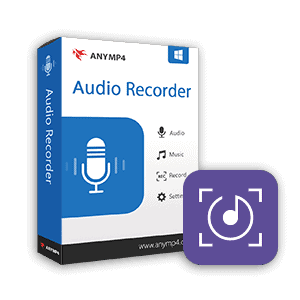 Please note that once you have signed in, do not close this page. You will be shown how to get this offer for free.
Also, check out the latest software giveaways that are available here on the software giveaway page.
AnyMP4 Audio Recorder for Windows - 1 Year (Giveaway)
Record Any Audio from Microphone and System Sound.
HINTS:

On this offering box, click on the 'BUY NOW' button and you will go to the registration page.
On the registration page, fill in the form with your name & email address.
Give a tick on the 'Agree with our Privacy Policy' and click the 'GET FREE REGSITRATION CODE' button.
The license code will be sent to your email address. then download the program from our download section above (click the WINDOWS button)
Once downloaded, install it & launch the program after installing it.
Use the registration code you've received to activate the full version!
Done. Enjoy the full features!

TERMS:

Software Version: V1.0.12
1 year License
Non-commercial Personal use only!
Platform: Windows
$39.95
We will not send this via email.
NOTES:
– All prices shown here are in listed USD (United States Dollar).
– Such promotional programs are subject to change without notice, from time to time in our sole discretion.
– Data may vary based on different systems or computers.
---
Thanks for reading AnyMP4 Audio Recorder Review & Enjoy the discount coupon. Please Report if AnyMP4 Audio Recorder Key Giveaway has a problem such as expired, broken link, sold out, etc while the deal still exists.