BEST OFFER
70% Off – Ashampoo Snap 15: Lifetime License | The High-end Screenshots and Video Capturing Software – for Windows
Captures/Creates, edits, and sends screenshots and videos easily. Get the Ashampoo Snap 15 full version with our exclusive discount coupon of up to 70%!
For up to 3 devices | Download-Version | One-time payment
Ashampoo Snap 15 Review: Capturing Screenshots and Videos Made Easy
Ashampoo Snap 15 is a powerful screen capture and video recording software that allows you to effortlessly capture anything you see on your screen. With its comprehensive set of features, including timed captures, scrolling areas, and multi-display support, Ashampoo Snap 15 offers a fast and efficient way to capture and enhance visual content. Whether you need to create webinar recordings, tutorials, or illustrated explanations, Ashampoo Snap 15 is your go-to tool for success.
Introduction to Ashampoo Snap 15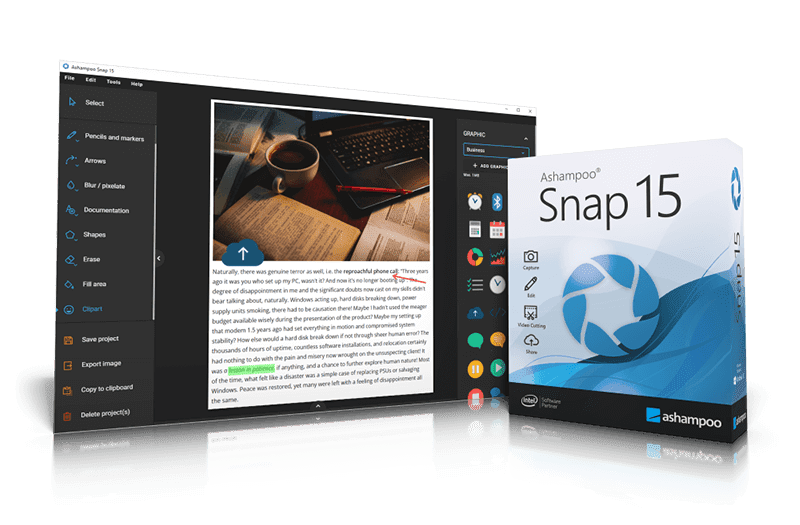 Ashampoo Snap 15 is a versatile software that enables you to capture screenshots and videos with ease. Whether you're a professional content creator, educator, or simply want to share information visually, Ashampoo Snap 15 provides the tools you need to convey your message effectively. With its user-friendly interface and powerful features, it has become a favorite among users looking for a reliable and efficient screen capture solution.
The Power of Screen Captures and Videos
In today's digital age, visual communication plays a crucial role in conveying information quickly and effectively. Screenshots and videos have become invaluable tools for presenting ideas, demonstrating processes, and providing instructions. With Ashampoo Snap 15, you can capture the essence of what you see on your screen and share it in a visually appealing manner. Whether you're creating presentations, documenting workflows, or simply expressing your creativity, Ashampoo Snap 15 empowers you to make an impact.
The User-Friendly Interface and Workflow Optimization
Ashampoo Snap 15 boasts a user-friendly interface that allows even beginners to start capturing and editing their screen content within minutes. The software's optimized workflows and quick access to favorite features enable you to work efficiently without unnecessary distractions. Say goodbye to complex menus and time-consuming navigation – Ashampoo Snap 15 streamlines the entire process, ensuring that you can focus on what matters most: capturing and enhancing your content.
Enhancing Productivity with Versatile Design Options
With Ashampoo Snap 15, you have a wide range of design options at your fingertips to make your screenshots more engaging and informative. The software provides precise capturing capabilities, allowing you to select specific areas or capture the entire screen with pixel-perfect accuracy. Once captured, you can add annotations, arrows, shapes, cliparts, and other visual elements to highlight important details or guide your audience's attention. Let your screenshots tell a story with Ashampoo Snap 15's versatile design tools.
Boosting Communication with Annotations and Effects
Effective communication often requires more than just plain text. Ashampoo Snap 15 enables you to enhance your screenshots with annotations and effects, making them more impactful and memorable. Whether you want to emphasize specific sections, blur sensitive data, or direct attention with the highlighter tool, Ashampoo Snap 15 provides the means to create visually compelling screenshots that leave a lasting impression. Let your screenshots speak for themselves and captivate your audience.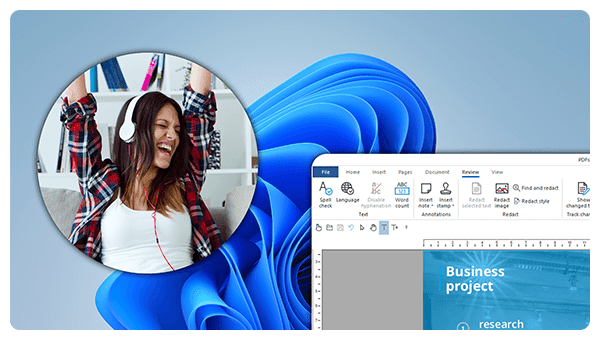 Streamlining Captures with the Magic Eye Feature
Ashampoo Snap 15 introduces the "magic eye" feature, which automates the process of selecting windows, menus, and scrollable areas. With the magic eye, capturing specific elements on your screen becomes effortless. It intelligently detects the content below your mouse pointer, enabling you to capture it with a single click. The magic eye is freely positionable along the edges of the screen, ensuring that it never interferes with your capturing process. Experience the convenience and efficiency of the magic eye with Ashampoo Snap 15.
Converting Image-Based Text with OCR
Ashampoo Snap 15 comes equipped with a multi-lingual OCR (Optical Character Recognition) feature, allowing you to convert image-based text into editable text with just a click. This functionality saves you valuable time by eliminating the need for manual text copying. Whether you need to extract text from documents, images, or any other content, Ashampoo Snap 15's OCR feature simplifies the process and helps you digitize your documents more efficiently.
Video Editing Made Easy
In addition to capturing screenshots, Ashampoo Snap 15 offers powerful video recording and editing capabilities. Sometimes, a video recording may contain unwanted elements, pauses, or distractions. With Ashampoo Snap 15's video editing tools, you can easily remove ads, glitches, or superfluous scenes to create seamless and professional-looking videos. You can also split your video into individual episodes, making it easier to manage and share your content. Take your video recordings to the next level with Ashampoo Snap 15.
Creating Engaging Instructional Content
Ashampoo Snap 15 is an invaluable tool for creating instructional content, whether it's tutorials, webinars, or documentaries. The software allows you to record your screen while adding annotations, voice narration, and watermarks in real-time. Clear up any confusion by visualizing mouse clicks and key strokes, and engage your audience with live feeds from your webcam. Ashampoo Snap 15 provides all the necessary features to create captivating and informative instructional content.
Multi-Display Support for Crisp Captures
Ashampoo Snap 15 fully supports multi-display setups, even with different resolutions and DPI combinations. Whether you're working with a mix of Full HD and 4K displays or other configurations, Ashampoo Snap 15 ensures that each display is captured at its individual resolution, resulting in crisp and high-quality captures. With seamless editing capabilities, the software caters to both beginners and professionals, providing an optimal experience regardless of your setup.
Transforming Video Segments into GIFs
GIF animations have become a popular form of visual communication on the internet. With Ashampoo Snap 15, you can easily turn any video segment into a GIF. Simply select the start and end positions, and let the built-in converter do the rest. Whether you want to create engaging GIFs for tutorials, demonstrations, or social media, Ashampoo Snap 15 simplifies the process and allows you to unleash your creativity.
Time-Saving Features for Efficient Captures
Ashampoo Snap 15 offers several time-saving features that enhance your capturing process. Whether you need to capture a series of screenshots with automatic numbering or time-delayed captures, the software provides the tools to streamline your workflow. Additionally, you can annotate your captures with texts, drawings, and flood fills to provide context and highlight specific areas. Ashampoo Snap 15 also allows you to blur sensitive data, ensuring that your captures are both informative and privacy-conscious.
Capture Anything You See on Your Screen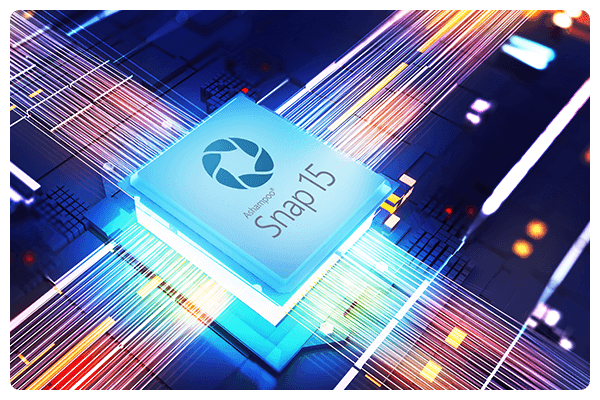 Ashampoo Snap 15 gives you the ability to capture anything you see on your screen, from images and texts to videos and sound. Whether you want to save a webpage, an interesting article, or a video clip, Ashampoo Snap 15 allows you to capture and edit the content on the fly. With its versatility and ease of use, the software empowers you to collect and organize valuable information efficiently.
Seamless Capture and Editing Experience
Capturing and editing screenshots should be a seamless and intuitive process. Ashampoo Snap 15 excels in providing a user-friendly environment that allows you to capture, edit, and enhance your content effortlessly. From capturing entire desktops to selecting small screen segments, Ashampoo Snap 15 offers a range of options to suit your needs. With its high-performance features, you can expect professional results without compromising on simplicity.
Conclusion:
Ashampoo Snap 15 is a comprehensive screen capture and video recording software that offers a multitude of features to enhance your productivity and creativity. Whether you're a content creator, educator, or professional, Ashampoo Snap 15 provides the tools necessary to capture, edit, and share visual content in a seamless and efficient manner. With its user-friendly interface, powerful design options, and time-saving features, Ashampoo Snap 15 is the go-to solution for all your screen capture needs.
FAQs
Can Ashampoo Snap 15 capture scrolling web pages?
Yes, Ashampoo Snap 15 supports capturing scrolling areas, allowing you to capture entire web pages or documents that extend beyond the visible screen.
Can I add watermarks to my captured screenshots and videos?
Yes, Ashampoo Snap 15 provides the option to add watermarks to your captured content, allowing you to protect your intellectual property or add branding elements.
Can I capture content from multiple displays with different resolutions?
Absolutely! Ashampoo Snap 15 fully supports multi-display setups with varying resolutions and DPI combinations, ensuring crisp captures from each display.
Does Ashampoo Snap 15 offer video editing capabilities?
Yes, Ashampoo Snap 15 includes a built-in video editor that allows you to remove unwanted elements, split videos into episodes, and perform other editing tasks.
Can Ashampoo Snap 15 convert image-based text into editable text?
Yes, Ashampoo Snap 15 features multi-lingual OCR support, enabling you to convert image-based text into computer-editable text with ease.
Remember, Ashampoo Snap 15 is a versatile and user-friendly software that simplifies the process of capturing screenshots and videos, offering a range of features to enhance your content and streamline your workflow. With its powerful tools and intuitive interface, Ashampoo Snap 15 is a valuable asset for anyone who needs to capture and communicate visually.
Features
Key Features of Ashampoo Snap 12:
Capture modes

Create screenshots instantly
Create elliptical screenshots
Guidelines that help with precise screenshot selections
Multi-purpose capture tool for rectangular areas, entire and scrollable websites
The completely revised recording area
Animated, well-arranged user interface
Important options directly in the recording area
New operating concept
Absolute visual clarity during recording and editing
Create screenshots of 3D fullscreen games
Additional fixed window sizes
Auto-insert watermarks
Instantly capture all visible desktop windows as objects
Use a color picker to capture colors across applications
Create timed captures
Create collages from multiple screenshots
Windows 8 support, capture new user interface
Full 32bit transparency support (RGBA)
Capture menus

Editing mode

Add texts and comments more easily
Apply versatile auto-numbering
Create Windows 11 inspired screenshots with rounded corners
Brand-new image editor
Simplicity meets power: new user interface
Modern newly-designed editor
Full DPI awareness
Free display selection for edit mode
The movable and minimizable edit window
Highlight effect with image analysis
New formatting options for numbered buttons
Work with different DPI settings across multiple displays
Copy objects to system clipboard while in edit mode
Copy objects between screenshots
Work with curved arrows and lines for maximum flexibility
Support for different cursor styles
Exit edit mode even with multiple open projects
Insert locally saved images into screenshots
Improved object scaling during size adjustments
Enhanced filling tool with new transparency and tolerance settings
Clone objects for simple reuse
Select from various pre-defined harmonious color/style configurations with live previews
Work faster with 1-click object selection/deselection
Edit and add custom color/style configurations for quick access
Use quick editing to add/edit text elements at a single click/keystroke
Draw continous lines with the point-line tool
Apply gradients to many objects
Quickly select suitable effects with live previews
Select screenshot colors with color picker
Ashampoo Snap webspace

Video auto-resizing for extreme display resolutions
Include origin (URL) in emailed images (only Outlook)
Export all objects to Photoshop
Integrate external applications for image editing and processing
Auto-resize images before sending
Supports WEBP as output format
Set custom application for PSD files
Print multiple files at once
Upload to Dropbox, Google Drive and Microsoft Sky Drive
Export to JXR and PSD with layers for easy interchangeability
Upload to Ashampoo Web and share unique internet links, now with support for videos
Send as email, Use browser-based email clients (Google Mail, Yahoo Mail, Mail.ru)
Integrated Ashampoo webspace uploader

Video capturing

Excellent video quality up to 4K
Enhanced audio quality with higher bitrates
Top-of-the-line sound recordings
New codecs for better video quality
Optimized automatic settings
More customizable WMV recordings
Create screenshots of 3D fullscreen games
Cut videos
Save videos as individual episodes
Join video files
Improved watermarking with live preview
Turn video cuts into animated GIFs
Enhanced recording of audio tracks
Resolutions up to 4K
Live edit video recordings with text and pen annotations
Display keyboard input during video recordings
Movable capture window during video recordings
Provide comments with microphone during webcam recording
Freely adjust webcam display position and size
Record webcam during video captures
Simplified handling for video and mouse effects
New video capture control bar
Improved MP4/WMV playback based on new Windows Media Foundation
Timed video capturing
Use counter to limit recording length
Pause and continue recordings
View length of recording
Real-time adjust capture area during recording
Capture webcam
Add mouse click effects
Improved handling

Freely position the magic eye along screen edges
Editor retains size and position
Fully Windows 11 compatible
Toggleable toolbar labels
Well-laid-out settings dialog
More intuitive settings dialogs
Speed improvements across all program areas
Capture multiple monitors up to 4k resolution
Add origin (URL) to images
Include origin (URL) in image metadata
New hotkeys and screenshot settings
Capture system clipboard images that were copied in a browser window
Create animated GIFs, e.g. for memes
User-defined hotkeys for various functions
Optimized for current processors
Extended selection options for multi-display environments
Position selections with cursor keys
Ultra-smooth workflow with 1-click operations and optimized drawing routines
All objects/settings remain editable thanks to smart background versioning
Smarter work environment with intelligent background versioning for maximum file safety
Enhanced PDF support through Windows Server compatible PDF engine
More performance through multi-core support

OCR

Text recognition support for 6 languages (English, French, German, Spanish, Turkish, Russian)
New text recognition language: Japanese
Extract text from images with text recognition
Use OCR to create text objects and copy to system clipboard
What's new in Ashampoo Snap 15?
The latest version of Ashampoo Snap, Snap 15, introduces several exciting new features and improvements to enhance the capturing experience. This installment of the popular screenshot application has undergone significant development, resulting in a faster and more customer-focused product.
The new Ashampoo Snap 15 features big improvements and smart enhancements.
Freely position the magic eye along screen edges
Create elliptical screenshots
Add texts and comments more easily
Guidelines that help with precise screenshot selections
Create Windows 11 inspired screenshots with rounded corners
Significant speed improvements across all modules
One notable addition is the ability to freely position the magic eye along the edges of the screen, ensuring it never interferes with capturing. Moreover, users now have the option to take elliptical screenshots, allowing for more creative and versatile captures. The process of adding texts and comments has been streamlined, making it easier and faster to annotate screenshots.
The introduction of guidelines provides users with a helpful tool for precise screenshot selections, ensuring accuracy in capturing specific areas. Another notable feature is the ability to create Windows 11 inspired screenshots with rounded corners, adding a modern and stylish touch to your captures.
Overall, the latest version of Ashampoo Snap boasts significant speed improvements across all modules, delivering a smoother and more efficient user experience. These new features and enhancements are bound to make Snap 15 a top choice among users, generating excellent sales and customer satisfaction.
[/wpsm_list]
Requirements
To run Ashampoo Snap 15 with optimum reliability and performance, your system should match the following requirements:
System Requirements for Windows OS:
Operating System: Windows® 10, Windows® 8.1, Windows® 8, Windows® 7
Computer: Any computer that runs on one of the above-operating systems at a reasonable speed.
Graphics adapter: min.resolution1024 x 768 and 16-bit High color (32-bit recommended) and min. 64 MB RAM.
Sound Card: none (supported audio record device and microphone recommended)
Other:

For some services an Internet connection is required
Internet connection may be required to verify the serial number during usage of certain features.
System Requirements for Mac OS:
Downloads
Please feel free to download Ashampoo Snap 15 here. This Screen capture software by Ashampoo has been tested professionally and we are assured that no viruses, Trojans, adware or malware contained.
Buy Now
Ashampoo Snap 15 retails for $39.99, But, on our website, The Software Shop, you can get Ashampoo Snap 15: New license key with a 70% Off Coupon. Enjoy a 70% off upgrade license for you who have a previous version of Ashampoo Snap. This offer is available for a limited time!
ORDER HERE:

You might like

Giveaway
Ashampoo® Snap 15 - New (70% Off)
Download-Version, One-time payment, No time limit
The high-end software solution for screenshots and video captures
Enjoy the latest Full Version Software
For up to 3 devices
Download-Version
One-time payment
Free Technical Support
30-day Money-back Guarantee
Platform: Windows
$40.00
Ashampoo® Snap 15 - Upgrade (70% Off)
Upgrade the previous version to the new version at a big discount!
Upgrade from the previous version
For up to 3 devices
One-time payment
Free Technical Support
30-day Money-back Guarantee
Platform: Windows
$40.00
Ashampoo Snap 14 Key Giveaway
available now FREE for a limited time!
Please note that once you have signed in, do not close this page. You will be shown how to get this offer for free.
Also, check out the latest software giveaways that are available here on the software giveaway page.
NOTE:
– All prices shown here are in listed USD (United States Dollar). Your local currency will be converted automatically, You can also switch to any other currencies during the checkout process.
– The discount coupon & your local VAT (Value added tax – if available, vary by country) will be applied at checkout automatically.
– The order(s) for the software are processed by the cleverbridge AG. This company accepts paying on-line, via PayPal, by fax, bank-wire transfer, check, cash, or purchase order.
– You will receive a notification e-mail from cleverbridge AG when your order is processed which will also include your license information.
– Such promotional programs are subject to change without notice, from time to time in our sole discretion.
– Data may vary based on different system or computer.
User & Media Reviews
What their users are saying about Ashampoo® Snap?
Ashampoo Snap 9 is a professional and versatile screenshot/screen capture software which offers a superb feature-set, way above the norm. Forget those free screenshot capture tools which pale into insignificance next to something like Ashampoo Snap 9 – after using Ashampoo Snap 9, you'll soon realize that there is just no comparison, apples and oranges.

Ashampoo Snap 9 is a highly convenient application to communicate screen contents. It can quickly create, edit and share screenshots and videos.

Anyone who intends to create and share screenshots and screencasts requires good software to begin with. Ashampoo Snap 9 is exactly what you need.

---
Thanks for reading Ashampoo® Snap 15 Review & Enjoy the discount coupon. Please Report if Ashampoo® Snap 15 Giveaway has a problem such as expired, broken link, sold out, etc while the deal still exists.