We present Ashampoo's best Windows screenshot program for images and videos. Get Ashampoo Snap 14 Full Version with a license key for free!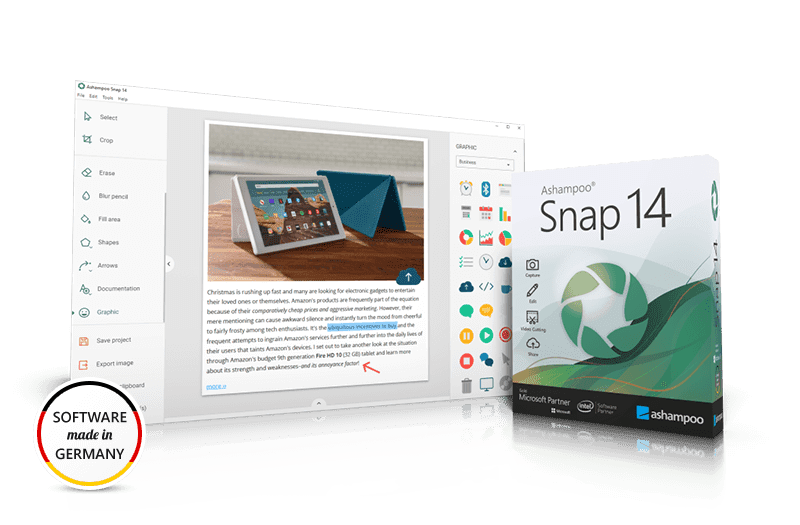 Ashampoo Snap 14 is a handy tool that provides you with the ability to capture your desktop as screenshots and videos. Screen captures are freely editable, commentable and shareable through networks, clouds or email.
Ashampoo Snap 14 also lets you create video tutorials for software programs by recording screen movements and mouse clicks in real-time. This is great for demonstrating how to use various features of the program.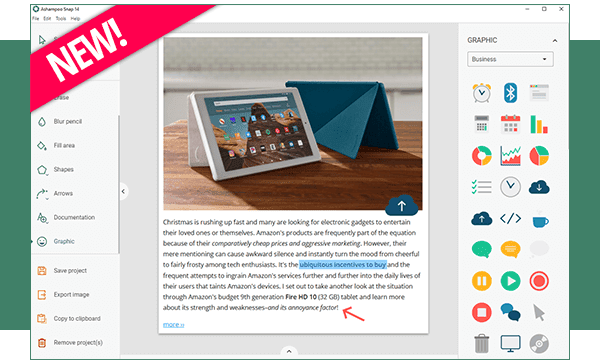 Snapshots can be captured at any time without interrupting what's happening on your computer, so it's perfect for capturing those moments when something goes wrong – like if someone accidentally deletes an important file! The images are saved automatically in a folder on your hard drive where they're easy to find later on.
The program comes with an extensive editor that allow you to annotate the captured image by adding text boxes containing texts or arrows pointing at specific areas of interest on the screenshot. There are many options available for customizing these annotations – colors, font types etc. This software is great for gamers who want to show off their achievements to friends without having them watch hours of gameplay footage!
Exclusive offer
Get the latest version of Ashampoo Snap with a lifetime license at a special discount
Ashampoo Snap 14 Software interface
Ashampoo Snap 14 Key Giveaway
For a limited time, you can get Ashampoo Snap 14 Key to activate the full version for free. The giveaway is located on the Ashampoo Snap Deal page.
---
To take the advantage of this giveaway:
Click on the checked GET NOW button above and you will go to the Ashampoo Snap Deal page
On the deal page, go to the BUY NOW SECTION and open the giveaway tab
On the giveaway tab, enter your email to open the offering box that contains the buy button to get your exclusive license key.
Read the HINTS on the offering box for the next instruction to get the license key for free & activate the full version!
Enjoy the full version of software!
Don't miss getting Ashampoo Snap 15 Upgrade at 70% discount. With the numerous enhancements under the hood, Ashampoo Snap 15 is the most stable and performant backup solution yet. Just see for yourself!
Software Giveaway – Ashampoo Snap 14: Free License Key | Lifetime Full Version – for Windows