The more applications you install, the more you may need professional uninstaller software to maintain peak performance and to get 100% rid of unwanted data, Enjoy pain-free installations with Ashampoo UnInstaller 8 which is you can get it full version with license key for FREE!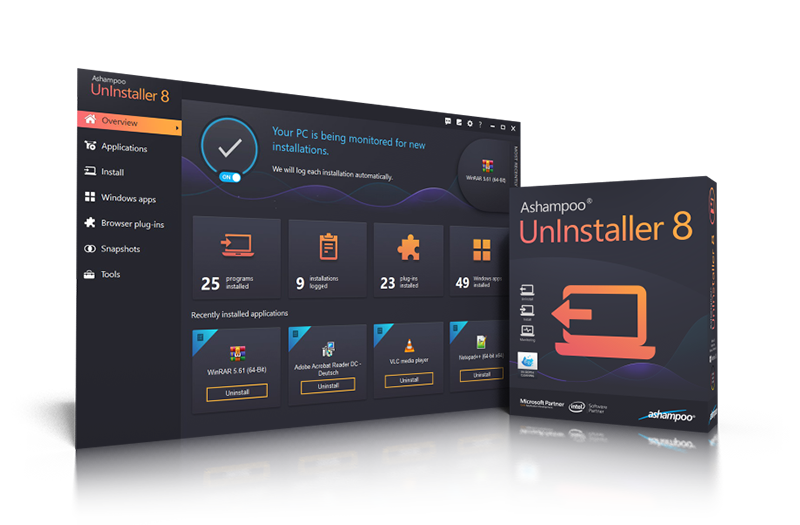 Ashampoo UnInstaller 8 is the solution to install, test and, if needed, uninstall applications with absolutely no leftovers. You are in control of what stays and what goes on your PC! Eliminate unsolicited software installations, browser extensions and toolbars at the click of a button!
Software-profiles for perfectly clean uninstalls even without installation logs
Permanently wipe sensitive data during uninstalls
Removes even the most complex and convoluted setups
Automatic leftover file scans also for default uninstallations
History of uninstalled applications
Full Opera support
Up-to-date modules and cleaners
Fast uninstalls via drag and drop on program icons
Enhanced Deep Clean technology
More details on program installations
Faster and more stable than ever before
Easier handling across the board
Microsoft-certified program drivers
Multi-purpose tray menu
No mercy: deletes even locked files
Faster feature access
New subcategories for Windows Apps
Enhanced work flow with improved dialogs
The program carefully monitors each installation to allow for total removal, including temporary files, later on thanks to detailed logging and Deep Cleaning technology! Never before have installations been monitored this extensively allowing you to remove them with just a click. The snapshotting technology enables you to trace system modifications with great speed and incredible attention to detail. And don't forget system maintenance: Numerous integrated maintenance tools will help keep your system lean and fast.
Unsafe, unwanted and malicious plugins are present in millions of browsers. Though disguised as nagging toolbars or seemingly helpful add-ons, Ashampoo UnInstaller 8 finds them all! Track down extensions that manage to stay hidden from your browser, review them easily with the help of built-in ratings and get rid of them if need be.
Special Offers from Ashampoo
Excellent
Windows only deletes what default installations mark as deletable - and that is very little! Leftover files, Registry entries or invalid links frequently remain after default uninstallations. These frequently cause errors or system slowdowns. Thanks to sophisticated search and cleaning mechanisms, Ashampoo UnInstaller 8 locates and eliminates leftovers down to the last byte!
100% Software Giveaway on Ashampoo uninstaller 8 Full Version – Free Lifetime License Key – for Windows