The versatile music tools to play, convert, edit, burn, rip, record audio/music. Get AV Music Morpher with a 30% discount coupon!
AV Music Morpher 5.0 Review at a Glance
AV Music Morpher is a creative one-stop audio editor for both the Newbies and Pros. It includes: Voice Morpher to change a singer's voice in two dimensions, pitch and timbre, to be either male, female, or characterized; Tempo Morpher to adjust the tempo to faster or slower; Beat tracking with various preset beats; and 32 real-time single effects which can be combined in up to 4 layers, as well as other audio optimizing tools.
AV Music Morpher offers an advanced Audio Editor that allows users to copy, cut, paste, edit music segments using wave chart, mix multi tracks to add background music, dubbing, or voice-over, and create duet songs or movie soundtrack. You can create unique ringtones for you cellphone. Cut out any music clip you love and then set it as your ringtone. Make your cellphone a music player with your own, original ringtones.
You can also record your voice while singing along with a song, then burn it to CDs and then create your own, personalized CD covers and labels, etc. All tools you need are ready for you to work with in Music Morpher.
Screenshots of AV Music Morpher
Features
Key Features of AV Music Morpher 5.0:
Advanced Sound Morpher Tools (such as Voice LPC Pitch Changer, Root Format Mover, Robot Voice, etc.)
Versatile Wave Editor
Music Library Organizer
Integrated Special Sound Effects
Multi-track Session Editor
Possessing a Music Player with Multi-format Playback
The CD Cover Editor
Versatile Voice Changer
Data Burner
A Huge Library of Sound Effects
Effects Mixer and Editor
Digital Audio Recorder
Multi-channel Mixer
Multi-format Audio Converter
CD Grabber
Requirements
To run the software with optimum reliability and performance, your system should match the following requirements:
Operating Systems: Microsoft Windows XP, Windows Vista, Windows 7 (32/64 bit), Windows 8 (32/64 bit) New (no Mac OS/Linux support)
CPU: 1GHz compatible processor
RAM: 256MB
Disk Space: 50 MB
CD-ROM drive
Sound card
Audio device: Microphone and Speakers
Download
Not sure if this software does what you need? Try it out now. Please feel free to download AV Music Morpher 5.0 for Windows here. This music gear software by Audio4fun has been tested professionally and we are assured that no viruses, Trojans, adware or malware contained.
Buy Now
AV Music Morpher 5.0 retails for $29.95, But, through our website, THE Software Shop, you can save on your purchase of its license key with 30% discount coupon code. This offer is available for a limited time!
ORDER NOW

You also might like

Giveaway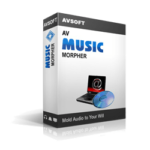 AV Music Morpher
Get the versatile yet cost-effective music gear
Lifetime License
FREE 1 year Subscription of Full Support Service, including:

24 hours Technical support
Available 24/7 in Support Center
Product re-download: Unlimited, 24/7
Product build update: Unlimited - upon availability
Version upgrade: Unlimited - upon availability
License reset assist: Unlimited

Free premium add-on downloads
Special discounts for any other purchases
30-Day Money-Back GUARANTEE
*The discount coupon & your local VAT (Value added tax) will be applied at checkout automatically include your local currency will be converted.
$29.95
Audio4fun VIP Membership (90% Off)
VIP Card brings you into Audio4fun deluxe zone, where you can freely try the various versions of Audio4fun's software with deep discounts and many exclusive benefits. Own Audio4fun collection of high-tech software and let us treat you as Audio4fun VIP members.
Support time 12 months 18 months
Unlimited Software download
License resetting 3 times 12 times
Unlimited download of all current and new products
Unlimited download of all current and new add-on packages
Unlimited and 24/7 product download and re-download
Unlimited upgrade to higher versions available
Higher priority when contacting Audio4fun Customer Care
Receive first notice of soon-to-be-launched products
Receive discounts to continue your VIP membership
*The discount coupon & your local VAT (Value added tax) will be applied at checkout automatically include your local currency will be converted.
$1000.00
AV Music Morpher 5.0 Serial Number Giveaway is available now FREE for a limited time!
Please note that once you signed in, do not close this page. You will be shown how to get this offer for free.
Also, check out the latest software giveaways that are available here on the software giveaway page.
NOTE:
– All prices shown here are in listed USD (United States Dollar). Your local currency will be converted automatically, You can also switch to any other currencies during the checkout process.
– The discount coupon & your local VAT (Value added tax – if available, vary by country) will be applied at checkout automatically.
– The order(s) for the software are processed by the 2Checkout company. This company accepts paying on-line, via PayPal, by fax, bank-wire transfer, check, cash, or purchase order.
– You will receive a notification e-mail from 2Checkout/Avangate when your order is processed which will also include your license information.
– Such promotional programs are subject to change without notice, from time to time in our sole discretion.
– Data may vary based on different system or computer.
---
Thanks for reading AV MUSIC MORPHER Review & Enjoy the discount coupon. Please Report if AV MUSIC MORPHER 5.0 Discount Coupon/Deal/Giveaway has a problem such as expired, broken link, sold out, etc while the deal still exists.