Up to 90% Off on BiQ – Lifetime Subscription – AI-powered SEO Suite with Granural Cost Control
Boost your site's SEO ranking in less time with content optimization, keyword intelligence, and rank tracking. Get lifetime access to BiQ – the AI-powered SEO Suite at a discount of up to 90%!
✔ Save up to $2304.00. ✔ Lifetime Access ✔ 60-day Money-back Guarantee. ✔ Secure Payment. ✔ 24×7 Customer Support
Up to 90% Off on BiQ – Lifetime Subscription – AI-powered SEO Suite with Granural Cost Control
Up to 90% Off on BiQ – Lifetime Subscription – AI-powered SEO Suite with Granural Cost Control
BiQ Review at a Glance
BiQ is an essential, AI-powered SEO suite to get you the traffic and sales you've always wanted. Incorporating next-level keyword intelligence, BiQ helps you discover the search intent behind keywords and pick the ones with the highest value to increase traffic and drive conversions.
BiQ ensures you produce content that's relevant to search terms. With real-time analysis of your content, BiQ shows you readability scores, keyword density, and more, so you can pinpoint areas for improvement.
BiQ's rank intelligence highlights all the keywords you're currently ranking for with insightful metrics on search volume, CPC, and SERP features. Plus, you can see competitors' winning keywords to gain an advantage.
You'll also be able to see your site's keyword ranking performance and Google visibility over time thanks to BiQ's rank tracking. And not to worry—all your saved keyword and content data is immediately accessible from the collections feature.
Bottom line: BiQ is a game-changer for honing content, picking keywords, and taking your SEO to the next level.
Screenshots of BiQ
How does it work?
You have four options available through BiQ to help you supercharge your SEO: Keyword Intelligence, Content Intelligence, Ranking Intelligence, and Rank Tracking.
Keyword Intelligence
There's Keyword intelligence, which is as easy as entering a keyword, language, and country. BIQ's generated results include a keyword overview on the left, and even more details broken down in each of these four tabs. First, you've got your related keywords, which are semantically-related keywords and super helpful for including in your content to improve SEO. BIQ allows you to search for specific words, add keywords to a collection, and filter them based on a number of criteria.
Next, the Content Ideas tab generates keywords and phrases that are contextually related to your keywords for productive brainstorming. Trending Searches let you know related searches that internet users are interested in when looking for this keyword. And Popular Questions clues you in on the most asked questions related to your target keywords. This is so helpful when it comes time to write your content.
Content Intelligence
Speaking of – the next major section of BIQ is Content Intelligence, which is their content optimization tool that helps you write the best content in the game. You can start writing on a blank document or extract content from a website in the Content Editor. Then, BIQ analyzes the content based on a number of criteria.
The first criteria are WordScope, which matches your content up against the top ten results based on the importance and relevance of words, heading, links, and word count in order to recommend keywords that can help you rank higher. Then, the Analysis Tab gives you access to tech built by Google that analyzes your content section by section to recommend specific keywords for each. Fundamental SEO is a list of criteria you should fulfill based on best practices, and sentiment and readability tell you which sections can use a glow-up to be more entertaining for your audience.
What's awesome is that while you make edits based on all of these pro-tips, BIQ will update the score in real-time. Keep on tweaking your content until you've reached your desired score. Once you're happy, add your content to a collection or export it.
Ranking Intelligence
Moving right along to Ranking Intelligence! Let's start creating a profile. Heads up, you can do this for your own website or your competitors'. Check it out: in seconds, all of the rankings associated with that website pop up, and you can create multiple views to get a better understanding of these rankings.
At a glance, you can see how many rankings meet specific criteria and all of the pages and keywords that are ranking. Plus, see which articles you can quickly optimize to boost traffic to that page in an instant.
Rank Tracking Tool
Finally, the Rank Tracking Tool helps you track and monitor your website rankings in search results. Get insights into the most important metrics, broken down by desktop and mobile. Scroll down this page to see all of the keywords that BIQ is currently tracking.
Let's take a closer look at a keyword. Here, you'll get a better look into your metrics, including a ranking of feature snippets and your average position in the ranks. Check out who ranks alongside you with the SERP Overview.
Want even more? Go deeper with the Data Explorer. There are a couple of ways to group data together. First there are Tags, which allow you to group keywords into different categories and view the aggregated data for just that group. For instance, you've separated out the articles that you're currently optimizing to make sure I'm doing a good job.
There's also the Collection function, which lets you group together different items in a single view. For example, this collection contains all of the keywords and content on a single subject so I can use the research for future reference.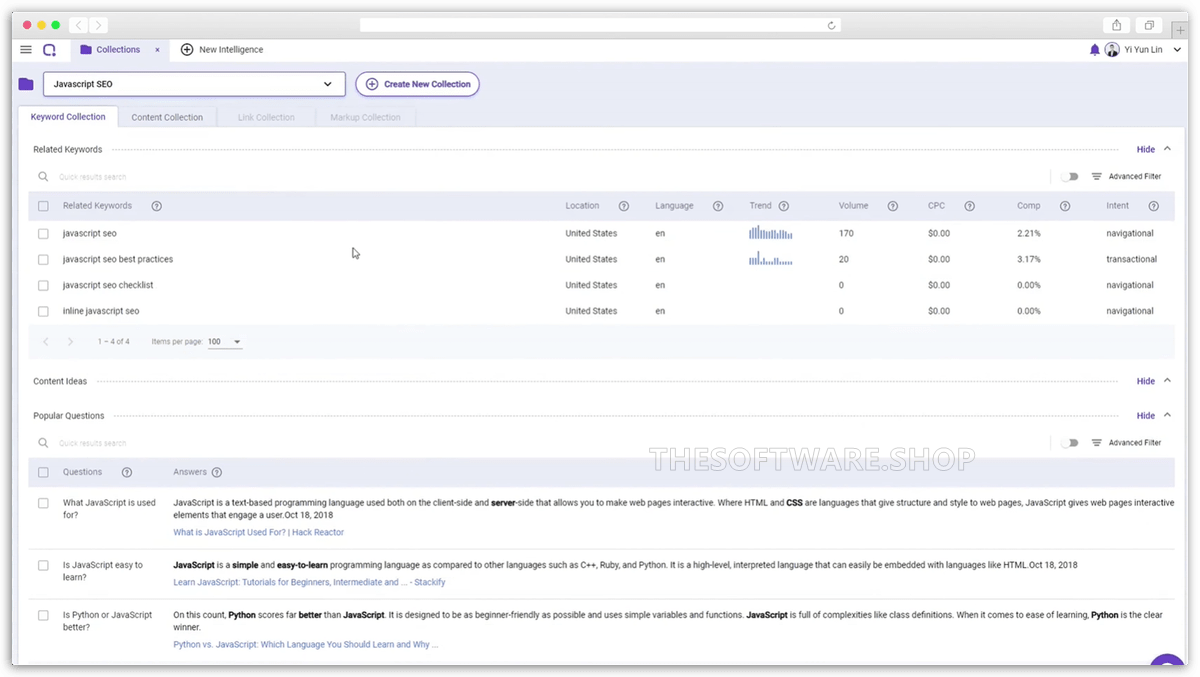 So what're you waiting for? Optimize your content with a single suite of tools to bring organic traffic to your website. Get your hands on BiQ today!
back to menu ↑
Features
Key Features of BiQ.Cloud
Keyword Intelligence

Find Hidden Long Tail Keywords
Get Accurate Real -Time Keywords
Identify The REAL SEO Value of Each Keyword
Brainstorm Fresh Content Ideas
Target Question-Based Keywords
Find Trending Topics & Keywords
Research In More Than 35+ Languages
Resonate With Keyword Intent Analysis
Collect & Revisit Keywords That You Like
Rank Tracking

Track Keywords Movement
One Glance Snapshot Of Website Ranking
Track Local Rankings
View Ranking Distribution
View SERP History
Filter Ranking by Date
Overall Rank Movement
Average Position
Ranking On First Position
Ranking With SERP Features
Advanced Tagging System
Advanced Filters
Content Intelligence

Detect Content Problems
Identify The Low-Hanging SEO Fruit
Receive AI-Guided Content Optimization Steps
Optimize Your Content On The Go
Edit Your Content On The Go
Discover The Ingredients To Outrank Your Organic Competitors
Unrivaled Optimization Precision With Advanced Line-By-Line Analysis
Get Interactive Writing Tips
Spy On your Competitors' Content
WordVector Score
WordVector Optimization
Know Exactly What Keywords You Should Use
Get Additional Keyword Ideas For SEO
Prevent Keyword Stuffing At All Cost
Measure The SEO Relevancy Of Each & Every Paragraph
Start Improving Your Content Readability
Always Write With The Right Tone With Sentiment Analysis
Quickly See The Related Keywords Of Your Content
Stop Wasting Time Looking For Things
Get Notified On Important Content Updates
Lead Your Content Team To Success
Ranking Intelligence

Get 100% Accurate Ranking Data
Quickly Identify Keyword Positions
Discover Ranking Pages Easily
Export Ranking Data To CSV
Research In More Than 100 countries
Research In More Than 35+ Languages
Get Estimated Monthly Traffic
Get A Customized View For Better Results
View Ranking Distribution
Identify SERP Feature Opportunities
Analyze Keywords By Search Volume
Start Tracking Keywords
Identify the Competitor's Winning Keywords
Gain Competitive Keyword Data
Find The Top-Performing Content
back to menu ↑
Buy Now
BiQ.Cloud is available for $100/month. But, through THESOFTWARE.SHOP, You can get lifetime access to BiQ with our exclusive discount Offer of up to 90%. This offer is available for a limited time!
Order Here!

You also might like

Giveaway
1 Code of BiQ - Lifetime Access (62% Off)
Fast-track your way to higher traffic and search engine rankings with an AI-powered SEO suite
Lifetime access to BiQ AppSumo Plan (1 Code)

Keyword Intelligence: 250 total pieces of research per month

Content Intelligence: 100 total analysis per month; 50 saved documents

Rank Intelligence: 7,500 total ranking discovery (one-time credits)

Rank Tracking: 100 total keywords; 50 total tags

Reporting: 100 exports per month

Collection: 200 total items per month

You must redeem your code(s) within 60 days of purchase
All future AppSumo Plan updates
Stack up to 5 codes
Only for new BiQ users who do not have existing accounts
60-day money-back guarantee, no matter the reason
$129.00
5 Codes of BiQ - Lifetime Access (90% Off)
Fast-track your way to higher traffic and search engine rankings with an AI-powered SEO suite
Lifetime access to BiQ AppSumo Plan (1 Code)

Keyword Intelligence: Unlimited total pieces of research per month

Content Intelligence: Unlimited total analysis per month; Unlimited saved documents

Rank Intelligence: 90,000 total ranking discovery (one-time credits)

Rank Tracking: 1,000 total keywords; Unlimited total tags

Reporting: Unlimited exports per month

Collection: Unlimited total items per month

You must redeem your code(s) within 60 days of purchase
All future AppSumo Plan updates
Only for new BiQ users who do not have existing accounts
60-day money-back guarantee, no matter the reason
$2549.00
BiQ Giveaway is unavailable at this moment.
Please note that once you signed in, do not close this page. You will be shown how to get this offer for free.
Also, check out the latest software giveaways that are available here on the software giveaway page.
NOTES:
– All prices shown here are in listed USD (United States Dollar). Your local currency will be converted automatically, You can also switch to any other currencies during the checkout process.
– The discount coupon & your local VAT (Value added tax – if available, vary by country) will be applied at checkout automatically.
– The order(s) for the software are processed by the Appsumo company. This company accepts paying on-line, via PayPal, by fax, bank-wire transfer, check, cash, or purchase order.
– You will receive a notification e-mail from AppSumo when your order is processed which will also include your license information.
– Such promotional programs are subject to change without notice, from time to time in our sole discretion.
– Data may vary based on different systems or computers.
back to menu ↑
User & Media Reviews
What are their users saying about #THE SOFTWARE? Why they loved it?
Good tool, hope will become great BiQ is a relatively new product but seems solid after a preliminary analysis. I did not try Rank Intelligence because of its limits, for now I focused on Keyword Intelligence and the results were good. Some browser protection tools are blocking access to the app, in my case was MalwareBytes Browser Guard, something for them to check in the future. The only thing between my wallet and stacking 5 codes is that our plan isn't tied to a regular one, not the biggest fan of "future AppSumo Plan updates" after almost a decade here 🙂 I still give 5 tacos and wish you good luck with this venture. (Source: AppSumo)
Rank Intelligence is GOLD! While the tool in totality replaces multiple smaller or individual applications, the real value here is in the rank intelligence and keyword rankings for mobile. The rank intelligence alone uncovered hundreds – yes hundreds – of long-tail keywords that we didn't have on our tracking worksheet for one of our largest competitors, and many of them actually don't look too hard to rank for as we plan a revised content strategy. (I do wish we had a monthly renewal on a small amount of these ex: 50-100 per month.) I'd also add that the mobile rankings are closer to what I see on a local level in Maryland that another tool we use. This could be pretty interesting for our team, as the majority (>70%) of our leads are mobile for our primary funnel. Bottom line: This is a can't miss for the rank intelligence alone. (Source: AppSumo)
Awesome software In Biq is a really nice software. Had been looking to get it for a while but this deal was all I needed to get it. Nice to have. Thanks for bringing this deal to AppSumo. This is awesome. Will stack to the moon and Certainly more. Never seen an SemRush alternative on LTD leave alone AHREF. You have to put things in Entire perpective, would you really pass on an LTD for AHREFS or SEMRush? No, right? This is your Neccesary opportunity to get it while it last. If you don't don't say I didn't told you so. (Source: AppSumo)
Perfect Content Analysis I've been looking for a tool to analyze existing content without making me reinvent the wheel. Most of the content I publish is usually pretty good, but maybe needs some constructive criticism to be great. Other tools make you rewrite everything. Biq helps me improve my existing content in a non-judgmental way. Biq is polished, and easy to understand. Their roadmap has tons of extra features on the way. Easy full stack. (Source: AppSumo)
Great tool for very good price I think that BIQ is really great tool with good UI and with a very good set of features. The keyword search itself is worth its weight in gold. Plus, you'll get content analysis, keyword tracking and other great tools. It doesn't matter that some features are limited by credits. The creator must think about his own and also our future. Only thing that is missing for me, is Team management. This function is more than important for any agency. I hope that the BIQ team will add it as soon as possible. (Source: AppSumo)
Amazing and Promising product I tried it last year and I am extremely happy that Biq finally made it on Appsumo. I have purchased several other deals in recent months and this one seems to be one of the best deals of 2021. I am thinking about refunding the other deals and stacking codes will thoroughly check it first and then make up my mind. (Source: AppSumo)
Great tool with huge potential I have used many other SEO tools and this one stands out from the rest of the regular ones. I like they way they organized, they UI/UX is good, but still has a scope to make it a bit more modern (by the way I like Warm Welcome UI so much), The Rank Intelligence and Content Intelligence are the one which will help me the most. Overall its a great tool and has potential to become a big player. Cheers (Source: AppSumo)
---
Thanks for reading BiQ Cloud Review & Enjoy the discount coupon. Please Report if BiQ.Cloud Discount Coupon/Deal/Giveaway has a problem such as expired, broken link, sold out, etc while the deal still exists.
Excellent
discover incredibly accurate data. Unlike many new products BIQ comes with incredibly detailed tutorials and case studies, which guide you through various methods to gain more value. Starting from keyword research, which then checks trending questions, ranks intent, provides suggestions for formating new posts. Far more sophisticated than Market Muse. You can have the content module score your posts for several factors and the AI provides very detailed feedback on each paragraph, even if just to tell you it's great and no edits are required. Helpfully the AI soon discovers any areas requiring improvement, offers suggested keywords, tone, and provides links to similar content. About the featured snippet checks, the rank tracker, the very clever method to build content modules.... All of them top notch features. Simple to use, no fluff or fancy frills, excellent analytics and brilliant how to guides. Brilliant for newbies and SEOs alike.
PROS
Get AI-guided content optimization, plus discover your hidden ranking in the top 100 positions to boost your performance
An alternative to: Ahrefs, SEMrush, and ClearScope
Access keyword, content, and rank intelligence, as well as rank tracking from one platform
Best for: Marketers, agencies, and growth hackers looking to increase their site's SEO ranking in less time