BEST SELLER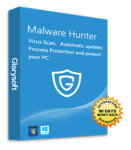 50% Off – Malware Hunter Pro: 1 Year / 3 PCs | A Lightweight & Powerful Anti-Malware Tool – for Windows
Detect and Remove Stubborn Malware, Against Potential Danger Protect you from viruses, malware, and spyware. Get Malware Hunter PRO full version license includes free updates & support with a 50% Discount Coupon!
⭐⭐⭐⭐⭐
Save $24.98 | 90-day Money-back Guarantee | Free Updates & Technical Support
Malware Hunter Pro Review at a Glance
Malware Hunter Pro is designed to provide you with the ultimate in Virus detection and protection capabilities. With a faster scanning speed brought by hyper scan, it helps you detect and remove the stubborn malware and go against potential danger.
This anti-malware software does not only provide comprehensive protection against all types of threats but also secures your data, protects your privacy and ensures your PC remains virus-free.
Screenshots of Malware Hunter Pro
Why install? Malware Hunter Pro is security from the workshop of the Glarysoft company, which has so far been known mainly for its optimization tools for Windows computers. In a very clear user interface, Malware Hunter offers reliable protection of your computer against viruses, worms and other types of malicious software, with fast detection, using cloud technologies.
Malware Hunter runs automatically in the background of Windows and partially replaces the features of Windows Defender. It scans downloaded and running files and, when an infection is detected, automatically quarantines them from where they cannot damage your computer. At your discretion, you can then either dispose of them or add them to the list of exceptions. Another group of features is dedicated to speeding up computer startup, optimizing Internet connection speed, removing unnecessary data from the hard disk, and cleaning the Windows registry.
In the settings, you can schedule automatic scans and also specify which files Malware Hunter will deal with. Malware Hunter uses a cloud scanning engine from the German security company Avira. This means that the program, like the vast majority of today's antiviruses, creates checksums of files that it compares online using an Internet connection on Avira servers. This significantly increases the performance of the entire solution and the speed of the application's response to new threats. The program passed tests of AV-TEST laboratories with AV-Comparatives with very good results of 99-100% detection.
A good addition to the virus scanner
The Malware Hunter does not replace a fully-fledged virus scanner, even if you can use the Avira scan engine if you wish. In addition to its main task, the fight against malware, you can also use the tool to try to speed up your system or have it cleaned. If you pay attention to the security of your own PC, you should definitely take a closer look at the program. And if you don't use any security solutions at all, you should at least use this program.
The great advantage of the Malware Hunter application is the complete translation of the program's user interface into Multilingual. This is useful not only when using antivirus protection but also features to speed up startup and clean the computer, where the computer is managed by less experienced users. Be sure to leave the automatic update preferences for all application components enabled in the program settings, and you can also set a schedule for automatic computer scans here.
Features
Key Features
Virus Scan – Fast hyper scans, detect and remove stubborn malware, against potential danger.
Automatic updates – Automatic updates provides real-time protection so that your PC is always up to date and secure.
Process Protection – Aimed at the process, our protection can ensure the safe operation of your computer.
Requirements
These are the minimum hardware required to run this anti-malware tool
System Requirements for Windows OS:
Platform: Windows 11, 10, 8, 7, 2000, XP, Vista. 32/64bit version.
System Requirements for Mac OS:
Download
Please feel free to download it here. This Anti-malware software by GlarySoft Ltd Ltd has been tested professionally and we are assured that no viruses, Trojans, adware, or malware contained.
Buy Now
Malware Hunter Pro retails for $49.95, But, on our website, The Software Shop, you can get your own license key includes free updates & support with a 50% discount coupon code. This offer is available for a limited time!
ORDER HERE:

You might like

Software Giveaway
Recommended
Malware Hunter Pro Key Giveaway is available now free for a limited time!
Please note that once you signed in, you will be shown how to get this offer for free. We will not send this via email.
 Please do not close this page.
---
Thanks for reading Malware Hunter Review & Enjoy the discount coupon. Please Report if the discount / Giveaway has a problem such as expired, broken link, sold out, etc while the deal still exists.
Excellent!
Malware Hunter not only has high-quality features for detecting and blocking malicious software, but it will also help you speed up your computer and get rid of unnecessary things.