BEST SELLER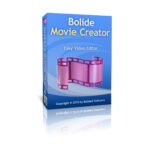 62% Off on Bolide Movie Creator – Lifetime Family License – The Perfect Video Editor for Both Amateur & Advanced Videographers – for Windows
Create Topnotch Videos Effortlessly. Get Bolide Movie Creator with a lifetime family license that includes free updates & support with a discount of up to 62%!
Save $74.89 | Lifetime Access | 30-day Money-Back Guarantee | Secure Payment | Free Technical Support
Bolide Movie Creator Review at a Glance
Do you own a video camera? Enjoy filming? Always carry a camera with you and ready to start filming any good moment? The unheard-of booming of modern technology has done its work. Our hard drives are overloaded with videos, countless photos, and other stuff. These home-made videos are often pretty chaotic and have unnecessary scenes. In other words, they need modification and improvement. But how to do it if you're not a techie? Yeah, most video editing software seems to be a really hard nut to crack for a non-techie. It is sure to take plenty of time and effort to learn how to use it. But it is all changing with Bolide Movie Creator! The First Video Editing Software for Non-Techies!
Bolide Movie Creator by Bolidesoft is here to sort out your problems and specially designed for non-techies! Yes! It is so easy to use that even a first grader would cope! This HD Video Editor offers effortless video editing and saves your time. Focus on being creative and imaginative instead of racking your brains on how to start using it. Bolide Movie Creator was designed with beginners in mind. Whether you are a video editing novice, or have no experience at all, Bolide Movie Creator makes video editing incredibly easy to learn! Through its intuitive design, users can create high-definition AVI, MP4, MKV, WMV, and GIF videos in minutes. No special knowledge needed. Edit videos, cut unnecessary scenes, and apply background music. Add fades and transitions. Create videos that look so good, your friends will think they were made by a professional.
While the expensive $100+ movie editors tend to place significant emphasis on functionality, their ease-of-use leaves much to be desired. For the beginner, using a professional video editing program means first having to spend days (sometimes weeks) figuring out how to use it. On the other hand, the Bolide Movie Creator was designed with convenience and usability in mind. Every built-in function is both intuitive and straightforward. There is no need to spend hours reading instruction manuals; the first time you use Bolide Movie Creator, you'll feel like you already know what you're doing.
Believe it or not, we've had access to digital video cameras for close to 30 years now. Since its introduction in 1986, digital video has seen much advancement in quality. Today, the standard for high-definition (or HD) video is 1080p, and rumor has it that soon there will be an UltraHD (4K UHD and even 8K UHD!) format released. With that in mind, Bolide Movie Creator designed to handle HD video through a variety of video formats. Create stunningly beautiful videos using virtually any media type by processing them at the Full-HD quality. Once you've tried it, you'll certainly agree that the Bolide Movie Creator makes video editing a snap!
The perfect video editor for both amateur and advanced videographers.
Making your own movies has never been simpler or more fun. Most video editor software come with a high learning curve – not Bolide Movie Creator though! Featuring all the tools necessary to begin editing videos, the BMC lets you join, split, and trim video clips. You can even add text commentaries, photos, and background music. Choose from dozens of transition effects and begin creating your own videos today! No previous video editing knowledge is needed to take advantage of our user-friendly interface. With support for AVI, FLV, MP4, MKV and WMV the Bolide Movie Creator is ready to help boost your video projects to the next level.
As a result of using the HD video editor Bolide Movie Creator, you get a high-quality video with great visual effects and transitions, with nice music and photos, captions, and you and your friends in the lead. You can even get a full HD video and enjoy watching it on the big screen. And to do that, you do not need any prior technical knowledge. Just do it! It's easier than riding a bike!
What's New
Bolide Movie Creator v4.1 Build 1143
+ added the ability to save the project as a template using menu item "Project - Save as a template...". After that, you can easily create new projects with the saved template using the menu item "Project - New project from a template"
+ now the audio and video/photo libraries related to one project only. If you need previous files for your new project as well, use "Open recent" button on the toolbar
+ now you can drop the transitions to the non-intersected but connected blocks too. The program will intersect them for you
+ restored the ability to intersect audio blocks in the same track with auto fade-out/fade-in mixing
+ added "Redo" button next to "Undo". Use it if your last click on Undo was unwanted
+ fixed issue with splitting blocks with added key points for sound levels
+ now you can select the key point in the volume edit mode and precisely move it with up/down keys to change the sound level
+ added Instagram resolutions to the list of predefined project resolutions

Bolide Movie Creator v4.0 Build 1142
+ now you can apply Chromakey to selected area of the frame only, all
outside area will be considered transparent
+ added Cancel button for crop&zoom
+ fixed a bug with non-exact block splitting introduced in previous build, sorry
+ added icon to the volume slider in the preview area
+ fixed several minor issues

Bolide Movie Creator v4.0 Build 1141
+ added the ability to set start/end effects to the visual blocks in the timeline. Use "Start/End Effects" menu to set default Fade in/out effect. To change the effect click with the right mouse button over the effect area.
+ you can change the start/end effect duration by selecting its rectangle and dragging its internal side
+ several fixes related to a new drag&drop functionality
+ fixed reverse video function for some rare files
+ fixed "Blurred background" effect
+ fixed a bug with custom project resolutions in the popup menu
+ fixed several issues according to automatically sent bug reports

Bolide Movie Creator v4.0 Build 1140
+ added the ability to reverse video!
+ added the ability to save the entire project as an audio file, menu item "Project - Save audio file"
+ added the ability to save the selected video block's audio to an MP3 file. Click with the right mouse button over the desired block and select "Save audio to file" popup menu item
+ added showing media info for the files in Audio and Video/Photo libraries. Click with the right mouse button over the file and select "Show media info" popup menu item
+ new popup menu for the files in Audio Library and Photo/Video Library tabs
+ now you can start playback by double click on the file in the local Video/Audio libraries
+ now it is possible to change the selected photo duration with right-click popup menu
+ added the ability to save the current frame to the image file or copy it to the clipboard using "Project - Current frame" menu
+ now when you split any block, all applied effects exist in both parts of the split block
changed the way of drag and drop blocks, now it is possible to drop block between others
"File" menu renamed to "Project"+ 
Bolide Movie Creator Features
Key Features of Bolide Movie Creator:
Add photos, videos and audio tracks to any project.
Stack an unlimited number of media elements on the timeline.
Select among 50+ visual effects for any photo/video block in your video project.
Easy drag & drop feature allows for quick timeline additions.
Split, join, overlap and trim.
Enhance your video through a variety of visual effects and text overlays.
Splice clips together using one of 30 different transitions (fades, wipes and more!).
Adjust brightness, contrast, and saturation.
A preview window lets you see editing results in real-time.
Render videos as AVI, MP4, WMV, MKV. Hardware acceleration of .h264 encoding is supported!
Optimized for multi-core rendering.
Choose from three different preset quality levels.
Supports NTSC, PAL and a variety of 4:3 and 16:9 aspect ratios.
Includes support for 7 different languages (English, Spanish, French, Russian and more).
Requirements
These are the minimum hardware required to run Bolide Movie Creator
System Requirements for Windows OS:
Supported OS: Windows Vista/7/8/10
System Requirements for Mac OS:
Download Bolide Movie Creator
Please feel free to download Bolide Movie Creator here. Bolide Movie Creator has been tested professionally and we are assured that no viruses, Trojans, adware or malware contained.
Windows
Buy Now
Bolide Movie Creator retails for $39.95 (Single License, Lifetime). But, on our website, The Software Shop, you can save up to 62% on your purchase of its license key with our discount coupon code. This offer is available for a limited time!
ORDER HERE NOW

Mac OS

You also might like

Software Giveaway
Please Report if Bolide Movie Creator Deal/Discount Coupon/Giveaway has a problem such as expired, broken link, sold out, etc.
Excellent!
Filmora is super easy to use and comes with all the features needed to get above the game. Plus they keep adding more features and effects regularly. If you're serious about making videos and want to upgrade from that old Windows Movie Maker, this is the one for you. It supports 4K and Split Screen two vital features that are lacking in the former. Hopefully, soon they'll add in 360-degree video editing then this will be the complete must-have solution.