Get a great deal on the new Auslogics BoostSpeed 12 Pro at a 40% discount today! Enjoy an all-in-one solution for the best PC performance!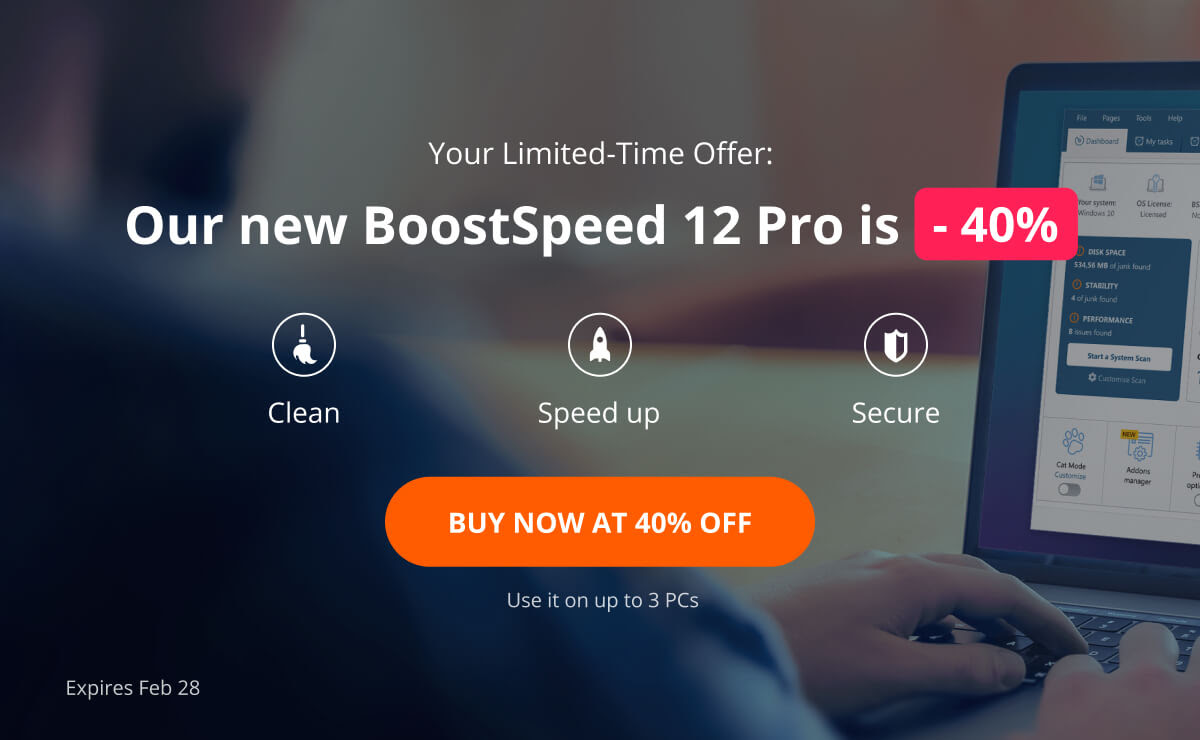 At the end of 2020, Auslogics released a brand-new upgrade to their most popular toolkit – BoostSpeed. This powerful software boosts PC speed, lets you safely erase confidential data, gives you a heads-up on hardware upgrades, recovers deleted files, checks your HDD for errors, and sorts through photo, video or music collections removing duplicates. BoostSpeed 12 has over 20 handy tools to solve almost any issue your computer might have.
Features you'll love:
Registry cleanup – clean out invalid entries from your system's heart.
Defragmentation – a new exclusive algorithm for HDD and SSD drives to speed up data access.
Disk space cleanup – get rid of unwanted files, empty folders, and hidden duplicate copies on your drives.
Internet optimization – ensure smooth browsing, faster downloads, and better audio/video call quality.
Privacy – erase traces of personal data and activity from your computer to prevent hackers from stealing your info.
Questions to live experts – if you have a PC-related problem, ask our experts right from the program.

Have no idea what all those tabs are there for? Try the Basic Mode that comes with a greatly simplified interface. Just click one button to automatically run a comprehensive scan and repair. You can also customize the locations and performance areas to be scanned – do it once and the program will remember your choice for future runs.
An experienced user? Use the Advanced Mode to get access to more tabs, links and options displayed right on the main screen. You can add, move or remove tabs to make your dashboard look and work just the way you want.
There is no such thing as too much free space on your PC. Deep Disk Cleaner will help reclaim gigabytes of hard disk space by allowing you to detect unwanted files in every corner of your system. You will be able to choose what you want to delete, and run the cleanup to free up tons of extra space.
And don't forget your images, music, and video collections. Want an easy way to sort through your personal files? Duplicate File Finder will help you locate and remove useless file duplicates to clear gigabytes on your drives.
Wouldn't you love to have more control over the settings you can change? How about customizing the right-click menu? With the Menu Manager tool, you will be able to add options to the context menu or remove items you don't need from it, in a few quick clicks.
When it comes to browsers, everything needs to be safe and easy.
Control all your web browser extensions from one place with the Add-ons Manager tool. Check what various add-ons do in your browsers and keep only the ones you believe are safe to have on your computer.
3/5/2021 TERMS
Auslogics and Auslogics' software product names and logos are trademarks of Auslogics Labs Pty Ltd. All other trade names and trademarks mentioned are the property of their respective owners. The offer in this post applies to new purchases only and cannot be applied to previous purchases, redeemed for cash, or used in combination with any other offer.
40 % off on the new BoostSpeed 12 Pro – An All-in-one Solution for the Best PC Performance