The Bundlehunt 2020 New macOS BUNDLE is alive. UNLOCK BUNDLE FOR $5 & access best-selling Mac software starting at $0.5 per app. The best part is when you add 5 Apps, you will get an additional 5% Off your order up to 15% OFF when you add 15 apps or more.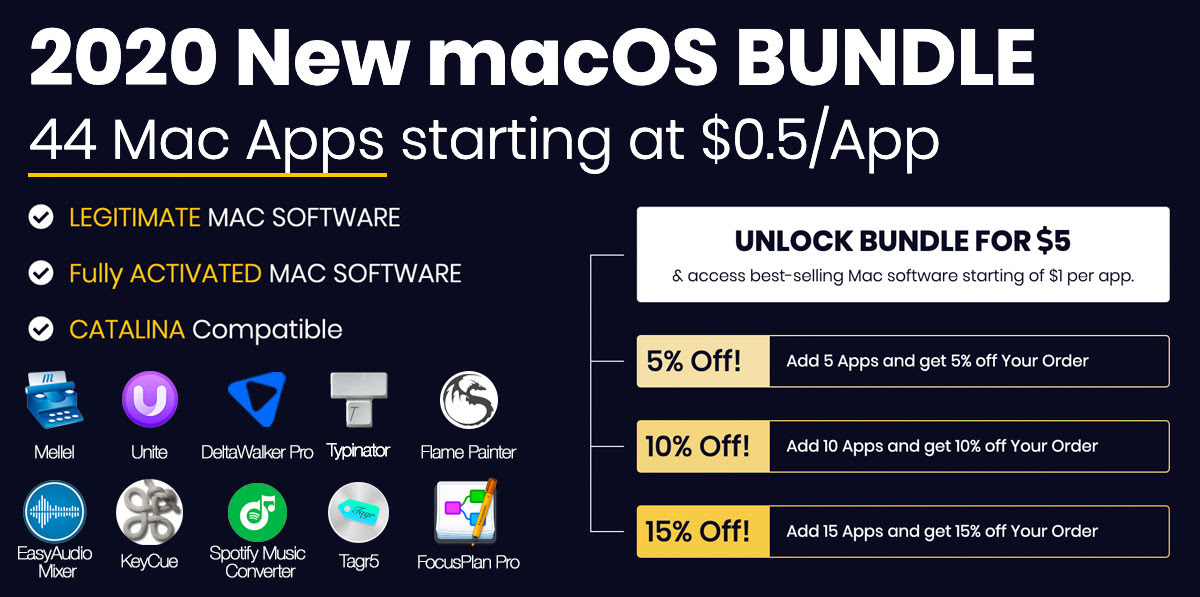 Get 44 MAC APPS STARTING AT $0.5/APP. Featuring: Mellel, Typinator, KeyCue, DeltaWalker Pro, Unite, FocusPlan Pro; 44 Mac Apps to choose from!
iTunes Converter
$1.5 | $39.95
iTunes Converter is designed to convert iTunes DRM-protected music files or audio books to unprotected MP3 or AAC files in batch with ID tags preserved.
Spotify Music Converter
$1.5 | $39.95
Spotify to mp3 converter allows you to save Spotify music in mp3 format so that you can play Spotify music on any mp3 player.
DeltaWalker Pro
$5 | $59.95
DeltaWalker – world's most advanced and intuitive two- and three-way visual file and folder comparison for Mac
Rebelle 3
$4 | $89.99
Rebelle 3 blurs the line between traditional and digital painting thanks to its ultra-realistic papers and canvases developed in cooperation with academic professionals.
Unite 3
$2.5 | $14.99
Turn any website into an app on your Mac. With the lightweight Unite 3 browser, you can customize your app to feel more native.
Flame Painter 4
$4 | $89.99
Flame Painter is a unique paint program, drawing software that lets you create original paintings with procedural brushes.
KeyCue 9
$4 | $21.99
KeyCue gives you an instant overview of the overall functionality of any application, plus lets you automatically start working more efficiently by making use of menu shortcuts.
Leap
$3 | $35.99
Comprehensive file management application. Find anything on your Mac with the ability to show even hidden files on your system.
Mellel
$3 | $49.00
The word processor of choice for any serious writer. It's a powerful agile word processor that gives you reliability and control like no other.
Typinator
$5 | $28.00
Typinator boosts your productivity by automating the process of inserting frequently used text and graphics and auto-correcting typing errors.
Tagr5
$1.5 | $8.99
Tagr is an application for Mac OS X that helps you organize your music collection. With Tagr you can easily edit information such as a song's artist, title, or album cover.
Easy Audio Mixer
$2.5 | $29.99
A simple audio editor tool easy to use. You can use it to cut audio, mix audio, split audio from video file, and also merge multi audios into one.
File List Export
$1 | $6.99
An easy to use application that will help you create list of files for any need. List all your photos, all your videos or all your files. If you need to create list of files this app is for you.
Focusplan Pro
$4 | $29.99
Powerful, yet wonderfully simple mind mapping and brainstorming app. Capture, develop, and share your ideas, turning them into a stunning mind map.
Records
$2 | $14.99
Records is a full-featured and powerful personal database app for the Mac.
Multitouch
$1.5 | $9.99
Multitouch ties a custom action to a specific magic trackpad or magic mouse gesture.
Tidy Up
$4 | $29.99
Tidy Up 5 is the new generation of duplicate finders and disk tidiness. It's the only fully-featured duplicate remover available on the market.
UninstallPKG
$2 | $9.99
UninstallPKG allows you to completely remove so called (packages) and all their installed contents from your Mac.
Launchey 2
$0.5 | $2.99
Launchey 2 can add shortcuts to as many apps as you want directly in the menu bar or access them using a full customizable menu.
Yep
$3 | $36.99
Organize and manage all your documents.
Todoey 2
$0.5 | $2.99
Todoey 2 sits in your menu bar so it is always just one click away. It blends perfectly into your macOS desktop in both dark and light theme.
GitFinder
$2.5 | $24.95
GitFinder is a fast and lightweight Git client for Mac with Finder integration. See a file's Git status directly in Finder with descriptive icon badges.
PrivacyScan
$2.5 | $14.99
Securely removes files used for tracking your computer & online usage, including browsing history, cache files, cookies, search history, recent items, and much more.
Task Office
$3 | $24.99
Task Office is the best of ever existing GTD, to do lists, projects and contacts management apps.
TaskPaper
$2.5 | $24.99
Make lists and get organized. TaskPaper is a plain text to-do list that's surprisingly adept. Thoroughly modernized.
maPhotoResizer
$1.5 | $8.99
A utility to resize, crop and convert file type of pictures in batch mode or while browsing through a collection of photos.
iMeetingX
$3 | $50.00
"Getting Things Done" task management tools with advanced meeting organization and automatic meeting minutes management options.
Studies
$4 | $24.99
Studies is a flashcard app for the serious student, with editions for Mac® It's a tool to extend your knowledge, and it doesn't matter what it is you want to learn.
MKV2MP4
$1 | $6.99
MKV2MP4 is an application that can convert video files in the MKV container format to more compatible MP4 video files.
Umbrella
$3 | $19.99
Umbrella reports the duplicates the moment they are created. Forget the boring job of dealing with huge results when using a standard duplicate tool.
SSH Config Editor Pro
$3 | $14.99
Manage your OpenSSH client configuration and known_hosts files. You can add or edit identities, port forwarding and any other ssh config options.
Wattagio
$1.5 | $9.99
A powerful battery assistant. It informs you about current battery health and helps to decrease power usage.
TableEdit
$1.5 | $9.99
TableEdit is a simple, clean & elegant spreadsheet application designed specifically for the Mac.
DupeZap
$2 | $19.99
DupeZap is a modern duplicate finder with a stylish interface, easy to use and powerful like no others. It is extremely fast, and scans your computer accurately.
Mathkey
$2 | $5.99
Convert your finished work into digital LaTeX, MathML, or images right away. Simply drag and drop the results onto your document, presentation, or message.
Spreeder CX
$3 | $37
Read faster & comprehend more by harnessing the techniques of the world's most respected speed-reading trainers and record-holders.
John's Background Switcher
$1 | $8.99
John's Background Switcher puts beautiful full-screen photos and stunning montages on your Mac desktop
PDF Watermarker
$2 | $4.99
Easily Watermark your PDF. Text, Image, Stamp, Numbering Watermarks. PDF Watermarker preserve the quality of your image.
ReceiptBox
$1 | $4.99
ReceiptBox is a very easy to use application designed to help you keep track of your receipts.
Barrier
$2.5 | $29.99
Add additional layer of security to protect your Mac with a firewall, and a quick switch to shut down access to your camera and microphone.
FlexiHub – 1 Year
$4 | $159.99
FlexiHub lets you access and manage remote USB devices from anywhere in the world. It can be even your remote backup solution, or your access control system.
CheckBook Pro
$3 | $24.95
CheckBook Pro is more than a basic check register and reporting tool: it features everything in CheckBook.
maScriptRunner
$2.5 | $18.99
maScriptRunner is for everyone who has multiple AppleScripts to run continuously. It can create a heartbeat file, which makes professional system monitoring easy.
iFlicks Pro- 1 Year
$4 | $17.99
iFlicks is the best and most complete video and metadata handling solution available for macOS.
Don't miss this best-saving bundle for Mac. Enjoy the best app at the lowest price starting at $0.5 per app!
PROS
Starting at $0.50/app
Save up to 94%/app
Bundlehunt 2020 New macOS BUNDLE: 44 MAC APPS STARTING AT $0.5/APP.
$0.50 - $5.00
$2.99 - $159.99