Fun image enhancements and webcam tools to keep you connected! Get CyberLink YouCam 8 now with 30% Off Coupon.
CyberLink YouCam 8 Review at a Glance
YouCam 8 is a creative little program that provides you with some fun and interesting effects for your webcam. This webcam software also includes some useful features and add-ons that will help you get the most out of your webcam.
Enhance your webcam photos using a range of brush sizes and colors, or try freestyle drawing using your fingers on the touch-screen. Photo presets let you easily and quickly adjust the mood and artistic feel of your pictures. Rotate and crop webcam photos to extract the best parts for sharing.
YouCam 8 lets you integrate an existing PowerPoint file into a video chat or recording session. Choose from a variety of screen layouts, and freely draw on the presentation slide when you need to highlight key messages.
CyberLink YouCam lets you log in to Windows and websites when it detects your face and another that protects your computer when your face leaves the webcam image. Utilities also include the video surveillance features of CyberLink YouCam and quick access to the YouCam mirror.
What's new in CyberLink YouCam 8?
YouCam 8 integrates seamlessly into your favorite video chat apps like Skype & U, as well as Facebook & YouTube Live broadcasting services. Apply real-time skin enhancements to ensure that you always look great online or use one of over 200 fun effects for video chats and recordings. With an array of offline video and photo editing and correction tools you'll be ready to transform the way you chat, broadcast, and stream online with YouCam 8.
back to menu ↑
Features
Key Features of CyberLink YouCam:
Skype, U, Google Hangouts, Facebook Live & YouTube Live

Live Skin Smoothing
Launch Effect Filled Chats from YouCam
Live Lighting, Sharpness & Denoise Adjustment
Live Video Color Filters

Cooler Pictures and Videos

Photo capture mode
Record HD video (up to 1080p)
Real-time skin smoothener
HDR mode for photos
Panorama Mode
Burst mode
Full-screen photo capture
TrueTheater Color & HD
Video Trim

Easy Image Retouching

Face beautifying tools
Skin smoothener
Skin tone adjustment
Face reshaper
Blemish removal
Blush adder
Shine removal
Eye enlarger
Eye bag remover
Teeth whitener
Photo crop & rotate
Stylish photo frames
Hand paint tools
One-click photo presets
Download effects from DirectorZone.com

More WebCam Fun

Support for Skype & Yahoo! Messenger chat
Camera face tracker – automatic pan & zoom
Full screen video recording
Pause during video recording
TrueTheater enhancements
Dual camera support
Animated frames & scenes
Particle effects
Filters & distortion effects
Animated emoticons
Face-tracking gadgets
3D Face tracking avatars
Avatar creator
3D Augmented reality objects
Download effects from DirectorZone.com

Improved Productivity

Desktop recording ENHANCED
Integrate PowerPoint into video chats
Calendar view media browsing
Face tags to manage photos
YouCam Mirror with TrueTheater enhancements

Complete Safety Utilities

Face login to PC
Face login to websites
Automatic lock screen when face not present
WebCam surveillance
back to menu ↑
Requirements
To run CyberLink YouCam with optimum reliability and performance, your system should match the following requirements:
System Requirements for Windows OS:
Minimum System Requirements

OS: Microsoft Windows 8, Windows 7, Vista and XP 32-bit SP3 (Windows XP Service Pack 3 is required).
Memory 1 GB (2 GB recommended).
CPU Intel Pentium D 3.0 GHz. or AMD Athlon 64 3200+ or above.
HDD Space 1 GB required.
VGA Card Intel 945 (Independent graphics card recommended).
Screen Resolution 1024×768.
Device Webcam (built-in or external USB).
Other Software
Instant messaging software with video communication functions, such as Skype, Yahoo Messenger, AOL Instant Messenger.
System Requirements for Mac OS:
back to menu ↑
CyberLink YouCam Download
Not sure if CyberLink YouCam does what you need? Try it out now. Please feel free to download CyberLink YouCam for Windows here. This webcam software by Cyberlink has been tested professionally and we are assured that no viruses, Trojans, adware or malware contained.
back to menu ↑
Buy Now
CyberLink YouCam 8 retails for $49.95, But, on our website, THE Software Shop, you can get the license key at 30% discount. This offer is available for a limited time!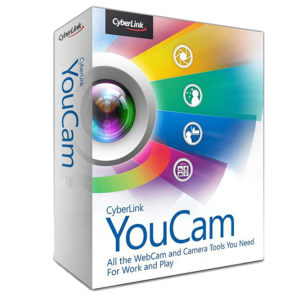 YouCam (Latest Version) - NEW
Enjoy 30% Off Coupon
Full features

Launch popular video chat apps, Facebook Live & YouTube Live
Always look your best with real-time skin enhancement
200+ fun effects to apply to video chats & live recordings

Free Technical Support
FREE: YouCam Mobile for Deluxe
$49.99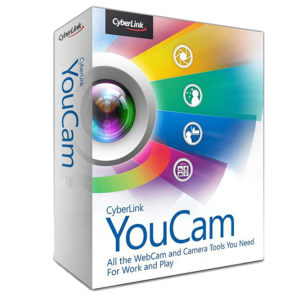 YouCam (Latest Version) - Upgrade
Enjoy 30% Off Coupon
$34.99
CyberLink YouCam 8 License Key Free Giveaway is unavailable at this moment!
Please note that once you signed in, do not close this page. You will be shown how to get this offer for free.
Also, check out the latest software giveaways that are available here on the software giveaway page.
NOTE:
– All prices shown here are in listed USD (United States Dollar). Your local currency will be converted automatically, You can also switch to any other currencies during the checkout process.
– The discount coupon & your local VAT (Value added tax – if available, vary by country) will be applied at checkout automatically.
---
Thanks for CyberLink YouCam Review & Enjoy the discount coupon. Please Report if CyberLink YouCam Discount Coupon/Deal/Giveaway has a problem such as expired, broken link, sold out, etc while the deal still exists.