Haven't decided what gifts to choose for your loved ones on Thanksgiving? Here comes a great chance. Check out DVDFab Amazing Black Friday Deals and you'll find what you're looking for.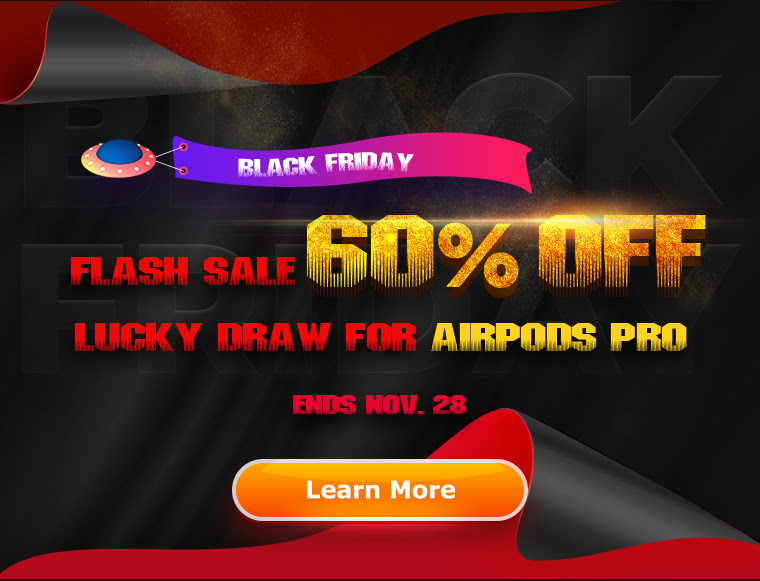 60% Off Flash Sale
Black Friday is approaching and DVDFab has some amazing offers and gifts you won't want to miss. Act quickly and take advantage of these superb deals:
30% OFF DVDFab All-In-One: Take advantage of 30% off, as well as other great gifts, including a 5-Computer License and a $30 Amazon Gift Card. You could also win a projector (100-randomly picked orders).
Up to 50% OFF Hot Sellers includes our great DVD and Blu-ray copiers and rippers, as well as DVDFab Video Downloader Pro, Video Converter, and more…
60% OFF Flash Sale on Blu-ray Copy + Blu-ray Ripper, UHD Suite and Video Editing Suite (Lifetime).

Lucky Draw for AirPods Pro
During our Black Friday event, participate in our awesome lucky draw game and you could stand a chance to win a pair of AirPods Pro, a JBL Speaker, a DVDFab Software Product or a Storewide Coupon!
DVDFab Amazing Black Friday Deals: Up to 50% Best Sellers, 60% OFF Flash Sale, & Lucky Draw for AirPods Pro
$40.00 - $258.99
$79.99 - $369.99