Perform most video operations easily – recording on-screen events, downloading from video servers, converting, stabilizing, editing, merging, and editing videos up to 4K from action cameras, drones, and smartphones. Get VideoProc Converter 5.7 full version with a lifetime license code (Windows & Mac OS X) for FREE!
There are a number of video tools available, many of which focus on each function. These usually include editing and editing clips, downloading videos, or creating screencasts (screen recordings). But instead of an entire arsenal of programs, you can use only one: VideoProc Converter combines all of these features into one program.
Convert any media file, 370+ codecs e.g. B. 4K, MP4, MKV, MOV, FLV, H.264, HEVC, 3D, Music, etc.
Converting a video to a video/audio, e.g. B. MP4 to MP3, as well as converting between audio files.
Compress 4K or oversized videos (by over 90%), upscale 720p/1080p videos for better visual quality.
Cut, trim, split, crop, merge, rotate long videos and add subtitles/effects.
Advanced features like stabilize video, remove fisheye & noise, create GIF and more.
Batch Download Videos, Audios, Playlists or M3U8 from 1000+ Sites.
Capture anything from desktop/webcam with chroma key. Mark recording with text, drawing and voiceover.
Up to 47x real-time speed with Intel QSV/Nvidia/AMD support. No more crashing or high CPU usage.
The editor includes a module for editing videos, converting DVDs, downloading videos from the Internet, and taking screenshots. You will find editing functions in the video module of the VideoProc program.
However, if you are looking for a professional video editing program, you will probably be a little disappointed. However, basic video editing features are available, as well as rich conversion and effects options. The DVD module contains various functions for converting DVDs. You can use it to save movies to a PC and to extract files from a DVD. This is especially useful if, for example, you want to back up the contents of your DVDs to the cloud or to a home NAS.
In the download module, you can enter links from YouTube or other sources to download videos or audio. You can also log in to YouTube with your account and load, for example, your complete playlist. The fourth module of VideoProc Converter includes a screen recorder that you can use to record from the screen or record videos using a webcam.
The Digiarty VideoProc Converter 4 video editor supports hardware acceleration of video encoding through all types of Nvidia and AMD graphics processors as well as integrated GPUs in Intel processors. Thanks to this, it is possible to shorten up to 47 times even extremely data-intensive videos in 4K resolution, which are now produced by smartphones, action cameras or even drones.
The basic step in optimizing video file size and processing speed is to convert them to a modern, highly efficient HEVC format. In addition to HEVC, of ​​course, VideoProc Converter also supports dozens of other video formats – both input and output.
Furthermore, it is possible to edit videos, divide them into individual shots and it is also necessary to crop them as needed. Video image stabilization, noise reduction and lens distortion removal functions are also very useful. There is also a long list of effects and the ability to fine-tune the image of the processed video.
A clear manual on the manufacturer's website is also ready for using the program. We recommend watching the manufacturer's video tutorials on YouTube, where you will find many tips on how to work with the program.
Exclusive offers
Of course, you don't have to work with 4K video from cameras and smartphones in the VideoProc video editor. In the function menu, you will also find the option to work with video obtained from DVDs or movies and video clips downloaded via links from YouTube Internet video servers.
Furthermore, it is also possible to obtain material for processing from a webcam or to take video recordings from a computer desktop. Of course, there is also support for all common audio formats for editing the soundtrack of the film.
Get Your own VideoProc Converter license includes a lifetime upgrades & support with our exclusive discount offer!
$29.95 $78.90
The Best AI-powered Video Processing Tool as Editor, Converter, Recorder, Downloader, & Ripper
VideoProc Converter Key Giveaway
VideoProc Converter is available for $78.90. But through THE SOFTWARE SHOP, you can get VideoProc Converter 5.7 full version with a lifetime license code for FREE!
---
To get the free key:
Click on the GET NOW button on the top of this page above to visit the deal page of VideoProc
On the deal page, go to the BUY NOW section and open the Giveaway tab.
On the Giveaway tab, enter your email address to unlock the offering box that holds the buy button to get your exclusive code.
Read the HINTS for the next instructions.
Installation & Registration: There is no need to set anything in the VideoProc Converter installation wizard, just click on the »Launch« button when it is finished. An introductory window will appear where you can click on »Register« if this window does not open automatically. Enter your e-mail address as »Licensed Email« and use your license code as »Registration Code«. Then continue with »Activate« and you can start using VideoProc Converter.
License: You can use the full version of the VideoProc Converter 5 program, which is identical to the currently sold license, after installation and activation without functional restrictions, but without the right to technical support and application updates. The current price of the program license is around $78.90. The license is for one non-commercial computer and may not be redistributed or sold. For the purposes of registration from The Software Shop, we recommend setting up a universal e-mail in the Google Mail service. Domestic e-mail services often block registration messages as spam.
To take full advantage of your computer's performance, you need to properly configure hardware support. Open the menu »Settings | Option | Hardware Acceleration Engine: Nvidia / Intel / AMD «and check the processor and graphics card support settings.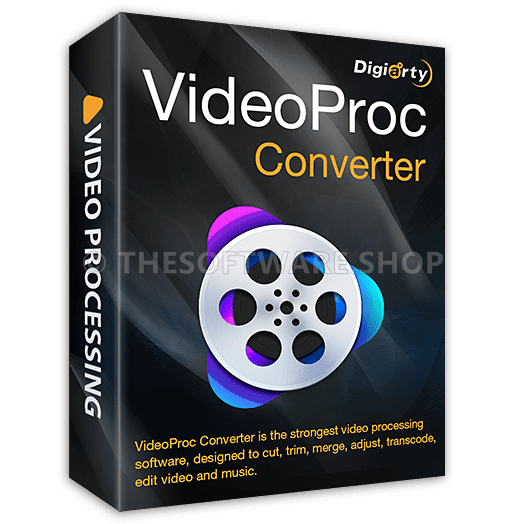 Software Giveaway – VideoProc Converter 5.7: Free Lifetime License Code | Full Version – for Windows & Mac OS X