50% Off Coupon on FILEminimizer Office: A Special File Optimization Software for Microsoft Office – for Windows.
Reduce the size of all Microsoft Office files by up to 98%. Get FILEminimizer Office full version includes free updates & support with 50% discount coupon
FILEminimizer Office Review Video - Tutorial
50% Off Coupon on FILEminimizer Office: A Special File Optimization Software for Microsoft Office – for Windows.
FILEminimizer Office Review at a Glance
FILEminimizer Office compresses PowerPoint, Word and Excel files and reduces the file size by up to 98% using an intelligent office file compression software technique which compresses pictures and embedded objects while still preserving the original file format and quality. The optimization guarantees that the original file format is not altered or modified, in contrast to classic zip algorithms where users end up with a "zipped" file which they need to then unzip.
FILEminimizer does not require Microsoft PowerPoint, Microsoft Word or Microsoft Excel to be installed. You can optimize any PowerPoint file created using any version of Microsoft PowerPoint 97 to 2010. Optimize any Word file created using any version of Microsoft Word 97 to 2010. You can also optimize any Excel spreadsheet created using any version of Microsoft Excel 97 to 2010. OpenOffice or StarOffice can also be optimized provided they are saved in the Microsoft PowerPoint/Word/Excel format.
FILEminimizer will also optimize files created using other Office suites, such as OpenOffice, StarOffice or Google Docs, providing they have been saved in the Microsoft Office file formats (such as .DOC, .XLS and .PPT or .DOCX, .XLSX and .PPTX).
FILEminimizer will achieve significantly better results than the "Compress Pictures" feature in Microsoft Office. This is because FILEminimizer intelligently selects the most appropriate format and compression level for each image in your document, spreadsheet or presentation, while the "Compress Pictures" feature merely reduces the image resolution and discards any hidden information. Additionally FILEminimizer allows you to flatten any embedded documents in your file.
back to menu ↑
Features
Key Features of FILEminimizer Office
Up to 98% compression on PowerPoint, Word and Excel files
Up to 12x higher compression than classic "zip" programs
No format change
Bypass email firewalls, spam filters with optimized, non-zipped office files
No quality loss on optimized files
Users can open optimized files without having FILEminimizer installed
back to menu ↑
Requirements
To run #THE SOFTWARE with optimum reliability and performance, your system should match the following requirements:
Main Program Requirements:

Windows 8, Windows 7, XP, Vista,
Minimum 266MHz Pentium or compatible CPU
512B RAM
30MB of available hard disk space
No PowerPoint, Word or Excel installation required

Windows Explorer Add-in: Windows 8, Windows 7, XP, Vista,
Microsoft Outlook Add-in: Microsoft Outlook 2000 – 2013
Microsoft PowerPoint Add-in: Microsoft PowerPoint 2000 – 2013 (PPTX)
Microsoft Word Add-in: Microsoft Word 2000 – 2013 (DOCX)
Microsoft Excel Add-in: Microsoft Excel 2000 – 2013 (XLSX)
back to menu ↑
FILEminimizer Office Download
Not sure if #THE SOFTWARE does what you need? Try it out now. Please feel free to download FILEminimizer Office here. This office file compressor by balesio has been tested professionally and we are assured that no viruses, Trojans, adware or malware contained.
back to menu ↑
Buy Now
FILEminimizer Office retails for $49.95, But, through our website, THE Software Shop, you can save on your purchase of its license key with 50% discount coupon code. This offer is available for a limited time!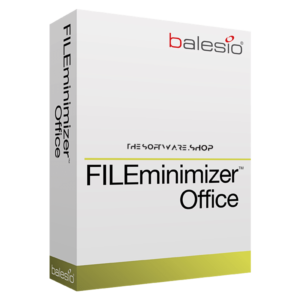 FILEminimizer Office 7.0 (50% Off)
Reduce the size of your Word, Excel and PowerPoint files by up to 98%
Single User License
Compress Microsoft Office files:

PowerPoint (PPT, PPTX, PPS, PPSX)
Word (DOC, DOCX)
Excel (XLS, XLSX)

Add-ins for PowerPoint, Word and Excel
Microsoft Outlook integration
Lotus Notes integration
Free Software Updates
Free Support by Balesio
Platform: Windows
$49.95
FILEminimizer Office Giveaway is unavailable at this moment!
Please note that once you signed in, do not close this page. You will be shown how to get this offer for free.
Also, check out the latest software giveaways that are available here on the software giveaway page.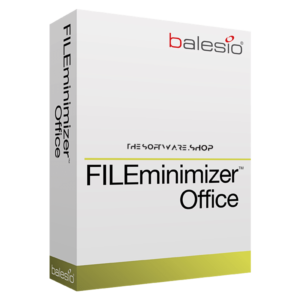 FILEminimizer Office 7.0 (Giveaway)
Reduce the size of your Word, Excel and PowerPoint files by up to 98%
HINTS:

In this offering box, click on the BUY NOW button
You will go to the registration page by Balesio
In the registration page, fill in the form with your Name & E-mail, then click on the REQUEST LICENSE button
The registration details including the serial number will be sent to your email addess
Download the software from our deal page (at the download esection above)
Once downloaded, install it & launch the program after installation.
Use the registration details including Serial Number, Field #1, & Field #2 to activate the full version
Done. Enjoy the full features!

TERMS:

Software version: v7.0
No Free Update
No Free Support
Personal Use only
Platform: Windows
$49.95
We will not send this via email.
NOTE:
– All prices shown here are in listed USD (United States Dollar). Your local currency will be converted automatically, You can also switch to any other currencies during the checkout process.
– The discount coupon & your local VAT (Value added tax – if available, vary by country) will be applied at checkout automatically.
– The order(s) for the software are processed by the Cleverbridge company. This company accepts paying on-line, via PayPal, by fax, bank-wire transfer, check, cash, or purchase order.
– You will receive a notification e-mail from Cleverbridge when your order is processed which will also include your license information.
– Such promotional programs are subject to change without notice, from time to time in our sole discretion.
– Data may vary based on different system or computer.
---
Thanks for reading FILEminimizer Office Review & Enjoy the discount coupon. Please Report if FILEminimizer Office Discount Coupon/Deal/Giveaway has a problem such as expired, broken link, sold out, etc while the deal still exists.
Excellent
FILEminimizer Office is an amazing app that reduces / optimizes the size of Word, PowerPoint, and Excel files without changing their formats. The reduced versions of these files can be opened and viewed just like the originals, with no unzipping (no zip or rar archives are created) or decompression required.