BEST SELLER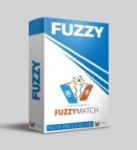 20% Off Coupon on Fuzzy Match – iugum Data Matching Software – Simplify your Data Management – for Windows
Save you the time and effort of running one match on a pair of datasets and then running another match and then another and so on! Get Fuzzy Match license key with our exclusive discount up to $60 Off
Fuzzy Match Review at a Glance
Improve your data management with this easy to use Fuzzy Match software to cleanse, match and merge your lists, datasets or databases. No need to know any programming language or spend hours learning a complicated technical application. The software can be used by anyone to:
Quickly identify and cleanse noise words.
Identify similar words through fuzzy data matching.
Eliminate duplicate entries and produce useful reports.
Match making is never an exact science. Whether you're trying to find a date for your best friend or the right shade of blue paint for the wall behind your new sofa, match making, in all its forms, is definitely more of an art. Even when you're talking about such seemingly absolute data as company names, peoples' addresses, financial data, and dates, matching and merging these fields across huge databases of information is not as straightforward as it seems.
This is where Fuzzy Match comes in. As we introduced in "Fuzzy Matching Made So Easy," this process lets you specify, as a percentage, how exact a match has to be. With a 75% minimum similarity percentage, for example of "FedEx Express" and "Federal Express" would be a positive match, with 11 characters out of 14 being in both entries.
But what about "FedEx Express" and "Federal Express Corp."? Now there's 12 out of 18 characters matching, which is a 67% match. With the 75% threshold, these two records won't show up as a match. We could adjust the similarity percentage to 55% and run the match, but then entries such as "American Express" or "Holiday Inn Express" would match with "FedEx Express", which is not the result we're looking for.
Data Clean
You can use the data cleansing software to increase your performance by making it easier for you or your employees to find what you need to know. Here are two benefits of the data cleansing features that iugum Data Software® offers.
iugum data cleansing software
Duplicate entries take up space in the database, making it harder to see relevant information even if you run a direct search for it. You don't need three entries of the same company under slightly different names. Having inconsistent and unnecessary duplicate data leads to major inefficiency problems and costs. On the other end, data cleansing software are often very costly and not always reliable. If you're running a small business that can't afford high-powered servers and high-cost data cleansing services, iugum Data Software® is the solution for you. Not only is it powerful and flexible, it allows you to be in control of your data from A to Z.
Missing information
It's not uncommon to look at two data sets and find that one of them has missing records, such as a name with no address or phone number attached. You can find out which of your customers present missing information and follow up by using the "None" category in the Match Panel. The "None" category stores all records in the first table that are not found in the second table after looking for fuzzy matches. By detecting incomplete records, you can keep more thorough information and save extra time and labor down the road.
DateMatch®
Now that you've read about and experienced the innovative power of iugum Data Software in matching and linking your datasets, we'd like to take you to calendar date matches with DateMatch. Sometimes you need to retrieve data that changes over time around a specific date, and this is exactly what the DateMatch® add-in can do for you. You'll find this feature in the menu bar at the top of the iDS screen.
DateMatch's function is to enable you to perform calendar date matches from a database or dataset. For example, you might want to extract data to perform a time series analysis or an event study. Whether you want to see what the effect of a specific event is on stock price or on any other variable that changes over time, DateMatch retrieves the data for your analysis. Experiment with the parameters to see what happens when you switch between relative and closest dates, and adjust the range of the time series to include more or less data in your analysis.
Features
Clever Data Matching with Fuzzy Match
Make matches in more than one field and make several matches in sequence.
Set up noise words, synonyms, and acronyms in their own libraries.
Our software learns from your previous matches.
Intuitive Fuzzy Matching
A powerful algorithm links data from different sources easily and quickly.
Fuzzy match technology considers misspellings or possible spelling variations.
Create match queries in a few clicks with our intuitive interface.
Cleansing and Deduplicating
Unique cleansing capabilities ensures that you have the cleanest data out there.
Easily remove the noise words and duplicates that clutter your datasets.
Increase your productivity by up to 80%.
Download
Please feel free to download Fuzzy Match – iugum Data Matching Software here. Fuzzy Match – iugum Data Matching Software has been tested professionally and we are assured that no viruses, Trojans, adware or malware contained.
Buy Now
FuzzyMatch® is priced start from $199.99 to $599.99, but on the software shop here, you can save on your purchase of iugum Software license with discount coupon up to 20% off.
Click Here To Compare The Package
ORDER NOW

You also might like

Giveaway
Fuzzy Match – iugum Data Matching Software Giveaway is unavailable at this moment.
Please note that once you signed in, do not close this page. You will be shown how to get this offer for free.
Also, check out the latest software giveaways that are available here on the software giveaway page.
NOTE:
– All prices shown here are in listed USD (United States Dollar). Your local currency will be converted automatically, You can also switch to any other currencies during the checkout process.
– The discount coupon & your local VAT (Value added tax – if available, vary by country) will be applied at checkout automatically.
– The order(s) for the software are processed by the Avangate company. This company accepts paying on-line, via PayPal, by fax, bank-wire transfer, check, cash, or purchase order.
– You will receive a notification e-mail from Avangate when your order is processed which will also include your license information.
User & Media Reviews
What are their users saying? Why they loved it?
iugum Software is a brilliant idea. We have many databases (Compustat, Datastream, Thomson One, Amadeus, Bankscope, KLD, Audit Analytics, etc.). This software minimizes time and effort required to merge various data.

Finally, a software that can reconcile the different databases we offer to our clientele. With iugum Data Software, our librarians are now better able to assist researchers and students in achieving their data collection.

After a careful research on the market, we decided to choose Iugum Data Software (iDS) for its best price/quality offer. We took the time to test the application thoroughly and found it to meet all our needs. iDS is very easy to use. The interface is clear and intuitive and the matching results are strong. This tool makes us save so much time when matching our sales team activities and the results are significantly better than what we were able to achieve with the previous application we were using. Thank you very much for your help and support during the testing process.

Since 2012 Iugum Data Software has been used by researchers at IESE Business School, who see it as a powerful tool for merging data from different databases. It is both easy to use and cost-effective and is a must-have for any business school library.

Through utilizing the fuzzy-match function, we are able to quickly compare question/answer sets to detect potential copyright infringement of our secure certification exam. iugum Data Software is by far the most cost-effective fuzzy matching software which also balances performance that we found on the market.

---
Thanks for reading Fuzzy Match – iugum Data Matching Software Review & Enjoy the discount coupon. Please Report if Fuzzy Match – iugum Data Matching Software Discount Coupon/Deal/Giveaway has a problem such as expired, broken link, sold out, etc while the deal still exists.