50% off Coupon on Movavi 360 Video Editor – An Intuitive & Easy-to-use 360-degree Video Software for Windows
Create stunning immersive 360-degree videos and seriously impress your friends and relatives! Get Movavi 360 Video Editor Full version includes a license key for a half of the price with our exclusive discount coupon.
Save 50% | 30-days Moneyback Guarantee | Lifetime | Secure Payment | 24×7 Customer Support
50% off Coupon on Movavi 360 Video Editor – An Intuitive & Easy-to-use 360-degree Video Software for Windows
50% off Coupon on Movavi 360 Video Editor – An Intuitive & Easy-to-use 360-degree Video Software for Windows
Movavi 360 Video Editor Review at a Glance
360-degree videos are getting more and more popular every day. If you're looking for a handy 360° video maker, look no further. Meet Movavi 360 Video Editor! With Movavi 360 Video Editor, you'll be able to create your own 360-degree videos in just minutes.
Movavi 360 Video Editor will help you edit and enhance 360° videos, turning them into unforgettable experiences for the viewer. Movavi 360 Video Editor is an awesome tool that is tailored for the aspiring video editors. Now, you can edit 360 degree movies/films using this tool and add special effect to them. With this stunning software, anyone can create VR videos, and 3D presentations. You can try out this tool now and enjoy editing the movies and films without much hassle.
With Movavi 360 Video Editor, you can upload footage from a 360° camera, preview it in 3D mode, cut out unwanted scenes. You can also adjust color settings like brightness, contrast, and saturation manually, or use the auto-enhance function. If you would like to make your video stand out, you can add various visual elements – including a variety of stylish filters, unique special effects, or animated transitions. Some more advanced effects such as slow motion or Chroma key may need to be applied differently, but it won't be much more difficult.
Once you're done and are satisfied with your video you can export it by selecting a format or using one of the presets for various devices and platforms. In fact Movavi 360 Video Editor will even let you upload it directly to video sharing platforms such as YouTube.
There are a number of reasons to go with Movavi 360 video editor over other tools. The extraordinary performance and awesome features make it the first choice for just any user.
Supports multiple input and output formats for audio, video, and image files.
The videos can be captured from camcorders, TV-tuners, camera, webcams, and VHS as well.
You can manage multiple video and audio files on single timeline panel.
You can record the audio from the microphone and other electronic sources.
The videos can be converted into mobile-ready formats.
You can add titles in between the video using different fonts and colors.
Make use of some dominating special effects and filters to create a stunning video.
Movavi 360 Video Editor has everything you need to take the raw 360-degree footage that you've recorded and transform it into 360-degree videos that look great.
back to menu ↑
Features
Key Features of Movavi 360 Video Editor:
Create and edit 360° videos in no time
Add filters, titles, transitions, and soundtracks
Quickly export your video and share it on YouTube
3D preview – Navigate freely around the preview window in 360° mode.
Color adjustment – Tweak brightness, saturation, and other parameters manually or automatically.
Ultra HD video support – Upload and export videos in resolutions of up to 4K.
Picture in picture – Insert multiple videos into your original 360° footage.
Chroma Key – Change the background of your video and transport your subjects anywhere you want.
Speed adjustment – Control the speed of your footage to create slow-motion or speeded-up effects.
Audio editing – Equalize, remove background noise, normalize volume, add sound effects.
Highlight and conceal – Control the focus to concentrate your viewer's attention on a specific subject; blur out parts of your video.
back to menu ↑
Requirements
To run Movavi 360 Video Editor with optimum reliability and performance, your system should match the following requirements:
System Requirements for Windows OS:
Microsoft® Windows® 7/8/10 with up-to-date patches and service packs installed
Intel®, AMD®, or compatible dual-core processor, 1.5 GHz
NVIDIA® GeForce® series 8, Intel® HD Graphics 2000, AMD Radeon™ R600 or higher graphics card with up-to-date drivers
1280 × 768 screen resolution, 32-bit color
8 GB RAM
250 MB available hard disk space for installation, 500 MB for ongoing operations
Administrator permissions are required for installation
System Requirements for Mac OS:
back to menu ↑
Download
Not sure if Movavi 360 Video Editor does what you need? Try it out now. Please feel free to download Movavi 360 Video Editor here. This 360 Video editor by Movavi has been tested professionally and we are assured that no viruses, Trojans, adware or malware contained.
back to menu ↑
Buy Now
Movavi 360 Video Editor retails for $135.95, But, on our website, THE Software Shop, you can save 50% on your purchase of its license key with our exclusive discount coupon code. This offer is available for a limited time!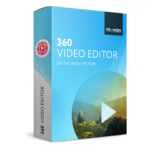 Movavi 360 Video Editor - Lifetime
Personal Edition
Create and edit 360° videos in no time
Lifetime / 1 PC
Full features without limitation
30 Day Money Back Guarantee
Totally Secure Payments
24/7 Payment Support by Avangate
Movavi Technical Support
*The discount coupon & your local VAT (Value added tax - if available, vary by country) will be applied at checkout automatically including your local currency will be converted.
$135.95
Movavi 360 Video Editor for Mac is unavailable.
Movavi 360 Video Edito Giveaway is unavailable at this moment.
Please note that once you signed in, do not close this page. You will be shown how to get this offer for free.
Also, check out the latest software giveaways that are available here on the software giveaway page.
Thanks for reading Movavi 360 Video Edito Review & Enjoy the discount coupon. Please Report if Movavi 360 Video Edito Discount Coupon/Deal/Giveaway has a problem such as expired, broken link, sold out, etc while the deal still exists.
Excellent
If you're an aspiring video creator who's wondering how to do 360° video editing, Movavi 360 Video Editor is your best choice. Thanks to an intuitive workflow, anyone can easily create VR videos and 3D tours using our program. Try Movavi 360° Video Editor for free right now and start making breathtaking 360° videos!