67% Off Coupon on PCWinsoft Multiple Camera Monitor – The Multi-Camera Surveillance Tool – for PC
Empowers you to monitor multiple cameras from a single location, whether they're webcams on computers or IP-connected cameras. Save 67% Off on PCWinsoft Multiple Camera Monitor with today's software discount coupon.
PCWinsoft Multiple Camera Monitor Review at a Glance
Whether your intentions are to monitor one PC for monitor countless cameras from one central point we offer solutions that will fit your surveillance needs. PCWinsoft Multiple Camera Monitor is a multi camera surveillance tool that allows users to monitor unlimited cameras both connected to the PC as well as IP cameras.
PCWinsoft Multiple Camera Monitor is a central point from which you can observe, take pictures, record video and monitor locally connected webcams as well as IP Cameras with the ability to pan, zoom, and tilt when supported by the camera.
back to menu ↑
Features
Key Features of PCWinsoft Multiple Camera Monitor:
Monitor all CCTV cameras and webcams in your Network in real-time.
Monitor and view webcams around the Globe in real-time.
Record video and take pictures of an unlimited number of cameras.
View and manage all cameras from one easy to use camera center.
Pan, Tilt and Zoom cameras that are ONVIF compliant.
Support for a huge number of cameras brands and models.
back to menu ↑
Requirements
To run PCWinsoft Multiple Camera Monitor with optimum reliability and performance, your system should match the following requirements:
System Requirements for Windows OS:
Intel 1.3GHz
120MB HD
256MB RAM
Windows 2000/XP/2003/Media Center/Vista/Windows 7/Windows 8/8.1 and 10/32 and 64-bits
Minimum screen resolution of 800×600
Microsoft .Net Framework 4.5
System Requirements for Mac OS:
–
back to menu ↑
Download
Please feel free to download PCWinsoft Multiple Camera Monitor for Windows PC here. Multiple Camera Monitor has been tested professionally and we are assured that no viruses, Trojans, adware or malware contained.
back to menu ↑
Buy Now
PCWinsoft Multiple Camera Monitor retails for $59.90, But, on our website, The Software Shop, you can save on your purchase of its license key with a discount coupon code. This offer is available for a limited time!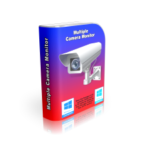 PCWinsoft Multiple Camera Monitor
Control Multiple Webcams and Surveillance Cameras
Keys for all your personal PCs
Easily request keys from inside the application.
1 year of free updates.
15-day money back guarantees.
$59.90
This software is unavailable for Mac OS
The Software is unavailable as a software giveaway.
Please note that once you signed in, Please do not close this page. You will be shown how to get this offer for free.
PROS
IP camera viewer,
multiple camera surveillance,
IP camera spy,
IP camera monitor,
camera surveillance central.