BEST OFFER
Expired
95% Off on Support Hero – Medium Plan Lifetime – Reduce Inbound Support Tickets For An efficient Self Help Support
Get fewer support tickets & create happier customers. Now, Save 95% on Support Hero with Medium Plan now for a lifetime time!
BUY NOW
95% Off | 60-day Money-back Guarantee | Lifetime Access
95% Off on Support Hero – Medium Plan Lifetime – Reduce Inbound Support Tickets For An efficient Self Help Support
95% Off on Support Hero – Medium Plan Lifetime – Reduce Inbound Support Tickets For An efficient Self Help Support
Support Hero Review at a Glance
Support Hero is an advanced knowledge base system for Saas apps to help Saas app owners to provide more efficient self-help resources to their users. Support Hero has advanced features for an efficient self-help support. All the features have one goal: make sure your support resources help reduce inbound support tickets.
With advanced statistics, Support Hero will tell you what your users search for and what they need help with That will help you create the support content that matches their common requests. Connect your existing knowledge base to Support Hero and start gathering helpful insights in a matter of minutes. Support Hero captures all the searches performed by your users and tells you which ones were successful and which ones failed. You can easily track the results of your efforts.
The Smart Contact Form will make sure your users search your knowledge base before sending their support tickets. No more "avoidable" tickets. 95% of users will leave your app if they can't find the answers to their questions in less than 1 minute. With Support Hero, you can embed your Help Center within your app. It won't be hard to find!
Features
Key Features of Support Hero:
Advanced Analytics – unlimited
Unlimited public visitors
Unlimited content & tickets
Light Support Hero branding
Multilingual content
In-context support
Advanced intégrations (Drift, Intercom, Freshchat, Zopim)
Multiple Roles
Manage Hidden Documents with your team
Advanced CSS customization – Help Center and the widget
Custom domain
In-app support widget + support API
Contextual help that shows suggested content
Third Party integrations (Google Analytics, Google Tag Manager)
Smart 404s
Optimized and reliable search and SEO
Advanced article editor
Article interlinking
Article feedback feature
Articles print version
Article history and draft edition
Sync Content from Third Parties (Importing from Desk, Zendesk, Uservoice…)
Add Contextual Helpers
Support Ticket Deflection
Custom Form Module
99% uptime SLA
Rich media support
Download
Not sure if Support Hero does what you need? Try it out now. Please feel free to register your Support Hero account here. Support Hero has been tested professionally and we are assured that no viruses, Trojans, adware or malware contained.
User & Media Reviews
What are their users saying? Why they loved it?
Great combo for what I am already doing As the media company owner, I reply to a lot of the same questions. Not anymore:) I am going to use it with ConvertFox (when it is ready), Fleep and Stepshot.
Huge savings! I was about to buy Intercom's Article product which is $49 a month. Support Hero is $49 for lifetime and integrates with Intercom! You guys saved us a lot of money. Thanks a ton!
Buy Now
Support Hero retails for $1,188 a year, But, while Support Hero is gracing our store with its presence, you can grab for just $49 for a lifetime access!. This offer is available for a limited time!
ORDER NOW

You also might like

Software Giveaway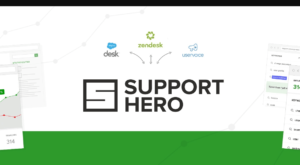 Support Hero - Medium Plan Lifetime Access
Give users the info they want and reduce inbound support tickets with Support Hero
3 admins
2 languages
Unlimited statistics
Unlimited content
In-context support
Intercom integration
Light branding
CSS customization
Advanced integrations (Drift, Intercom, Freshchat, Zopim)
*The discount coupon & your local VAT (Value added tax - if available, vary by country) will be applied at checkout automatically including your local currency will be converted.
$1,188.00
Support Hero Giveaway is unavailable at this moment.
Please note that once you signed in, do not close this page. You will be shown how to get this offer for free.
Also, check out the latest software giveaways that are available here on the software giveaway page.
Thanks for reading Support Hero Review & Enjoy the discount coupon. Please Report if Support Hero Discount Coupon/Deal/Giveaway has a problem such as expired, broken link, sold out, etc while the deal still exists.
Excellent
Great deal that every SaaS or agency should buy immediately. I was eager to implement a knowledge base for our SaaS application (currently in beta). Support Hero looks like a great solution that will save our startup lots of time and money: - First-line support handled via self-service - You can't deliver faster service than that. - Layered integration with second-line support - Do not play hard to get. - Empty queries report - See what FAQ's are missing. - Focus on core product development - No longer begging for techies time to update your knowledge base. - Functional setup is a piece of cake because of live showcases - Kissmetrics, Thinkific etc. This is the perfect Easter present to me 🙂