BEST SELLER
Save 80% Off on Windscribe VPN Pro: 3-year Subscription – Safeguard Your Privacy Online – for Windows, Mac, Linux, Android, iOS
Browse the web privately as it was meant to be your online privacy is under attack. Windscribe VPN sets you free. Save up to 80% Off on Windscribe Pro VPN with 3-year Subscription. Unlock All VPN Locations & Get Unlimited Data!
BUY NOW
Unlimited Bandwidth | Unlock All Locations | R.O.B.E.R.T Included | Enjoy Technical Support by Windscribe
⭐Unlock All VPN Locations & Get Unlimited Data!⭐
Windscribe VPN Review at a Glance
Windscribe VPN is a set of tools that work together to block ad trackers and web beacons, restore access to blocked content and help you safeguard your privacy online. There are 2 components: desktop VPN application, and browser extension. You can use them on their own, but for much greater protection, you should use both. It's silly not to since it doesn't cost extra.
Using a Windscribe VPN will give you an additional layer of security. Savvy Internet users and newbies alike are switching to Windscribe VPN, making it one of the fastest-growing Internet security companies. Tech sites recommend Windscribe for windows for all sorts of reasons, but mainly:
To buy securely without giving away your location
Stay safe on public networks
To keep all your data, video calls, search histories, and financial data private
To transfer files without worrying about someone watching (like your ISP)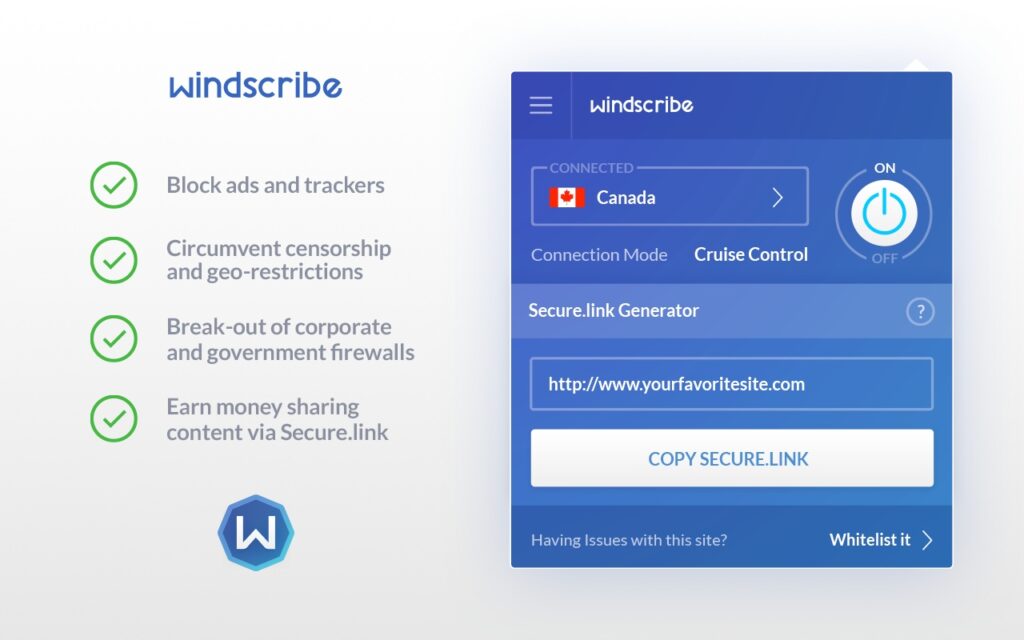 Windscribe VPN provides unlimited access to a truly open, free Internet. Our strong encryption offers privacy and security, so you can navigate around censorship restrictions and unlock regional content. Firewalls are erected to block users from accessing certain websites in some countries, workplaces, and even schools. Some websites like Netflix block access to premium content for countries other than the US. With Windscribe VPN, you can bypass these firewalls and restrictions quickly and easily. If you find yourself in locations that don't allow you to access your favorite websites, you can use Windscribe VPN to bypass any location-based filter to gain uncensored access to content you want.
Besides hiding your IP and mixing your traffic with that of other users, Windscribe VPN also encrypts your traffic between secured Windscribe VPN servers and your Windows computers to make your personal information inaccessible to third party agents like hackers, ISPs, and 3 government agencies. We are continuously optimizing our networks to provide unlimited bandwidth and speed so you can stream your favorite movies and TV shows in high definition even while connected to Windscribe VPN.
Features
Key Features of Windscribe VPN:
General Features

Large Network – Servers in over 60 countries and 110 cities
R.O.B.E.R.T. – Blocks malware and ads on all your devices.
No Identifying Logs – We can't personally identify you based on IP and timestamp
Strongest Encryption – We use AES-256 cipher with SHA512 auth and a 4096-bit RSA key
Config Generators – Generate OpenVPN, IKEv2 and SOCKS configs for all your devices
ScribeForce – Team Accounts with a cool name
Simple Clients – Minimalist clients for all platforms that will make getting started a breeze
Use for Free – Generous free plans are available for those who are on a tight budget
Static IPs – Some IPs are not meant to change, they just stay the same
Port Forwarding – Access internal resources securely

Desktop App Features

Firewall – Blocks all connectivity outside the tunnel to eliminate all types of leaks
Secure Hotspot – Turn your computer into a secure Wifi router
Proxy Gateway – Create a proxy server on your network for other devices
Flexible Connectivity – Connect via IKEv2, OpenVPN UDP, TCP or Stealth on a wide range of ports

Browser Extension Features

Cruise Control – Automatically pick the best location for you
Double Hop – Proxy your connection through any 2 servers on the Windscribe network
Ad Blocking – Blocks ads and trackers that follow you across the web
Timezone Spoofing – Changes your timezone so appear to be in the country you're connected to
Cookie Monster – Keeps track of cookies that are set, and deletes them on tab close
Split Personality – Randomly rotates your user agent to reduce the chance of basic fingerprinting
Secure.link – Generate secure links to expose tracking practices of websites
WindScribe VPN Downloads
Please feel free to download Windscribe Free VPN here. Windscribe VPN by WindScribe Limited has been tested professionally and we are assured that no viruses, Trojans, adware or malware are contained.
Free VPN includes
10GB/month Bandwidth
10 Free Locations: United States, Canada, United Kingdom, Hong Kong, France, Germany, Netherlands, Switzerland, Norway, Romania,
Firewall, Adblock, Tracker Blocker, Cruise Control, P2P, Double VPN, Stealth Mode, Log-less
Windows, Mac, iOS, Android, Chrome
Buy Now
Windscribe Pro VPN is available for $9.00/month. But now you can save up to 80% OFF on Windscribe VPN Pro with a 3-year subscription! This offer is available for a limited time!
BUY PRO EDITION

Recommendation

Software Giveaway
Get total online privacy and streaming freedom on any device in just one-click. Save up to 57% now on HMA! Pro VPN with ...
Surf anonymously prevents hackers from acquiring your IP address, send anonymous email, and encrypt your Internet ...
Block access to your sensitive online data, device info and browsing habits with iolo® Privacy Guardian™. ...
Windscribe VPN bandwidth is available for 10GB data for Free version, but today, you can get up to 30GB data/month with a promo coupon code.
Please note that once you have signed in, you will be shown how to get this offer for free.
So, once you are signed in, please do not close this page.
User & Media Reviews
What are their users saying?
I was looking for a good solution for securing my web traffic and I came across a lifetime pass with Windscribe. Windscribe integrates really well with my laptop and browser. I feel protected at least against the general hacker in terms of secured internet traffic. There are a few tiny bits which are a bit annoying, but not enough to mention here. A good product that i'd recommend.
For about 6 months now it has been a great service speed is always been up there where I need it and it's definitely comparable to any VPN I've used in the past. I have a lifetime membership so I have saved myself a ton of money. Service is always being great and fast with a courteous response. The only problem I have with windscribe is that it doesn't have the Android app fully integrated yet. It has the iPhone app but and Android app is coming early in 2017. Overall four out of five stars until they get the Android app to fully integrated.
I was able to try out the VPN for free for a week and enjoyed the options, ease of access, and the quick connections. I bought the lifetime service for 50 dollars and I got great service all around. The VPN works great with constant access when in use. However there have been few hiccups but I got pretty quick responses between an hour through emails and were very helpful. There are a lot of locations, good speeds while in use, and even allows a browser based one that can be used just for accessing other locations if you just want it as a basic proxy server to go to other sites in the world. I enjoy it and it was even mentioned well on Thatoneguys privacy from VPN charts. Though I would advice to check in case you are really in need of a review from an expert, I'm far from one. Though I definitely recommend it to new users since it's already configured for use.