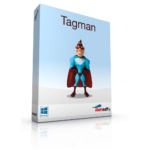 100% Software Giveaway: Tagman 2020 – Free Full Version – Organize Your Music Library in Just One Click
Bring order to your musical domain, never again facing unnamed mystery music! Organize your music library in one click with the innovative fingerprint-technology. Get Tagman 2020 with Full version license for free in our software giveaway of the day.
Tagman Review at a Glance
Anybody who maintains a digital music collection, or, for example, stores music on their phone, runs into songs lacking titles or other identifying information. With this problem affecting so many songs, it is impossible to reliably find the music you're looking for, and the music collection gradually descends into disarray. Tagman 2018 brings order back to your music collection!
Tagman 2020 sets things right. this music file manager fills in your music's empty fields with the press of a button. This innovative program identifies songs based on their digital fingerprints and then adds any missing information, such as the song title, album name, album cover, file name and more. With Tagman 2018, huge amounts of data (even entire hard drives full of music) can be quickly processed, providing complete music information that would otherwise take an eternity to do manually.
Screenshots of Tagman 2020
Why install? MP3 files can also contain so-called metainformation – ID3 tags that relate to the title of the song, album, genre, artist, and authors of music and lyrics. They can also include a picture, which is usually interpreted by the cover of the LP / CD. This information is then usually displayed on players or mobile phones during playback. In the past, music MP3s that did not have this metainformation were often created.
Tagman analyzes the file and either identifies at least partial information and automatically fills in the remaining information using publicly available data on the Internet. If it does not match, it performs a more in-depth analysis of the file and compares it to the digital fingerprints of the music in its online database.
Based on this, it will display the metainformation and ask you for their approval. Song recognition success is higher if all songs in the album are in one subdirectory. Tagman works briskly on dozens of files at once and is very successful in recognition. The result of this activity are added ID3 tags, added album images and renamed MP3 files, which can of course be configured according to your habits.
On request, Tagman creates a folder structure on the disk sorted by artist, album name, or a combination of both. When Tagman finishes his work, you can decide which file edits to apply. You can apply various filters to the results, especially according to the results of the work, and view files where, for example, the data was completed in full, partially, or the proposed addition differs from the existing information in the files or the files were not recognized at all. Of course, metainformation can also be edited manually. This can be useful for music from amateur bands or podcasts or spoken word that do not have audio files in official databases
back to menu ↑
Features
Key Features of Tagman 2020:
Organize Your Collection – Updates the title, artist, album, and cover information.
Comfortable Fingerprint Technology – Analyzes every song in your collection and generates a fingerprint.
Automatic Folder Structure – Creates a folder structure sorted according to the artist, album title or a combination of both.
Edit Several Tracks at the Same Time – Supports you by editing a huge amount of files at the same time.
back to menu ↑
Requirements
To run Tagman 2018 with optimum reliability and performance, your system should match the following requirements:
System Requirements for Windows OS:
Supported OS: Windows 10, Windows 8.1, Windows 8, Windows 7
System Requirements for Mac OS:
back to menu ↑
Download
Not sure if Tagman 2020 does what you need? Try it out now. Please feel free to download Tagman 2020 for Windows here. This Music Tag Editor by Abelssoft has been tested professionally and we are assured that no viruses, Trojans, adware, or malware contained.
Music file recognition can be started either directly after the first step of the automatic search, when you are asked if you want to start music file recognition as well. The second option is to start the recognition manually with the »Recognize all songs« button in the middle at the bottom. The songs will then be compared to an online database and if matches are found, the tags will be added themselves.
However, not all songs are in the database, especially you don't walk with our local power, on the other hand, it should be noted that Tagman will playfully deal with well-known foreign ones. Recognition takes a while, once completed, notice the multi-colored icons at the bottom left. If an orange color appears – the song has been recognized, tagged and only a check is required, which can be done with one click on the color icon. If the red icon appears, then unfortunately the relevant image was not found in the database and the tags will not be added.
Tagman also lets you upload pictures for songs that he couldn't add himself. Some players display them in the background and then orient themselves better in individual songs. Just click on the CD icon next to the song, click on »Load image from file« and find the path to the image. If you do not have it, you will need to find it on the Internet. Tagman does not have all the song icons in its database. Also keep in mind that any changes recorded by Tagman remain only temporary until you click »Save all songs« to have your original files overwritten.
back to menu ↑
Buy Now
Tagman 2020 retails for $29.95, But, on our website, THE Software Shop, you can get Tagman 2020 included full version license for free in the Software Giveaway tab below. This offer is available for a limited time!
You also might like

Software Giveaway
Tagman 2020 Full Version Giveaway is available now for a limited time!
Please note that once you signed in, do not close this page. You will be shown how to get this offer for free.
Also, check out the latest software giveaways that are available here on the software giveaway page.
Please Report if Tagman 2020 Deal/Discount Coupon/Giveaway has a problem such as expired, broken link, sold out, etc.
Good
With the Tagman, you can also tidy up older, extensive MP3 libraries, which often do not have filled-in identification information about the title or authors and performers of the music.